Fuel rate cut fine, VAT still rankles
Petrol will cost around Rs 77 a litre and diesel around Rs 74 a litre as government cuts come in to force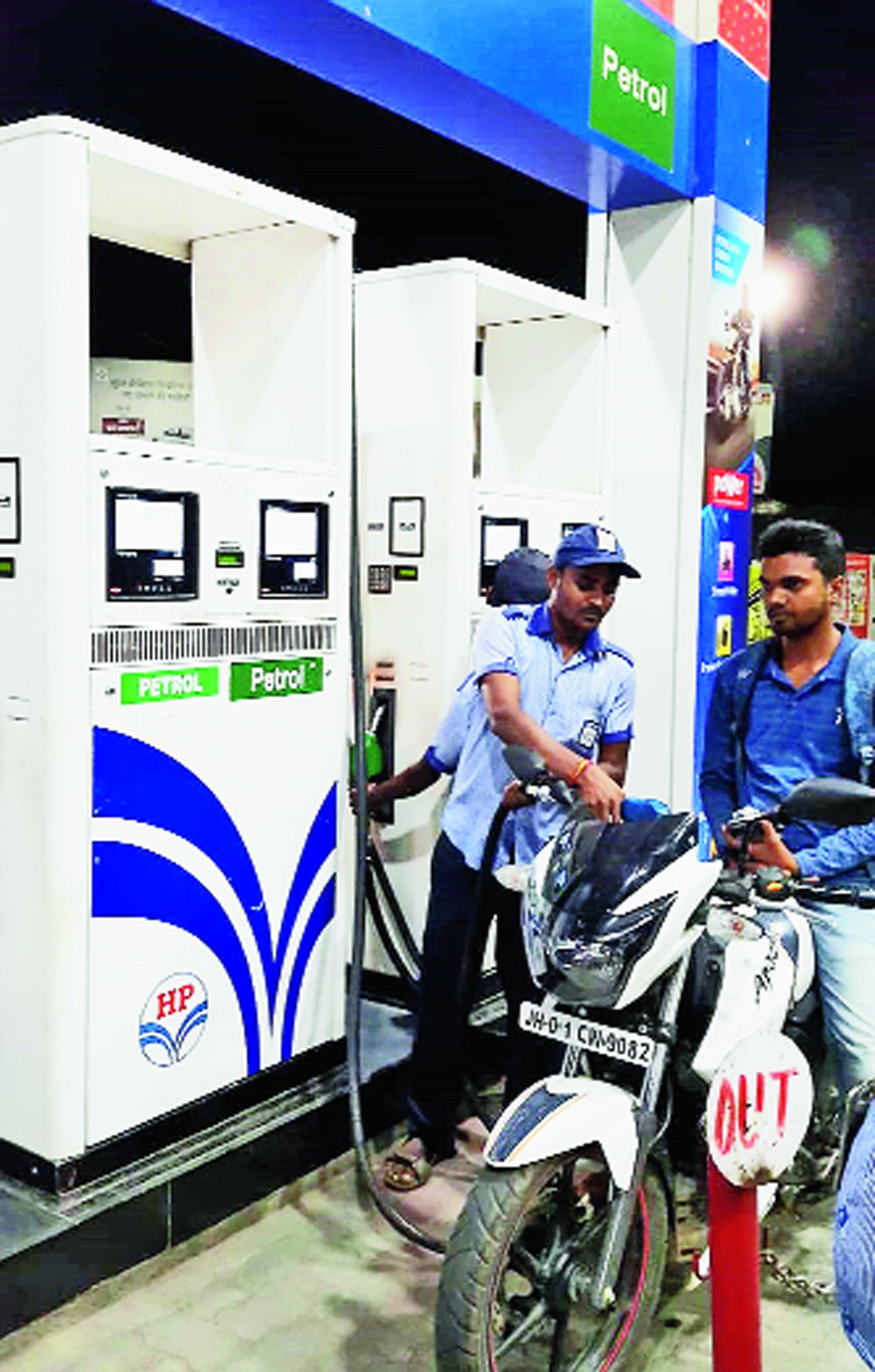 A petrol pump on HB Road in Kokar, Ranchi, on Thursday
Picture: Manob Chowdhary
---
Published 05.10.18, 08:54 AM
|
---
Ranchi/Jamshedpur: Petrol and diesel in Jharkhand will effectively be cheaper by Rs 5 per litre as both the Centre and state announced Rs 2.50 cuts on Thursday.
Petrol will cost around Rs 77 a litre and diesel around Rs 74 a litre from Thursday midnight when cuts come in force.
Finance minister Arun Jaitley on Thursday cut prices of petrol and diesel by Rs 2.50 after which chief minister Raghubar Das directed a similar slash in the state.
As on Thursday evening, petrol cost Rs 82.43 per litre in Ranchi and Rs 82.39 in Jamshedpur. Likewise, diesel cost Rs 79.68 per litre in Ranchi and Rs 79.61 in Jamshedpur. Fuel will be cheaper by Rs 5 but the exact figure down to the paisa cannot be predicted owing to dynamic pricing.
On the state government's slash on Thursday, which came three days after Jharkhand fuel dealers observed a 12-hour strike over "high" VAT, president of Jharkhand Petroleum Dealers' Association Ashok Singh was cautious. "If our neighbouring states reduce prices, Jharkhand dealers will keep suffering as there is no change in the state VAT and fuel here is costlier here," he said.
Jharkhand fuel dealers had demanded, unsuccessfully, a slash in VAT from the existing 22 per cent to 18 per cent. Fuel VAT in the state was fixed at 22 per cent in February 2015.
This apart, Re 1 as cess was put on petrol and diesel. Another hike was done in September 2015, when 22 per cent VAT or Rs 15 per litre, whichever higher, plus Re 1 cess, was introduced on petrol, and similarly Rs 8.37 per litre or 22 per cent VAT, whichever higher, plus Re 1 cess on diesel. These made fuel in Jharkhand cost more than bordering states Bengal and Uttar Pradesh, claimed dealers. They rued they lost out on bulk business as long-distance truckers refuelled from states where diesel was cheaper.
Singh said they wanted the percentage clause scrapped from VAT. "Why can't the state fix a certain sum? Rs 10 as VAT on diesel per litre is acceptable," he said.
In Jamshedpur, Singhbhum Chamber of Commerce and Industry (SCCI) vice-president and businessman Bharat Vasani expressed his pleasure at the cut. But wholesale traders relying on truckers for supplies were more cautious. Satyanarayan Agarwal, a foodgrain wholesaler in Parsudih, said, "Yes, Rs 5 cut overall is good but not much compared to the hike of around Rs 20 in fuel prices since last year, so I don't think transporters would slash transit charges."