Jharkhand: From footballers to champions of change
Unicef in collaboration with the sports department has identified these girls, hailing from poor backgrounds from rural parts of the state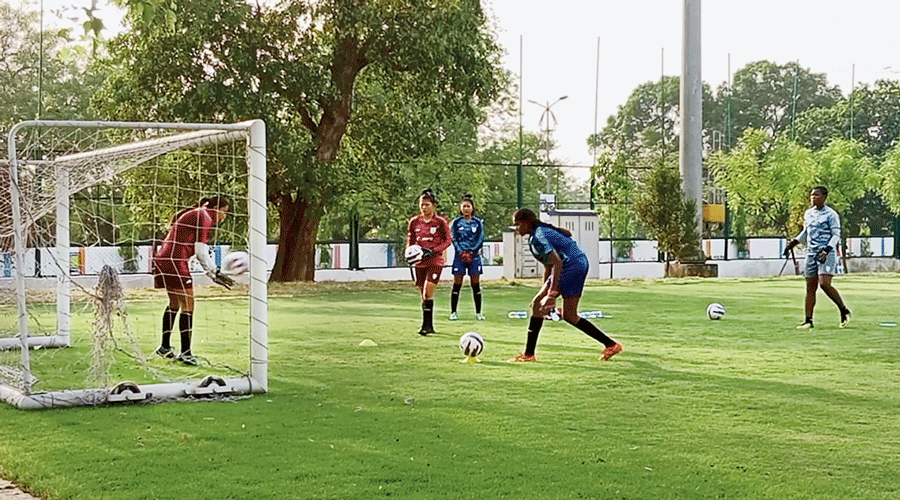 The U-17 women players at a practice session in Jamshedpur.
Picture arranged by Bhola Prasad
---
Jamshedpur
|
Published 06.05.22, 02:16 AM
|
---
The seven girls of Jharkhand selected among Indian probable in the coaching camp underway at Jamshedpur as part of preparation for the Fifa U-17 Women's World Cup scheduled to be held in India in October will become crusaders of social issues.
The Unicef in collaboration with the sports department, Jharkhand has identified these girls, hailing from poor backgrounds from rural parts of the state, as champions of change for child rights and social issues. "The collaborative effort with Unicef began in July 2020 when the girl had returned from the national camp and was given free training and diets during Covid induced lockdown at the Ranchi sports centres after intervention of chief minister Hemant Soren," said a source in chief minister's office.
Unicef communication officer Astha Alang told The Telegraph that the seven players after identification as champions of change for child rights were given learning on various issues by experts. "They attended webinars and talk shows with experts on child rights and also received training on issues like child rights, issues pertaining to adolescent girls and boys, need for proper nutrition, menstruation, hygiene, mental health and psychosocial counselling etc. They were also made aware about the importance of immunisation especially in the light of the Covid pandemic," said Alang. Apart from these, the girls were made to write essays and speak on issues during special days as invited guests and also attend simulated interviews.
The Unicef officials hoped that the girls would become agents of change in their communities. "Most of them come from meagre socio-economic groups residing in rural areas and we would want them to become agents of change in their communities so that they can be an inspiration for other girls in society. We would also like to use them in immunisation campaigns, menstrual hygiene management and also help them to build their personality and increase their confidence level by providing them a suitable platform," added Alang. Those selected from the Jharkhand in the 33-member Indian probables are Anjali Kumar Munda, Salina Kumari, Sudha Ankita Tirkey, Astam Oraon, Purnima Kumari, Nitu Linda and Anita Kumari. All are in the age group of 14 to under-17. While Purnima hails from Simdega, Astam, Salina and Sudha are from Gumla. The rest are from Ormanjhi in Ranchi.
Significantly, the Fifa under-17 women's World Cup would be played at Bhubaneswar, Goa and Mumbai and from among the 33-member probable the final 18 will be picked. Purnima who plays as a defender expressed confidence in passing on things learnt on social issues in their village and also thanked the government for taking care of them during Covid pandemic lockdown period. "I would be happy to spread information about social issues in my native place (in Simdega district). We were very disturbed after our camps in Goa got disturbed in 2020 due to Covid pandemic and there was problem of infrastructure and diets.
"However, with the intervention of the chief minister camps were arranged in Ranchi itself and this helped us stay in condition to remain in the national camp," said Purnima.