Donate blood, stay fit
IG of CRPF, donors' group call for safe transfusions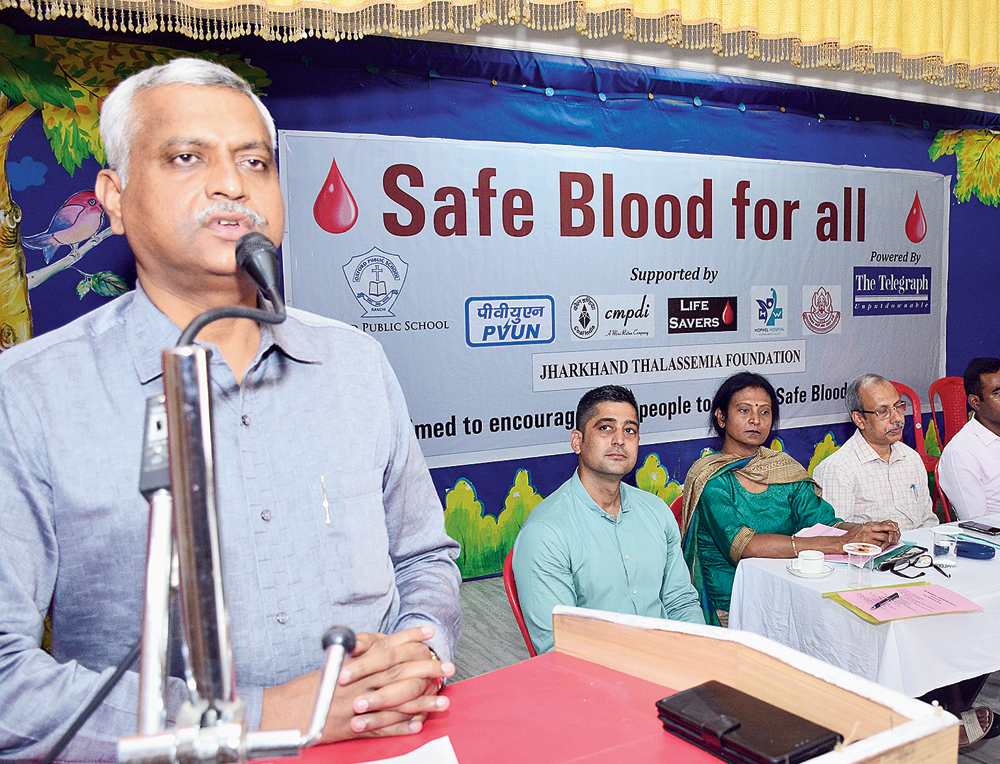 ---
|
Ranchi
|
Published 25.06.19, 06:41 PM
---
Blood is of one colour, the colour of humanity and it doesn't differentiate between caste, creed or religion, CRPF IG Sanjay A Lathkar said while addressing a gathering of over 300 students and teachers of Oxford Public School in Ranchi on Tuesday.
Lathkar was speaking at a talk show titled "Safe Blood for All", organised by The Telegraph in association with the school and Life Savers, a reputed organisation of blood donors of the capital.
"Donating blood keeps a man healthy," Lathkar said, adding that he donated blood regularly as did members of his force.
With the leader taking the lead, no wonder CRPF personnel organise and take part in three to four largescale blood donation camps every year.
"All concerned must ensure that the blood meant for transfusion is safe," warned Ranchi civil surgeon Dr V.B. Prasad, explaining that safe blood was a must for ensuring good health of the recipient.
He also spoke of thalassemia patients _ Ranchi has about 400 _ who need blood transfusion regularly from multiple donors. "Their survival is dependent on safe blood," Prasad said.
"We do the work of policing as far as blood is concerned," said state's controller of drugs Ritu Sahay, explaining that her office had to ensure that all rules and regulations were followed. "We also conduct checks periodically," she said.
CEO of Patratu Vidyut Utpadan Nigam CEO S. Chakraborty, who also spoke on the occasion, said they conducted awareness programmes regularly so that people in their colony and its surroundings were motivated to donate blood.
"All concerned need to be sanitised," opined Atul Gera, social activist and driving force behind Life Savers.
He explained that the civil surgeon was the custodian of blood.
"It's unfortunate that many private hospitals are still not organising desired number of blood donation camps for meeting their requirements," Gera said, adding that the rules made it mandatory for hospitals to arrange blood for needy patients.
"Patient relatives must not be asked to do so," he said.