Dhanbad squash court in ruins
It was developed on district board land with the help of Mumbai based Zyrex Enterprises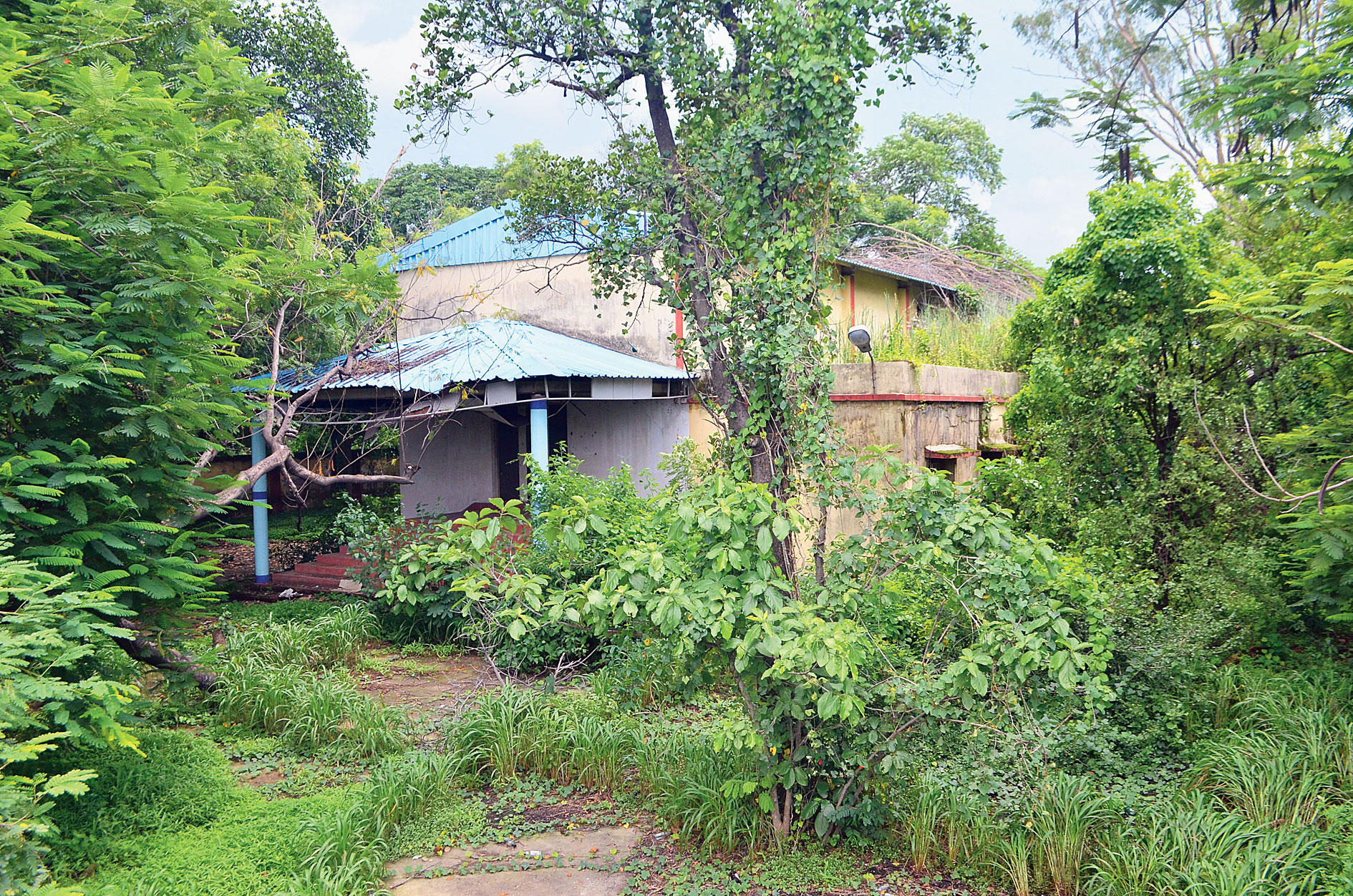 The squash court building near Golf Ground in Dhanbad on Tuesday.
Picture by Shabbir Hussain
---
Dhanbad
|
Published 06.08.19, 09:21 PM
|
---
A squash court, built by the state government after spending Rs 53 lakh during the 34th National Games held in Jharkhand in 2011, is crumbling because of lack of funds over the last seven years.
The court near Golf Ground now sports broken chairs, damaged windows and a ceiling from where plaster is peeling off, leaving squash players of the district in the lurch. They have nowhere else to practice as another court, built on IIT (ISM) campus during the national games, is solely for students of the institute.
"Due to the lack of a squash court for practice only IIT (ISM) students represent the district team in squash tournaments while other players are deprived of an opportunity to join the team," said Dhanbad district squash association secretary Abhishek Pandey.
"We have raised the issue with the district administration several times, but nothing has been done about it," added Pandey, who works as coach at the IIT (ISM) court.
The squash court near Gold Ground is 32 feet x 21 feet with a seating capacity of 80 people, separate changing rooms for boys and girls and other amenities. It was developed on district board land with the help of Mumbai based Zyrex Enterprises.
The squash court's bad run started after the authorities sealed it along with 84 other buildings on the district board land, including markets, clubs and offices, in accordance to a high court order of 2011. The order was in response to a PIL alleging the entities, that were provided land at subsidised rates, were engaged in commercial activities in violation of terms.
However, the district administration was able to reopen the squash court for around 20 days in January 2012 on the instruction of then deputy commissioner Sunil Kumar Barnwal after the high court was satisfied that there was no commercial activity going on there.
By April 2012, the squash court was rendered unusable as a number of articles, including furniture, electrical and toilet fittings, were stolen.
The district administration entrusted Dhanbad Zila Sanskritik and Krida Parishad with the task of setting things right at the squash court but it was unable to start work. Parishad members complained they were never issued written orders.
Dhanbad deputy development commissioner Sashi Ranjan said, "I am not aware of any such court lying unused. But I will instruct officials to look into the issue and initiate steps to revive it."
District sports officer Azfer Hasain said they would conduct an inspection of the squash court. "If necessary we will send a proposal to the state, art, culture, sports and youth affairs department that had built it in the first place to renovate the squash court."