Dhanbad: Railway underpass and flyover to cope with traffic jam issue
Additional infrastructure development on the cards for the coal town in a bid to overcome issues affecting the town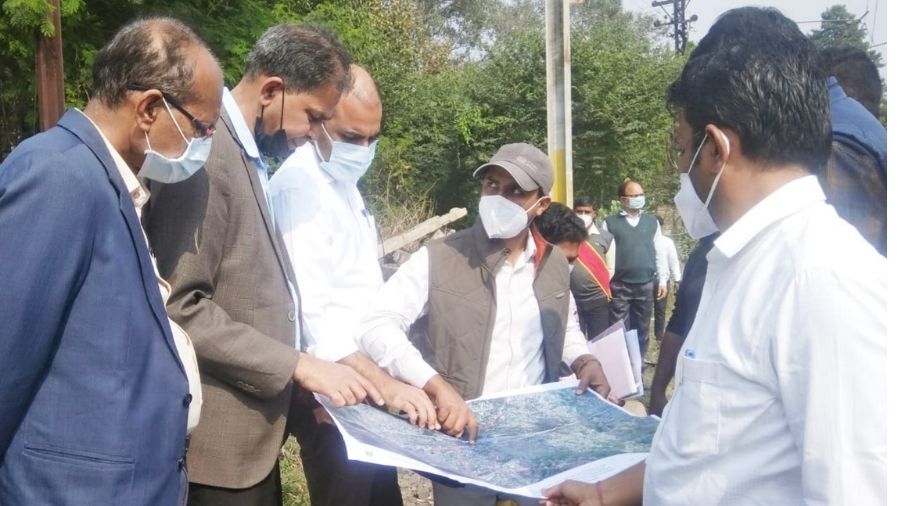 Dhanbad deputy commissioner Sandip Singh and other officials of railway and road construction department during the inspection of Gaya bridge at Dhanbad , on Tuesday.
Shabbir Hussain
---
Dhanbad
|
Published 07.12.21, 07:49 PM
|
---
Having implemented two different sets of regulations for auto rickshaws movement and bus operation in the district to cope with the traffic jam issue, Dhanbad district administration is moving towards additional infrastructure development to facilitate smooth flow of traffic in the district by developing an additional railway underpass and a flyover each.
A joint high level team of Road Construction Department, East Central Railway, Rail India Technical and Economic Service Limited (RITES) besides the district administration led by Sandeep Singh Dhanbad Deputy Commissioner, today carried out inspection of site for proposed flyover construction from Puja Talkies to Jharia Pul and later also inspected the site for the construction of a new railway underpass near the existing Gaya bride of Dhanbad.
The team comprising senior officials of Road Construction Department Ranchi including the Wahid Qumar Faridi, Chief Engineer; Aviash Deepak, Executive Engineers and Rakesh Kumar, Divisional Engineer (Special) of Dhanbad division of East Central Railway carried out line and alignment survey for the proposed flyover and also inspected the site for construction of additional Railway underpass near the Gaya Bridge.
Talking to media on the sidelines of the inspection cum survey work, Sandeep Singh, Dhanbad Deputy Commissioner said, "The entire move is to create additional infrastructure on priority basis to solve the traffic jam issues affecting the town."
Meanwhile, an inspection report for the construction of another railway underpass besides the Gaya Bridge has already been submitted by RITES to the district during which it has given its go ahead for the construction of additional underpass and also explained the nitty gritty of the underpass construction. "After the approval of the inspection report and completion of alignment survey and line survey, a detailed project report would be prepared by RITES for the underpass," said Singh.
Notably, the existing railway underpass titled Gaya Bridge situated near the Rangatand Chowk less than 500 meter away from Dhanbad Railway station which connects Dhanbad town with Bank Flyover which serves as gateway to Dhanbad town for suburban areas is too narrow and faces regular traffic jam caused due to other issues like water logging etc.
Railway has already given its go ahead for the construction of additional underpass if the feasibility report and DPR for the underpass is prepared by agencies like RITES.
The district administration, however, is simultaneously working on a plan to construct a flyover from Jharia Pul to Puja Talkies Chowk to reduce the traffic load of the existing Bank More Bridge which faces traffic overload.