Dhanbad rail division enforces measures to avoid passenger rush
The special advisory has been imposed to ensure safe and comfortable traveler movement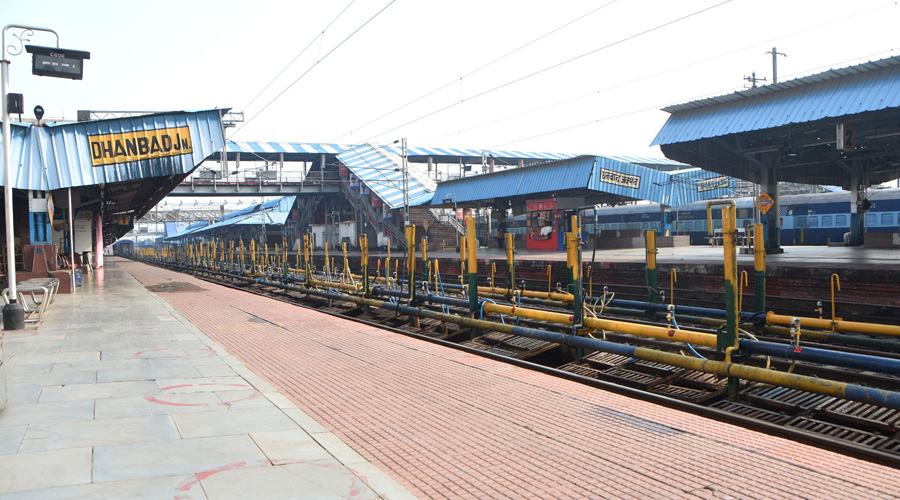 The circle marks for social distance maintaining at the platforms of Dhanbad railway station on Friday.
Picture by Gautam Dey
---
Dhanbad
|
Published 20.11.20, 06:12 PM
|
---
Dhanbad Railway Division has enforced special measures on around 140 stations and halts of the division to avoid the congestion of passengers on platforms during Chhath and also post Chhath during the return of a large number of passengers from Bihar to their respective places in Jharkhand. Special measures have been taken to ensure a safe and comfortable passenger movement.
Instructions have been given by the Divisional Railway Manager of Dhanbad, Ashish Bansal through an advisory to all concerned railway officers of division and respective stations to avoid simultaneous parking of two trains side by side on adjoining platforms to evade heavy rush on the platforms during disembarking on passengers from trains.
"If exit gate at the station is getting congested respective control should not hesitate in even holding a train outside for a few minutes till the congestion is reduced," reads the advisory.
The advisory further instructs the railway officials of the concerned station to make arrangements for an adequate number of wheelchairs in workable condition for the senior citizens.
 In order to make a special arrangement at stations, Central divisional control officials have been instructed to issue period alert notices for the days when an extra rush is anticipated.
Apart from this, the station staff dealing with the passengers have been asked to inform the divisional control officials in case they find any extra rush during stations and platforms.
Talking to The Telegraph Online on Friday, Senior Divisional Commercial manager of Dhanbad, Avinash Kumar Pandey said, "We have already enforced all the measures as per the advisory since yesterday and specific care will be taken to avoid the simultaneous arrival of two such trains each carrying a large number of passengers."
"Though the advisory was meant for November 19 to 21, we may extend it further as per the ground situation as passengers may arrive in large numbers from different parts of Bihar after performing Chhath," informed Pandey.
Notably, a heavy rush of passengers is expected on different prominent railway stations of the divisions including Dhanbad, Gomoh, Koderma, Barkakana, etc. during the return journey of passengers post Chhath from November 21 to 24.
Divulging more details, Avinash Karosia, in charge of Railway Protection Force post at Dhanbad said, "Indeed, handling of such large number of passengers during their return journey will be a challenge and we will ensure deployment of extra personnel on station and stranding of passengers at the platform will be strictly avoided. We will ensure the speedy departure of passengers from the platform and station."