Dhanbad boys set helmet example
DAV Public School boys set an example of safe driving as they wore helmets even as they bicycled to school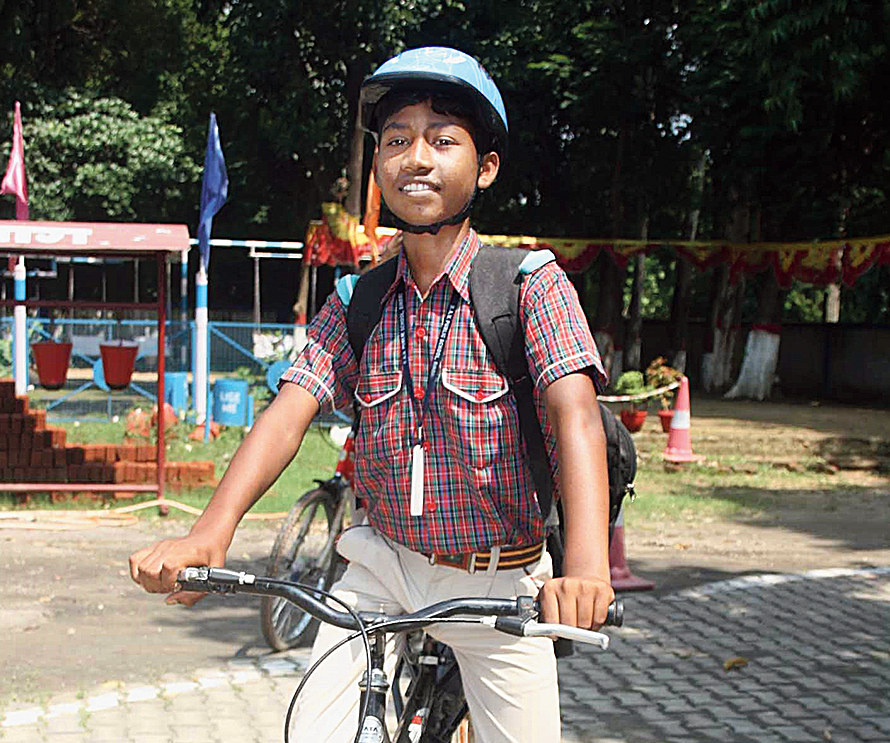 ---
|
Dhanbad
|
Published 26.08.19, 07:31 PM
---
At a time youngsters on motorcycles and scooters use any excuse to avoid helmets from "it spoils my hair" to "it feels hot", three students of DAV Public School, Sindri, set an example of safe driving as they wore helmets even as they bicycled to school.
The Sindri school, which had lost three students in a bike accident three years ago, has since then made conscious efforts to ingrain safe riding among its students and society as a whole.
Encouraged by the school, this latest initiative came from Class IV student Avik Kumar, 9, Class V boy Sagar Marandi, 10, and a little older among the trio, Class IX student Abhishek Kumar Mahto. All three made heads turn when they rode their cycles, wearing helmets.
Sagar said he knew no one on cycles wore helmets, which many people riding motorised two-wheelers also avoid. "I cycle to school, which is about 1 kilometre away from my house, and I'm wearing a helmet to tell people it is safe to do so," said the boy.
Asked if he wasn't afraid of being laughed at, Sagar said: "Though I know no one wears a helmet while riding a bicycle, I wanted to send a message. My father always wears a helmet. He told me a time will come when entire Sindri will be inspired by me."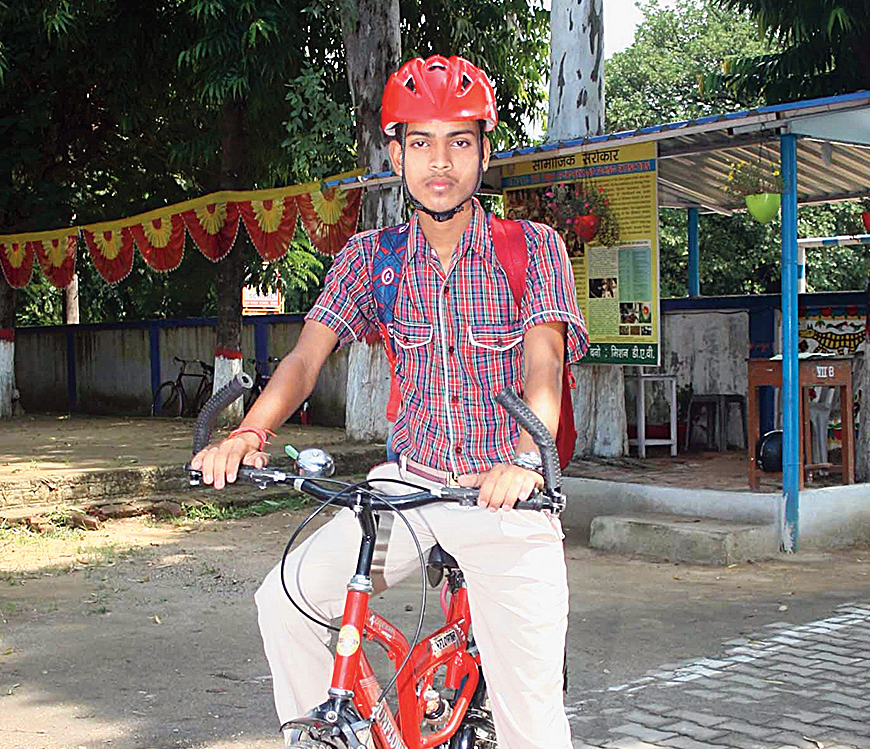 Echoing Sagar, Abhishek who cycles 2.5km to school everyday, said, "Our parents and principal Ashutosh Mairh were most encouraging about our decision to wear helmets. It is not for show. Too many road accidents take place everyday. Many lives can be saved if people wear helmets."
He had one more piece of advice. "Please don't wear any cheap helmet just to avoid being fined by the traffic police. Please wear good quality helmets and strap them on safely." Avik, who is the youngest of the three, said he loved wearing the helmet and did not understand why so many grown-ups did not. "I feel secure wearing my helmet on the road. I will always wear it," said the nine-year-old.
DAV Public School, Sindri principal Mairh said these three boys were an inspiration. "We have banned our students from riding motorised two-wheelers (bikes and scooters). We also regularly send messages to parents of all our 1,437 students on the dangers of violating traffic rules, specially not wearing helmets," he said. "Even in our school assembly, we often tell students about the rules in the Motor Vehicles Act and common traffic rules. We haven't forgotten the tragedy," he said, referring to how Class XII mates Shivam Singh, Sachin Das and Rohit Das, on their way home from school, died when their bike was hit by a tipper truck. They weren't wearing helmets.
Parents have appreciated the example set by Avik, Sagar and Abhishek. Nikhil Rajwar, the father of Nitin, a Class I boy of DAV Sindri, said: "It's great to see the next generation showing responsibility. This will inspire others."