Dhanbad-based littérateur's book launch
Coal town-based art critique pens a book – Godfather, in Hindi, based on his memoirs on the renowned littérateur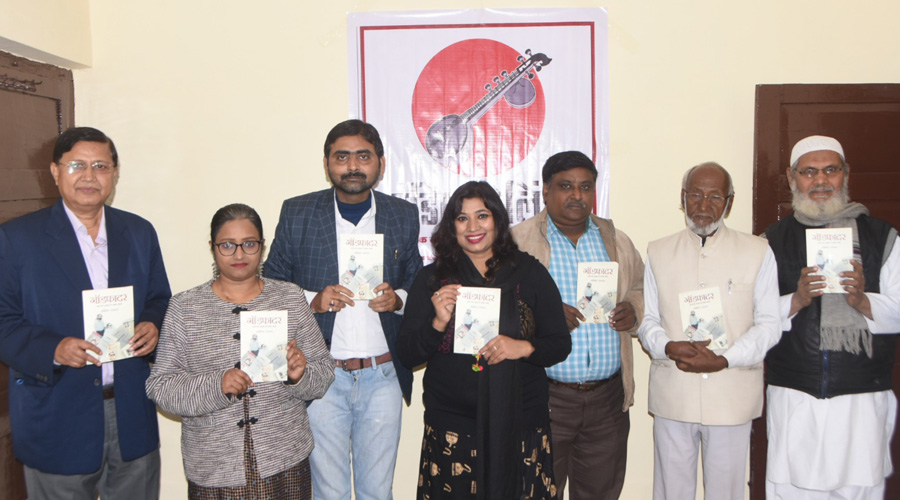 Distinguished guests during the launch of Abhishek Kashyap's book "Godfather", on Monday in Dhanbad.
Picture by Gautam Dey
---
Dhanbad
|
Published 14.12.20, 11:25 PM
|
---
Dhanbad-based young littérateur-cum- art critique, curator and journalist ‑ Abhishek Kashyap launched his new book titled – Godfather in the presence of a galaxy of poets, art lovers, and local littérateurs, during a poet's meet organized at Dhanbad's Judge Colony. The 43-year-old's latest book is based on his memoirs on Hindi littérateur ‑ late Rajendra Yadav, former editor of renowned Hindi literary magazine – Hans.
Talking to the media, on the sidelines of the book release function, Sarita Jain, a Hindi poet from Delhi, present at the book launch event, said, "The book is one of finest memoir collections of a young littérateur about his guide. It also is the best way for a student expressing his gratitude towards his mentor."
The 123-page book, comprising 23 chapters has been published by India Telling, priced at Rs 150, focuses on different aspects of Yadav's personality. 
Talking to The Telegraph Online Kashyap, said, "I was highly impressed with the personality of Rajendra Yadav, since the very beginning of my journalistic career or even before as my first article was published in Hans way back in 1998, that gave me a national identity."
"Such was the reputation of Hans that based on the publication of the compositions in Hans the writer or poet used to get job offers and I also got 100s of letters from across the country besides the job offer of a being a Hindi teacher of a school, immediately after the publication of my first article in Hans," said Kashyap who's two books titled Kala Vrat and Sahitya Samvad published by Delhi-based ‑ Nai Kitab Publishers were released on January 7, earlier this year during the New Delhi World Book Fair 2020 organized by National Book Trust at Pragati Maidan, New Delhi.
"The book titled, Godfather was written during the lockdown and is divided into different chapters based on small reminiscences of Yadav ji from my memory. But it is not about a praise text eulogizing his positive aspects but deals with his weaknesses and darker side too," said Kashyap. He added that Yadav never believed in developing such a cult image for himself where there is no scope for criticism.
"It would have been a great injustice. I would have highlighted only his positive side as Yadav himself in his memoirs about other writers used to be a true critique. He never believed in writing only praises," said Kashyap. 
"I used to write a column Sahitya Khomcha for a newspaper focusing on literary happenings taking place in the country. My office in Mayur Vihar, Delhi is next to his and hence we would end up spending hours together in the evening," he said.
A Commerce graduate of RSP College Jharia, Kashyap, has published a Hindi novel, Ham Sab Mahi ‑ a critique, Dekhte Parkhte Hue and also edited several books including Jogen ‑ based on artist Jogen Chowdhury; Shabd Sansar - collections write-ups by eminent Hindi journalist, writer, and Rajya Sabha member Harivansh.
Kashyap has also translated several English books into Hindi including Ruskin Bond's book titled Strange Men Strange places as Ajibogarib log, ajibogarib Jagahen, etc. He has also worked for several Hindi dailies and magazines including, Naya Gyanodaya, Das Din, Raj Sarokar, etc.