Dead body of migrant worker reaches home in Giridih from Doha
Govind Mahto succumbed to heart attack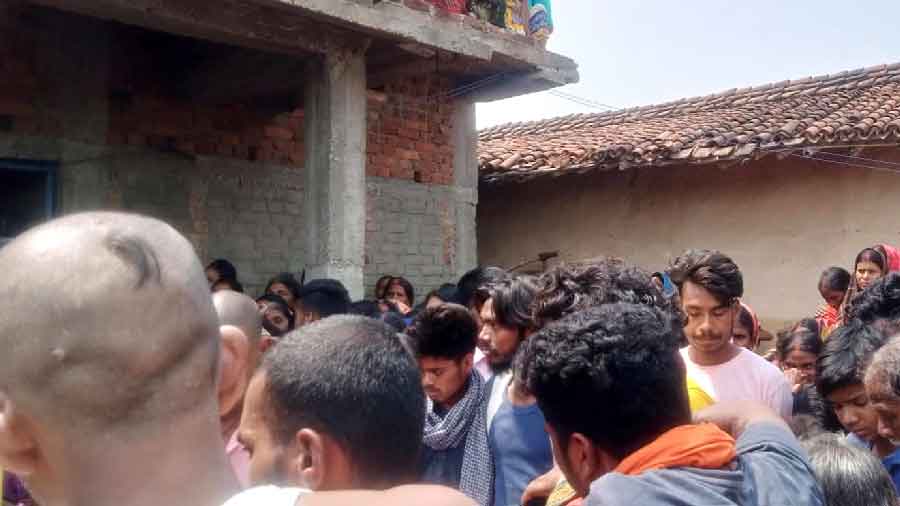 Villagers gather outside the house of Govind Mahto after his dead body reached from Doha at his house in Ghagra village
Gautam Dey
---
Dhanbad
|
Published 01.05.22, 05:30 PM
|
---
As world celebrates International Labour day on May 1, Giridih district witnessed some sad moments with the dead body of 43-year old migrant labourer, Govind Mahto reaching his native village, Ghaghra after 38 days of his death due to heart attack at Doha in Qatar.
The body which first reached Calcutta airport this morning was later brought to his native village by road. Pall of gloom descended upon his wife Basanti Devi (37) and four children including Devanti Kumari (21), Uma Kumari (18), Suraj Kumar (15) and Navneet Kumar (12).
Mahto, son of Pati Mahto who went to work for L&T Infra at Doha three months before died on March 24 due to heart attack and his dead body was repatriated back to home after completion of all legal formalities.
Sikandar Ali, a Giridih based social worker, who is pursuing the issue of pitiable condition of labourers of different districts of Jharkhand, including Giridih, Bokaro and Hazaribagh working abroad said, "Following the continuous perusal of the compensation issue through correspondence and talks with the employer we have secured a sum of Rs 13 lakh for the family members of the deceased in terms of compensation and pending salaries."
He further demanded the state government to provide more compensation for the family members of the deceased. 
He added that out of 30 labouers of the state lying stranded at Kuala Lumpur in Malaysia since January 2022 after the expiration of their three-month contract with the private contractor Leadmaster Engineering Construction Sdn Bhd only 10 have been repatriated back to India.