Dalma wildlife sanctuary teeming with Asiatic elephants
Covid restrictions however deprive tourists of watching the sight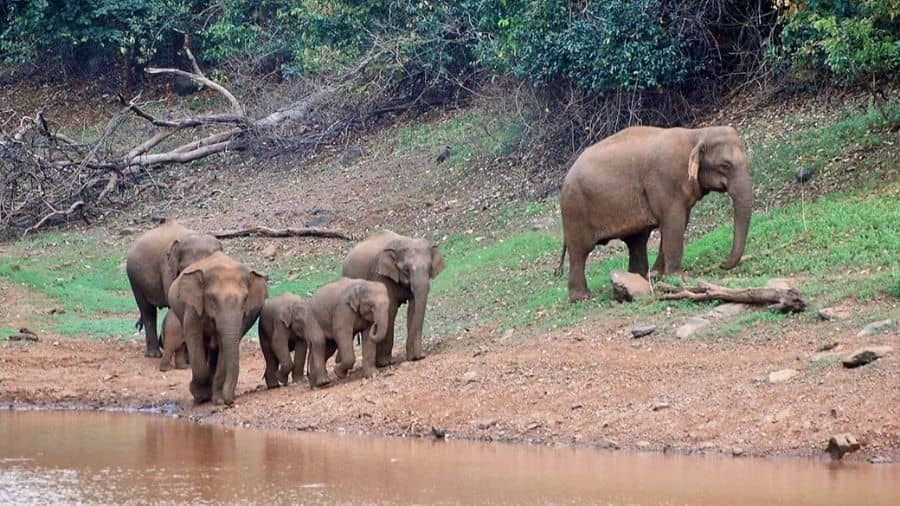 Elephants at Dalma
File Picture
---
Jamshedpur
|
Published 15.01.22, 06:23 PM
|
---
Tourists will rue not witnessing elephants which are currently scattered across the sprawling Dalma wildlife sanctuary.
The sanctuary, 30 km from Jamshedpur, is closed in view of the spurt in Covid-19 cases in the state and the most of the jumbos have returned to their Dalma home from neighboring Bengal.
Most of the elephants are stationed downhill while a few have climbed uphill. They are spread almost everywhere across the 192 sq km sanctuary.
However, the tourists, who flock the sanctuary to spend quality time amid natural surroundings and watch elephants at their playful best near watering bodies, are unlucky for not being able to visit the reserve of Asiatic jumbos.
Moreover, the state forest department will also lose revenue since the elephant abode has shut indefinitely. To top it all, the renovated museum and information kiosk at Makulakocha (inside the sanctuary) are awaiting inauguration. These two facilities are set to become major tourist attractions.
Forest guards confirmed most of the 156 elephants, including calves, have returned to Dalma after their annual sojourn to the jungles of West Midnapore and Bankura in Bengal.
"Some of the jumbos had ambled back home last month itself and the rest followed suit earlier this month. Some elephants are stationed downhill while few are positioned in the periphery, ready to slip into the sanctuary  anytime," one of the forest guards informed.
"It is peak season in Dalma from a tourism point of view. The elephants are back but the tourists from Jharkhand, Bengal, Odisha and Bihar are missing them (elephants). But nothing can be done since the sanctuary is shut on orders from the state government. It seems the sanctuary will not reopen before Holi (in March)," the forest guard said on condition of anonymity.
Dalma range officer (West) Dinesh Chandra confirmed the return of jumbos from Bengal. "Most of the elephants are back from Bengal and are stationed downhill. Some have moved uphill," he added.

The jumbos migrate to Bengal via two designated corridors – one from Jhunjka, leading to Nutandih, and the other from Burudih, passing through Narsingpur, Dalapani, Suklara and Aamdapahari. They amble back to Dalma home by catching the same route.
The jumbos had left for Bengal in August-September last year and usually return in January-February. Some had ambled back home early (in December) last year. 
Tourists expressed disappointment for not being able to visit the elephant abode. "I have been told about the return of elephants. I had booked two rooms at the quarters at Pinderabera. I had plans to watch the elephants by taking a tour of the sanctuary. But my bookings are cancelled. Nothing can be done in these circumstances. I am disappointed for missing the elephants," said Sunny Sinha, a Jamshedpur-based businessman