Dalma sanctuary says no to tourists due to Covid spike
All guest house bookings have had to be cancelled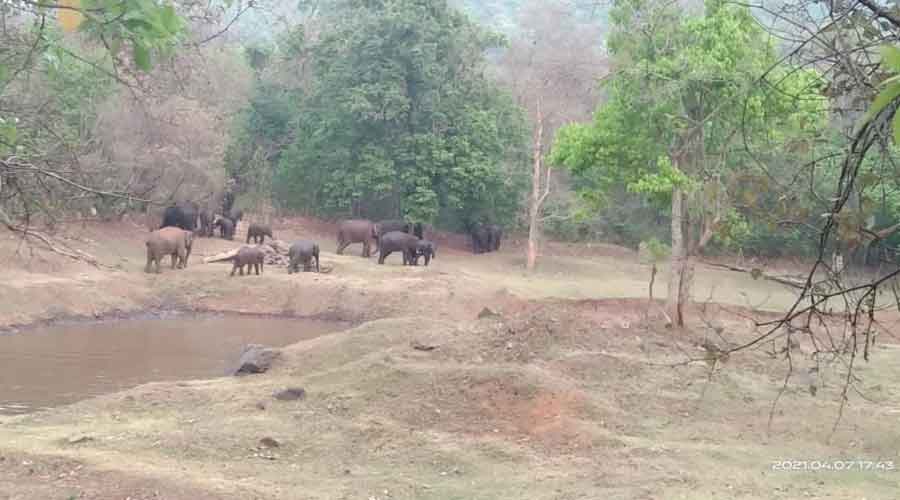 Elephants at Dalma wildlife sanctuary.
File Picture
---
Jamshedpur
|
Published 17.04.21, 06:04 PM
|
---
Dalma wildlife sanctuary has declared no-entry for tourists, thanks to the second wave of Coronavirus.
Though the state government has not given any directive to shut the elephant bode, but forest  authorities are against taking unnecessary risk at a time when the pandemic is spreading fast in Jharkhand and across the country.
Dalma divisional forest officer (DFO) Abhishek Kumar said the sanctuary has been shut as a precautionary measure. "It will be wise to keep the sanctuary shut for tourists. We have not received any guidelines in this regard but we took the decision as a precautionary step," he added.
According to him, entry of tourists in good numbers would pose risk at a difficult time. "The virus is spreading fast. Allowing outstation tourists would pose a risk. The virus may be transmitted in animals. There is no need to take any unnecessary risk at this stage," Kumar added.
The state government is expected to issue guidelines, which includes closure of sanctuaries and nature parks.
The Dalma sanctuary, 30km from Jamshedpur, was also closed for tourists due to the pandemic in March last year. It re-opened early last month when the Covid cases came down. 
Foresters said tourists, including some from Bengal, who had booked resorts and were enjoying their time, have left the sanctuary. "The decision to shut the sanctuary was taken on Thursday evening. The tourists were asked to vacate the accommodations by Saturday. However, most went back home by Friday afternoon," one of the foresters said requesting anonymity.
The resorts at the 192 sq km sanctuary, including the recently commissioned bamboo cottage at Makulakocha, were booked till April end. Requests for bookings were pouring in almost every day. However, no further bookings was being entertained.
"Nobody except forest officials  would be allowed entry to the sanctuary. All the resorts will remain shut till further orders," the forester said.
It is peak season for tourists. The state forest department will have to suffer a revenue loss.
Tourists will miss watching elephants who are presently scattered across the sanctuary. All the elephants have ambled back to the sanctuary after their annual sojourn to the jungles of West Midnapore and Bankura in neighbouring Bengal. Now is definitely the best time to visit the sanctuary, known for Asiatic elephants.
Sunil Prasad, a resident of  Sakchi in Jamshedpur, said he had booked  two rooms at the plush AC cottages at Makulakocha for a family getaway next month. "Now  we have to wait till the sanctuary re-opens," he rued.