Covid cases rising in Dhanbad, 910 hospital beds set aside
We have sufficient oxygen concentrators, ventilators and medicines at all treatment centres, says deputy commissioners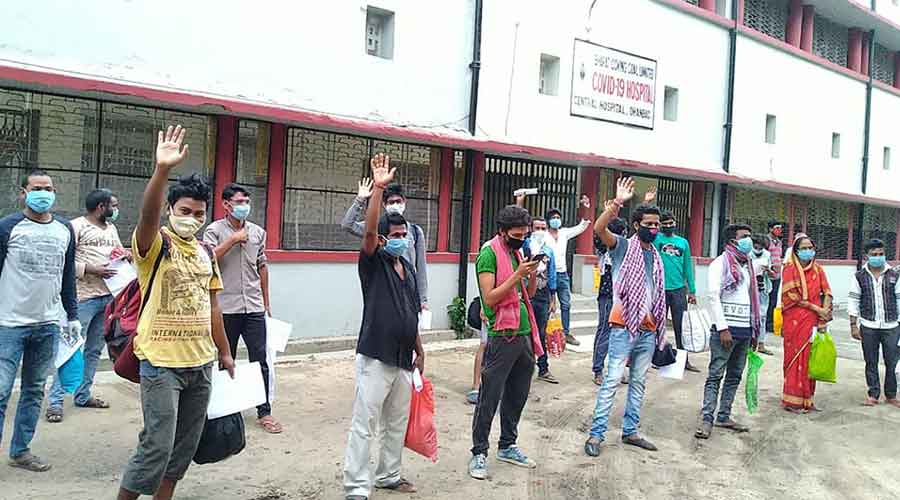 ---
|
Dhanbad
|
Published 12.04.21, 07:01 PM
---
Covid is spreading fast in Dhanbad with the number of active cases in the district touching 485 on Monday in spite of the district administration's efforts to step up testing people at the railway station and bus stands, in addition to adhering to the test, isolate and treat regimen.
In all, 446 Covid cases were detected in the last week _40 on April 11, 148 on April 10, 94 on April 9, 91 on April 8, 68 on April 7, 72 on April 6 and 24 on April 5. As many as 182 Covid patients were released from varoius treatment centres during this time.
But Dhanbad deputy commissioner Uma Shankar Singh claimed the distict administration was fully prepared to meet with any eventuality. He said in all, 910 beds had been set aside at various private (75) and government hospitals(835) for Covid patients.
Government hospitals and health centres where Covid patients will be treated are Central Hospital, Dhanbad; SNMMCH, Cath lab; SNMMCH PG Block; Nirsa Polytechnic; Zonal Railway Training Centre, Bhuli; and Tata Central Hospital, Jamadoba.
Five private hospitals are treating Covid patients. They are Asian Dwarkadas Jalan Hospital, Asharfi Hospital, Pragati Nursing Home, JIMS Hospital and Yashlok Hospital.
"We have made sufficient arrangements of oxygen concentrators, ventilators and medicines in all treatment centres including non-ICU treatment centres. There is no need to panic," said Singh.
The deputy commssioner said officials were conducting regular reviews of treatment centres. "Officials are unertaking inspections of each of centre as a result of which quality treatment is being ensured. As many as 128 patients have been cured and released from treatment centres in the last one week," Singh said.
He said two senior doctors deputed at the telemedicine centre, Dr P.P. Pandey and Dr M. Narayan, are attending to patients using teleconferencing facilities twice a day, offering treatment advice and counselling.