Coldest day in Ranchi as state set to witness extended winter
Western disturbance may lead to light to moderate in some areas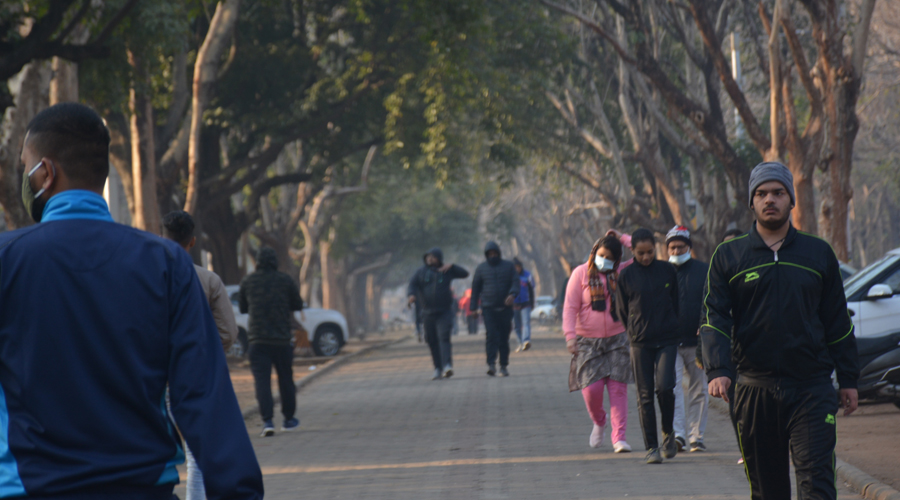 Morning walkers, attired in in full winter gear, at Sonari-Kadma Link Road in Jamshedpur on Monday.
Picture by Bhola Prasad
---
Jamshedpur
|
Published 01.02.21, 06:45 PM
|
---
Jharkhand is likely to witness an extended winter, weathermen predicted on Monday, explaining that the frequency of western disturbances would ensure that the season will be extended well beyond February second week.
Both IMD's Ranchi and Patna Met centres issued an alert of rain and thundershowers in isolated pockets of the state around February 5-6. Again, adverse weather conditions were expected around mid-February. 
Weather officials forecast light to moderate rain in western, central and southern Jharkhand on February 5 and 6 due to the impact of a western disturbance passing through higher latitudes.
"An induced cyclonic circulation is expected to form over western Rajasthan due to the impact of the western disturbance. The cyclonic circulation would move towards eastwards resulting in unseasonal showers over Jharkhand. A trough formation was also expected in mid and upper layers of the atmosphere about 1.5 km above the mean sea level," said a duty officer at the Ranchi Meteorological Centre.
He added that this would extend the winter's stay in Jharkhand beyond February 15 as night readings would again witness an abrupt fall after the system waned. He said another western disturbance was expected around February 15-16 which would result in light rains in some parts of the state in the third week of February.
Weathermen at the Regional Meteorological Centre at Alipore, Calcutta, confirmed a longer winter for Jharkhand.
"Several western disturbances had impacted Jharkhand's weather in January coupled with the formation of anti-cyclonic circulations due to the confluence of northerly and easterly winds. Such western disturbances would continue to impact Jharkhand's weather in February, thereby prolonging winter's stay," said a weather official at the Calcutta-based Regional Meteorological Centre.
Officially, India Meteorological Department (IMD) declares winter's adieu when minimum readings rise over 13°C for a consistent number of days.
Cold wave conditions prevailed for the second consecutive day in several districts across Jharkhand, including Ranchi, Jamshedpur, Koderma, Lohardaga, Chatra, Garhwa, Hazaribagh, Latehar, Palamau, Gumla, Simdega and West Singhbhum.
On Monday, Ranchi experienced the coldest day of this winter with a reading of 6.3 degree Celsius.
Kanke on the outskirts of the state capital recorded the day's lowest minimum reading across the state a minimum temperature of 5.2 degree Celsius. Daltonganj recorded a minimum temperature of 5.8 degree Celsius while Bokaro recorded 6.1 degree Celsius.
Severe cold wave conditions continued to prevail at Chaibasa in West Singhbhum for the second consecutive day on Monday. The local observatory at Chaibasa recorded a minimum temperature of 5.8 degree Celsius, which was eight notches below normal.