Cold wave makes a comeback in Jharkhand
Chill to subside from Sunday, says met office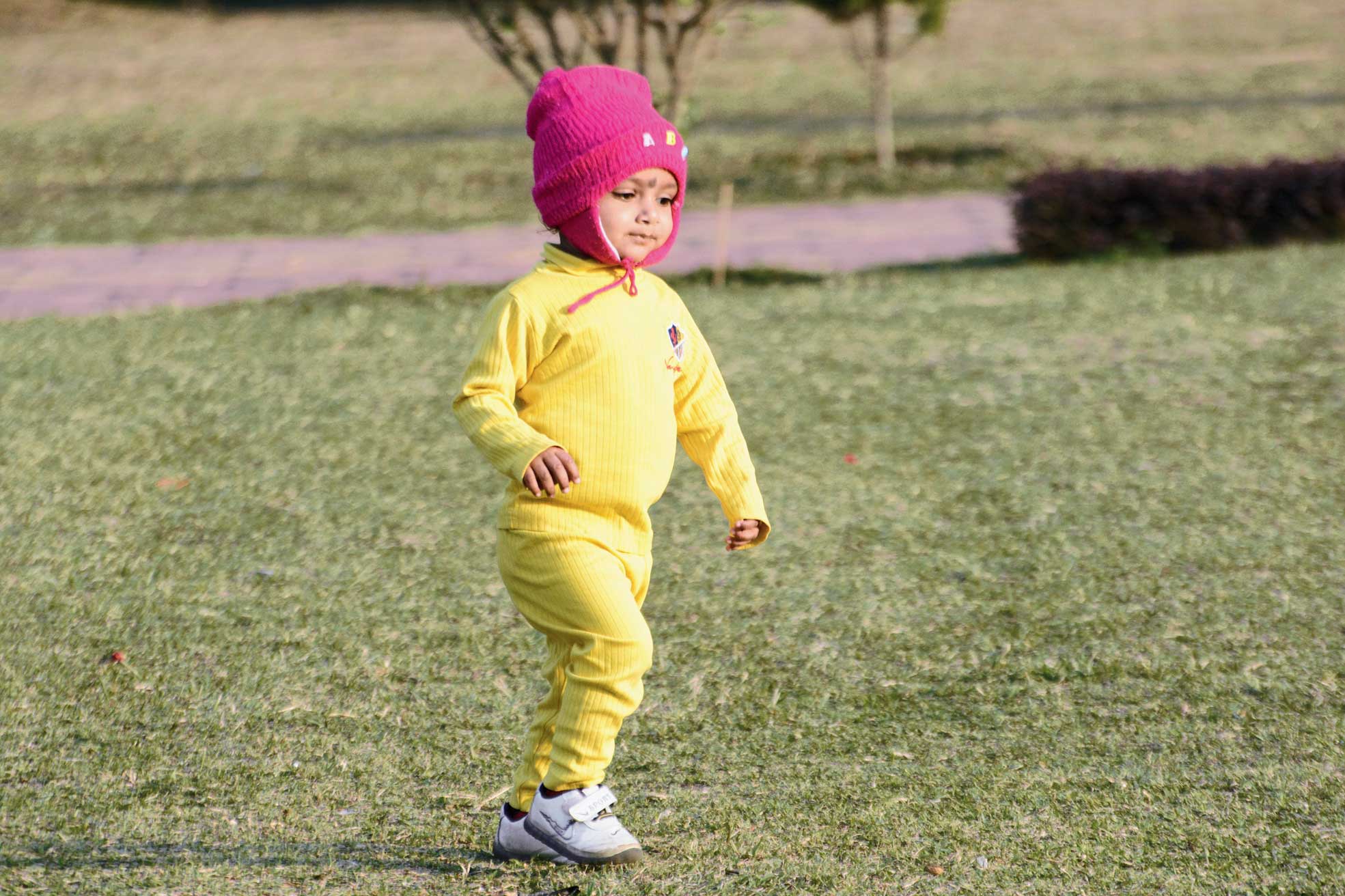 A child in winter gear plays at Jubilee Park on Thursday.
(Bhola Prasad)
---
Jamshedpur
|
Published 31.01.19, 08:57 PM
|
---
Clear skies and free flow of North Wind handed out to Jharkhand its coldest winter in January, a peak winter month for the second consecutive year, weathermen confirmed on Thursday.
Data revealed that unlike 2018 cold wave did not persist in Jharkhand for long, but on most days the minimum reading in Ranchi, Daltonganj, Bokaro, Hazaribagh and Jamshedpur remained 10°C or below. In Jamshedpur, average minimum reading in January stood at 10°C this year while in Ranchi, Daltonganj and Bokaro it hovered at 8-9°C.
Last year, the spell of cold wave had set in on January 2 and continued till January 12. The minimum temperature recorded a steady rise after the middle of January last year.
However, this year cold wave conditions returned to Jharkhand on Wednesday after a 10-day spell in December and it is expected to last for a couple of days due to the free of flow of the dry and crisp north-westerly wind.
Snowfall in Jammu & Kashmir and Uttarakhand has added to the chill as cold winds are directly flowing to Jharkhand for the last couple of days.
In its afternoon bulletin on Thursday, the Ranchi Meteorological Centre forecast dry weather with cold wave in isolated pockets of the state, especially up south and central Jharkhand.
"The weather is expected to be bright and clear in the next 48 hours. We do not see any adverse system building in our chart analysis and satellite pictures," said S.C. Sharma, a senior scientist at the Ranchi Met centre.
He, however, said they found traces of a western disturbance, which would pass through northern parts of the country and impact Jharkhand's weather from February 3.
The projected minimum reading in Ranchi on February 3 and 4 is around 11-12°C.
The dominating north-westerly wind (result of snowfall) has intensified resulting in a drop in minimum readings 4-5 notches below normal.
On Thursday, Ranchi recorded a minimum temperature of 6.6°C, four notches below normal while Jamshedpur recorded 8.2 °C, five notches below normal.
Daltonganj clocked a minimum reading of 6.1°C, five points below normal while Bokaro witnessed bone-biting 6.5°C, four notches below normal.
Data showed Kanke, on the outskirts of Ranchi, recorded a minimum temperature of 4.4°C on Thursday while the automatic weather station at Darisai near Ghatshila, about 25km from Jamshedpur, shivered at 5.2 °C. Chaibasa, the headquarters of West Singhbhum district, and adjoining Seraikela recorded a sub-10 chill of 7°C.
The extreme cold has again forced people to wear woollens in layers. Many morning walkers in Ranchi and Jamshedpur have been venturing into the park only after 7am or skipping the walk for the last two days.
"I have stopped stepping out of the house in the evening because of the severe weather for two days," said Anupam Singh, a resident of Ranchi's Lalpur Chowk area.
The footfall of morning walkers at Jubilee Park has reduced since Wednesday.
"We have been experiencing biting cold for the last two days. I am not being able to go for my regular morning walks," said Anamika Singh, a homemaker in Sakchi.