Coal town residents want city buses to start plying again
Only 14 of 17 were in operation before lockdown, now services have stopped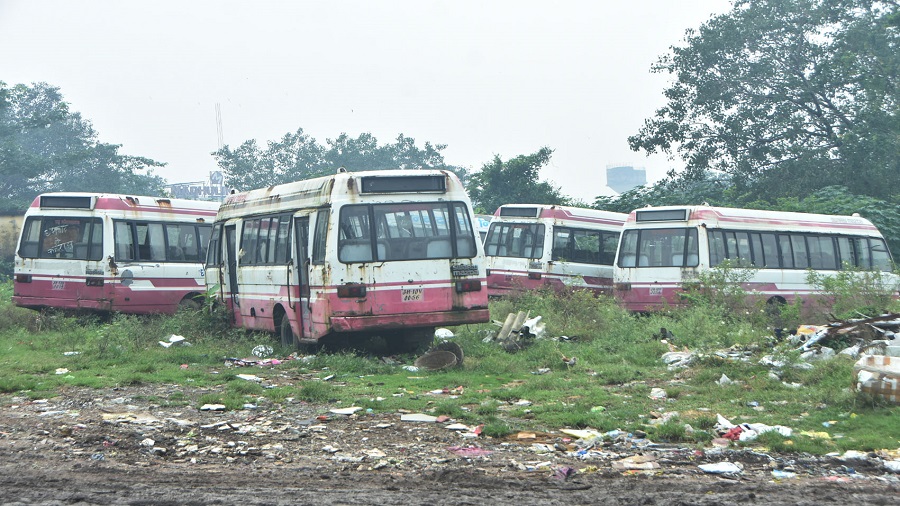 ---
|
Dhanbad
|
Published 24.09.20, 05:23 PM
---
The suspension of Dhanbad Municipal Corporation's city bus service since March, the time there was, first, a "janata curfew", followed by a national lockdown, has dealt a cruel blow to daily wagers, vendors and office-goers living in distant areas of Sindri, Katras, Nirsa, Chirkunda.
Commuters have been further inconvenienced as local trains, connecting Dhanbad with Sindri and Chandrapura, have also been suspended, while auto-rickshaw fares have gone through the roof after the administration imposed a cap on the number of passengers three-wheelers can carry.
Only 14 of 70 city buses were operational before the lockdown. Most of the buses were plying on the Dhanbad-Katras, Dhanbad-Sindri and Dhanbad-Chirkunda routes. The remaining 56 buses are idling, in various stages of disrepair.
DMC transport services in-charge Uday Kachhap did not have much to explain. "How can we operate the buses on our own when the transport department has not given specific permission" he said, trying to point the finger at another department.
Ranjit Singh, a resident of Ranibazar locality of Katras block, said, "The auto fare between Katras and Dhanbad was Rs 20 per person. Now, it has increased to Rs 50 per person. This has led to of difficulty for people like us."
Singh said if city buses were plying, then the fares would not have been more than Rs 30 per passenger. "Even if social distancing norms were imposed on buses, like in autos, the fares would not have gone up this much," said the speech therapist at Jeevan Jyoti School for physically and mentally challenged children at Bekar Bandh in Dhanbad.
"Daily wagers and vendors visiting Dhanbad from Katras are finding it extremely difficult to commute," he added.
Councillor of ward 3 of Katras circle Vinayak Gupta said trade was suffering too as Katras is the centre of the garment trade with traders visiting from across the district.
"These days traders are facing difficulty to come to Katras due to the lack of city bus services and exorbitant auto fares. We will be writing to the Dhanbad municipal commissioner, Satyendra Kumar, demanding the resumption of city buses so that common people, suffering due to the pandemic induced economic downturn, can have some relief," Gupta said.
President of Sindri Chamber of Commerce Deepak Kumar Dipu said residents of Sindri were the worst sufferers. "In the absence of city buses, auto rickshaws are charging Rs 100 per person per trip. This is too expensive for most people," he said.