Coal block auction: Hemant justifies challenging move in Supreme Court
'Jharkhand has had bitter experiences over mining, states must be consulted before taking major policy decisions'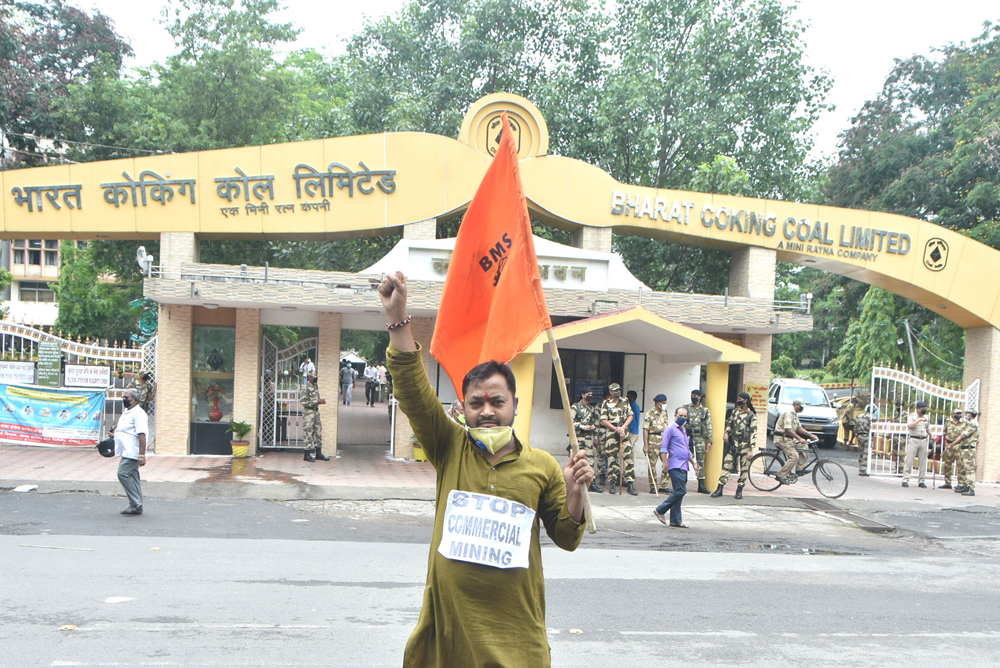 A Bhartiya Majdoor Sangh (BMS) activist demonstrating in front of Koyla Bhavan, the BCCL headquarters in Dhanbad, on Thursday against the auction of coal blocks for commercial mining
Picture by Gautam Dey
---
Ranchi
|
Published 20.06.20, 09:12 PM
|
---
Chief minister Hemant Soren said that his government had no option but to move Supreme Court challenging the Centre's decision to auction 20 coal blocks for commercial mining, emphasising that the move held little benefit for a state which has had bitter experiences with mining in the past.
"I had written to the Prime Minister to defer the auction for six to nine months in the wake of Covid-19. Also, since it was a major policy decision, we demanded time for extensive deliberations with all stakeholders so that we can maintain equilibrium between commercial mining and sustainable development," he told the media on Saturday at Project Building.
The Centre's decision, that has sparked widespread protests among coal mine workers in Dhanbad and elsewhere in the state, pertains to as many as 41 blocks across the country.
In its writ petition to the apex court filed on Friday, the state government contended that the decision to auction coal blocks would not benefit Jharkhand during the ongoing pandemic.
Hemant said he had to take legal recourse to halt the process in the interest of Jharkhand and its people.
"I don't know why the Centre was in such a hurry to begin auctioning. The fact is it may not get any good players because of hosts of restrictions and the economic downslide in India and the world over. It would have been better if the auctioning process was deferred for six to nine months," the chief minister said.
Hemant said while mining was important for Jharkhand to generate revenues, his government's priority was to first tide over the crisis perpetrated by the pandemic and provide livelihood to scores of people who have lost their jobs.
"Our priorities are different in this hour. We have to feed people, give jobs to our migrant brothers, help local industries revive and so on," he said.
Notably, Hemant wrote to Prime Minister Narendra Modi last week, hailing the Centre's decision to open the coal sector for commercial mining but stressed on a greater role of states in policy matters related to the issue.
"Mining has always been a sensitive issue in Jharkhand. Commercial mining is a major policy change and it has to be taken in consultation with states. Unless states come on board, this won't succeed," he said.
Hemant recalled that Jharkhand has had bitter experiences with mining in the past in the form of displacement issues, pending dues to farmers and forest dwellers and environmental damage. "So, all that we wanted was time to first deliberate with all stakeholders in the state to be on board with the Centre," he said.