CM Raghubar Das launches apps to make chores easy
KARTA app helps people to locate and hire skilled service providers for domestic work or repairs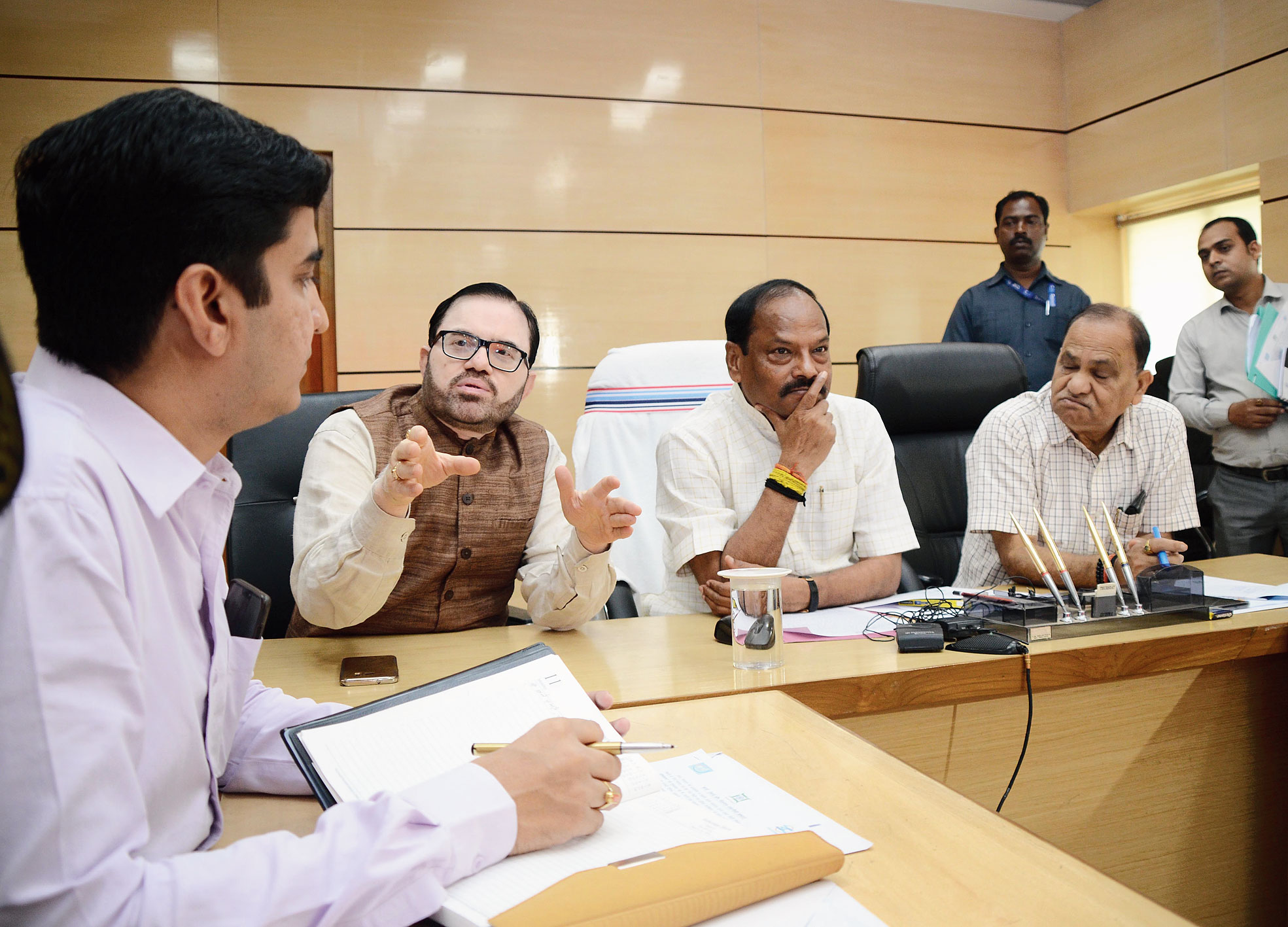 CM Das (centre) launches the apps in Ranchi on Tuesday
Picture by Manob Chowdhary
---
Ranchi
|
Published 02.10.19, 12:12 AM
|
---
Chief minister Raghubar Das, on behalf of Ranchi Smart City Corporation Limited (RSCCL), launched on Tuesday two public utility mobile applications for the capital city — under the 'One City One Impact' programme of the central government — through which people can locate and hire skilled service providers for domestic work or repairs.
Das, who launched the twin applications named KARTA and KARTA Service Provider, said the government was committed to enhance the quality of public utility services to help people. "I appeal to citisens to use these services," he said.
Anyone staying in any of the 53 wards of Ranchi Municipal Corporation can download the KARTA app from Google Play Store or by logging on karta.org.in to find five kinds of skilled labour — plumber, driver, electrician, automobile mechanic and security guard.
Skilled service providers, on the other hand, need to download the KARTA Service Provider app to register themselves and thereby be accessible to the consumer through the KARTA app.
State urban development minister C.P. Singh, chief secretary D.K. Tiwari, secretary of urban development department Ajoy Kumar Singh, principal secretary to CM Sunil Barnwal, State Urban Development Authority (Suda) director Ameet Kumar and the CEO of RSCCL  Rakesh Kumar were also present during the launch of the apps, which have been developed by Honeywell for RSCCL.
Spokesperson of RSCCL Amit Kumar said that so far around 250 skilled service providers had connected themselves to this service. "All enrolments have been done after proper police verification. We had received around 15,000 applications from skilled and unskilled service providers. The number of service providers will increase in the coming days, and we hope Ranchi's citizens find them useful and time-saving. The apps will help everyone, trained service providers with work orders and their clients with convenience. In the coming days, the number of services will increase, work for which is on."
An RSCCL official who did not come on quote as he is not authorised to speak to the media said Android phone users could download the KARTA app immediately while iPhone users could do so from October 20. A consumer needs to fill an online form with details such as address, ward number, among others, which would be saved in the central server.
"Then, supposing a person needs an electrician. The user will tap on the icon (option), fill up details on the kind of repair he wants and suitable timing. A list of enrolled electricians will flash on the screen along with estimated visiting charge. Once the user books an electrician, an online work order message will be delivered to him."
Right now, the user will pay the service provider in cash, and after a minimum slab, payments are negotiable depending on the work.
RSCCL has also launched call centre for user feedback. Its number 06512-446666 will work from 8am to 8pm on all days.
CM Das said his government had started enrolling service providers with the labour department so that they and their kin get support in case of accidents and casualties.
"The government will also enrol labourers in the construction sector. During Diwali, the government will gift clothes to all enrolled workers," said the CM.
Asked, Kanke Road homemaker Sabita Mishra welcomed the app. "Through the app, it will be easy for everyone, including busy professionals and senior citizens, to hire skilled and reliable workers," she said.