CIMFR conducts mushroom cultivation programme for self-employment
Online and theoretical training imparted at institute for free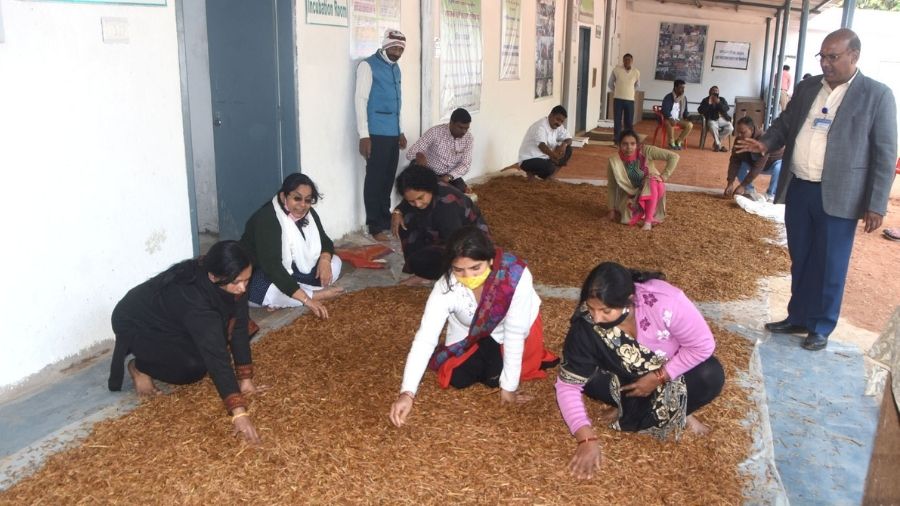 ---
|
Dhanbad
|
Published 23.01.21, 05:33 PM
---
The Central Industrial Mining and Fuel Research (CIMFR) has been conducting training in mushroom cultivation and processing, with an aim to make common people self-reliant through this mode of employment.
The free of cost training also intends to put up stalls under the CIMFR banner so that the produce of the beneficiaries can be marketed.
As many as 17 people from different parts of the district recently underwent a theory and practical session at the institute from January 17 to 22. This was conducted under the guidance of the Head of the Cleanliness, Sanitation and Horticulture Department D.B. Singh.
"The theory classes are being conducted for all beneficiaries from 11 am to 1 pm while the practical training is being imparted on the CIMFR ground from 2 pm to 4 pm," Singh told The Telegraph Online.
The training was launched on October 23 and the first round was conducted till November 3, he said. "We selected the interested trainees on a first come first serve basis and this is the second batch of our mushroom cultivation training," he added.
The training programme was launched at instruction of CIMFR Director P.K. Singh as per the Prime Minister Narendra Modi's appeal to research institutions to contribute to the self-employment drive of the Centre.
"During the practical training we are providing all kinds of on-site training for production, sterilisation, spawning, bag-hanging, and plant protection" said Sin
In order to ensure that only serious applicants get training, Singh said they would impart the second phase of training only to such beneficiaries who bring the cultivated mushrooms as per the first phase of instructions.
"We have already provided the training of biscuit production from mushroom during the first phase and will ensure the utilisation of mushroom in samosa and momos as part of our value addition exercise," he added.
"Though at present it is being imparted free of cost, we will propose to fix some nominal charges to avoid the intake of non-serious trainees for the programme," Singh said.