Call to resist Union ministers' visit in Jharkhand
It's a planned backdoor strategy for influencing the rural polls: Rajiv Ranjan Prasad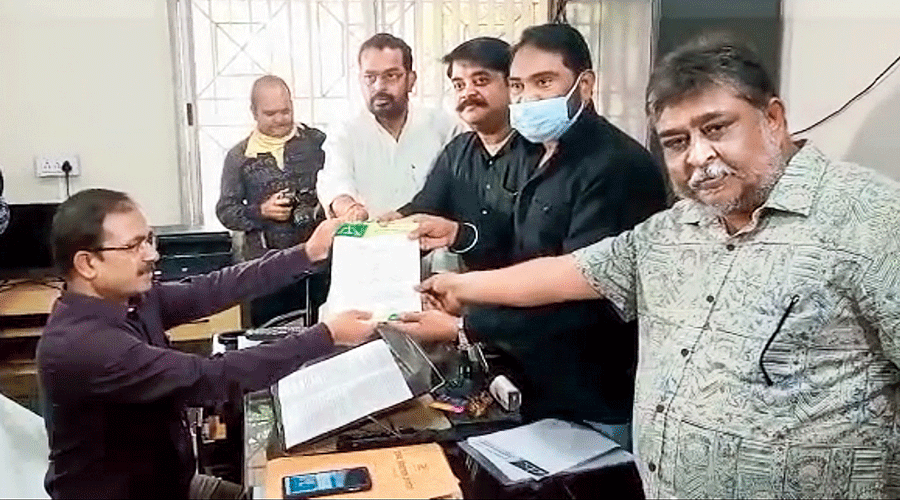 The JMM and the Congress leaders submit memorandum to Jharkhand election commission secretary Radhe Shyam Prasad at Dhurwa in Ranchi.
Manob Chowdhary
---
Ranchi
|
Published 17.04.22, 01:09 AM
|
---
The Jharkhand Mukti Morcha (JMM) on Saturday received support from both its coalition partners — the Congress and the Rashtriya Janata Dal (RJD) — in urging the state election commission to prevent Union ministers from visiting the state until the upcoming panchayat election is over.
The representatives of both the Congress and the RJD signed a memorandum along with their JMM counterparts and also joined the delegation that went to the office of the state election commission for submitting the same to the commission secretary Radhe Shyam Prasad.
As reported in The Telegraph on Saturday, the JMM had earlier announced that it would seek intervention of the state election commission for restraining central ministers to visit the state as they had apprehended such visits would influence the rural polls to be held next month.
The memorandum said that the model code of conduct that came into effect with the announcement of rural polls on April 9 prohibited introduction of any new policy of public benefit or such an assurance and it should be strictly complied with.
The ruling partners also pointed out in their memorandum that the rural polls are not fought on party symbols in Jharkhand and the candidates contesting for posts in gram panchayats, panchayat samitis and zilla parishads do so in their individual capacities. Even the elected representatives of any political party is not supposed to take part in the campaigning, the memorandum said.
Under such circumstances, central ministers have started holding review meetings with district authorities that are supposed to conduct the rural polls independently and impartially under the supervision of the state election commission.
"We have information and also mentioned it in the memorandum that the central ministers would visit 19 districts of the state within the next fortnight and will also meet their party members that will obviously influence the panchayat polls at this stage," JMM general secretary Supriyo Bhattacharya informed, adding such visits should be put on hold immediately.
"It's a planned backdoor strategy for influencing the rural polls," Congress state spokesperson Rajiv Ranjan Prasad who joined the delegation alleged when pointed out that the BJP said these visits were a part of a national review of Aspirational Districts programme.
"I called it a planned strategy because it is bound to have some influence when a central minister meets the members of his party and also those of self-help groups etc in the name of reviewing certain beneficial schemes," he explained, adding those visits should be postponed until the poll process is over.