Blast at underground fire zone triggers gas emission in Dhanbad
BCCL authorities blamed for incident, no injury reported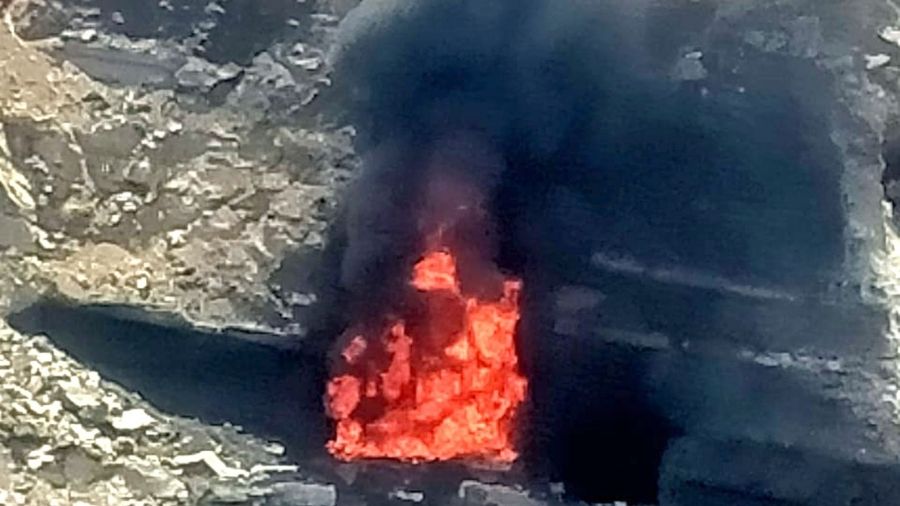 Smoke and fire rises from the mine at Basudevpur Colliery in Dhanbad on Tuesday.
Picture by Gautam Dey
---
Dhanbad
|
Published 18.05.21, 07:24 PM
|
---
An incident of land subsidence and blast followed by gas emission on Tuesday rocked the project site of a private excavator working for BCCL in Basudevpur Colliery of BCCL's Sijua area, about eight kilometres from Dhanbad district headquarters.
This comes barely nine days after a similar incident took place at underground fire-affected  Idgah Muhalla of Sudamdih police station area of Dhanbad.
Tuesday's accident took place when coal production work was under progress just 200 metres towards the blast site. Panicked workers started running away from the spot after the blast, but nobody was injured. Locals of the Kenduadih Gwalapatti area were also threatened as thick layers of black smoke enveloped the skyline after the blast.
Local residents, who also rushed to the site, expressed concern over the incident and demanded immediate steps from the BCCL administration to contain fire and gas emission at the earliest by initiating  comprehensive measures.
A team of police led by Binod Oraon, officer-in-charge of Kenduadih appealed people to stay away from the site and said, "Though no loss of life or property took place in the blast, a sense of insecurity has gripped the people. So we have asked the local BCCL authorities to take measures to douse the fire at the earliest."
PK Singh, Project officer of Basudevpur Colliery of Sijua area, said, "The fire is not new and is rather simmering in the galleries of the underground colliery since decades. Rain last night has prompted the smoke and gas emission from this morning."
"We will put earth, soil and boulders at the incident site once the intense heat is controlled to some extent," Singh added.
Krishna Prasad Raut, local councillor, however charged the BCCL administration of negligence regarding the incident said, "Though the area is subsidence and fire prone, no comprehensive fire-fighting measures have ever been carried out by the BCCL administration. This has led the situation to go out of control and cause the incident."
"What will happen to the population of around 25 thousand living around the mine site if the fire situation further aggravates," questioned Raut and expressed disgust over the late response of the BCCL administration about the incident. No one from the BCCL administration reached the site more than two hours after the blast took place.