BJP attacks Hemant government over increasing crime
Protestors led by Dhanbad MP PN Singh and MLA Raj Sinha raised a slogan against the state administration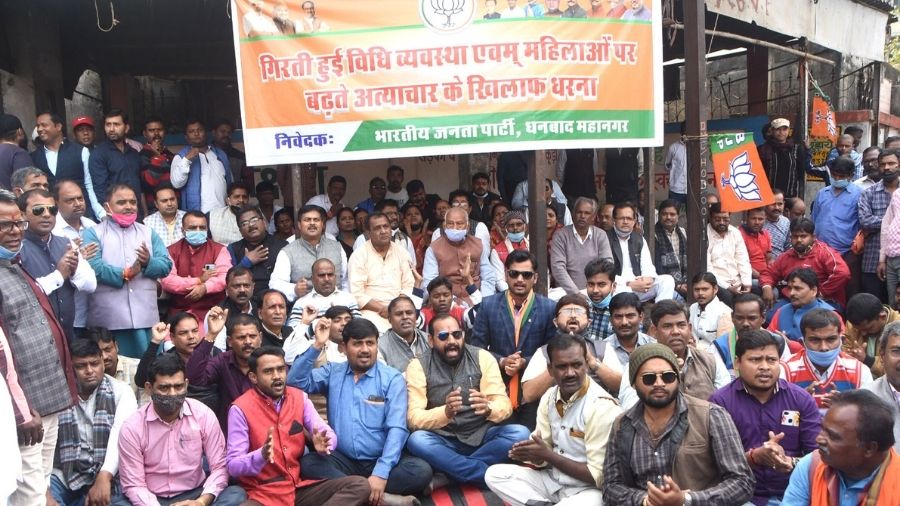 ---
|
Dhanbad
|
Published 06.01.21, 08:38 PM
---
Launching a scathing attack on the state government over increasing incidents of crime including rape and murder of a girl in Khunti, district unit of the BJP has organised a massive protest at Randhir Verma Chowk on Wednesday.
The protestors led by district MP PN Singh and MLA Raj Sinha raised a slogan against the state government.
Singh said, "The BJP has organised the protest against the deteriorating law and order situation in the entire state including the increasing incidents of rape, murder, kidnapping and robbery."
"The incidents of crime have increased ever since the new government under the leadership of Heman Soren came to power," said Singh.
"Going through the newspapers daily, I come across various news on abduction, threatening, extortion, etc. This indicates the growing criminal activities in the state," Singh said.
"Common people are afraid because of the deteriorating law and order situation in the state. They are living under constant fear," said Singh, adding that maintaining law and order in the state should be the top priority of the government.
District MLA Raj Sinha, who also participated in the protest, said: "The law and order situation is worsening in the state. If BJP workers are raising the issue, they are being sent to jail."
"This will not be tolerated at any cost. We will intensify the protest against the worsening situation," said Sinha.
Raising the issue of extortion demand from some computer traders and other coal excavators, Sinha said, "The criminals are now sending videos to traders and people's representatives demanding money from them and threatening with dire consequences."