The loss of employment and livelihood during the lockdown to contain the spread of coronavirus has been widespread across the country, including in Jharkhand.
In arguably one of the best philanthropic efforts during the pandemic in the state, an executive of Bharat Coking Coal Limited has launched an initiative to help youths who have lost their jobs during the lockdown by providing them sustainable self-employment opportunities.
On Tuesday evening, 35-year-old Dev Kumar Verma, a manager with BCCL, started the "Rozi Roti" (job and food) mission beginning with two beneficiaries — a migrant worker from Mumbai and a resident of Dhanbad.
A youth from Katras in Dhanbad, Kismat Bhuiyan, who used to work in a hotel and catering unit, but has been rendered jobless since the lockdown was implemented in March, was the immediate beneficiary on Tuesday after he opened a chicken shop under the initiative by Verma. On the other hand, a pav-bhaji seller near Nariman Point in Mumbai, who was forced to return home during June amid the lockdown, will get a makeshift kiosk to sell fast food in Dhanbad.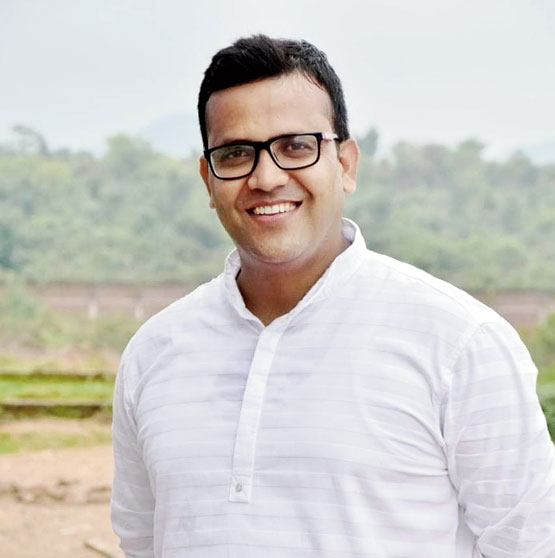 Dev Kumar Verma who started the employment initiative
"We have set a target of providing sustainable livelihood opportunities to 100 youths in August, who have been badly affected during the lockdown. We will be providing a one-time fund to these youths and our volunteers will guide them in marketing their products. The youths will be provided not only with funds but also with other accessories like pushcarts and kiosks. Once they start earning well, they can return the amount given to them which can then be used to help other needy youths," said Verma, who completed his master's degree from National Institute of Technology, Durgapur and also holds marketing and sales and lawyer's degrees.
Verma, who idolises Bollywood actor Sonu Sood who had helped many migrant workers return home during the lockdown, started the mission with support from like-minded friends. The youths will be provided with their preferred job opportunities under the initiative.
"We try to understand the existing skills and education of the youths who have lost their jobs amid the pandemic and then suggest them livelihood opportunities suiting their interest and also suggest means of proper marketing and rolling of the funds," Verma said.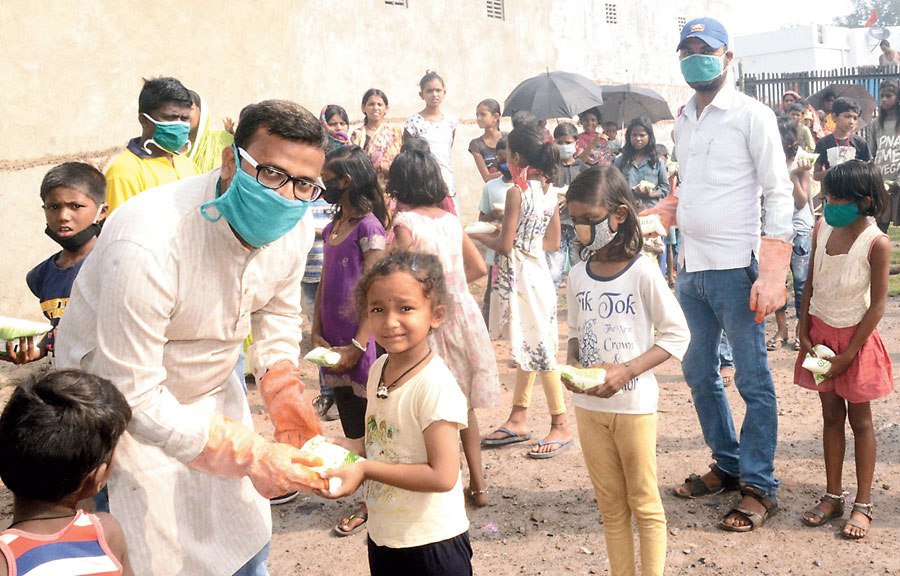 Verma distributes milk packets to children at Baghmara block in Dhanbad during the lockdown.
He has used more than 60 per cent of his salary and also of his wife's in providing free meals, nearly five lakh packets, for the needy and also at several quarantine centres through community kitchens during the lockdown. The couple have also distributed 5,000 litres of milk for poor children.
Verma and his wife, who is a professor at Birsa Institute of Technology, Sindri, have been also providing free education to the children of coal pickers in the mining areas through their schools named Pathshala since 2014. Pathsala schools currently have 450 students on their rolls.
"I was surprised at the poor level of education in a high school during election duty and decided to start the school for the poor and needy children of coal pickers from my house. We are now running three schools which have been registered with the Jharkhand government. The schools are equipped with projectors, laptops, water purifiers, biometric attendance and separate toilets for boys and girls while books, uniforms and transport are provided free to the students," said Verma, an IIM Lucknow alumnus.