Barely 15,000 able to get jabs in Jharkhand as free doses remain scarce
Active Covid caseload drops to 320 as recoveries outnumber fresh cases in state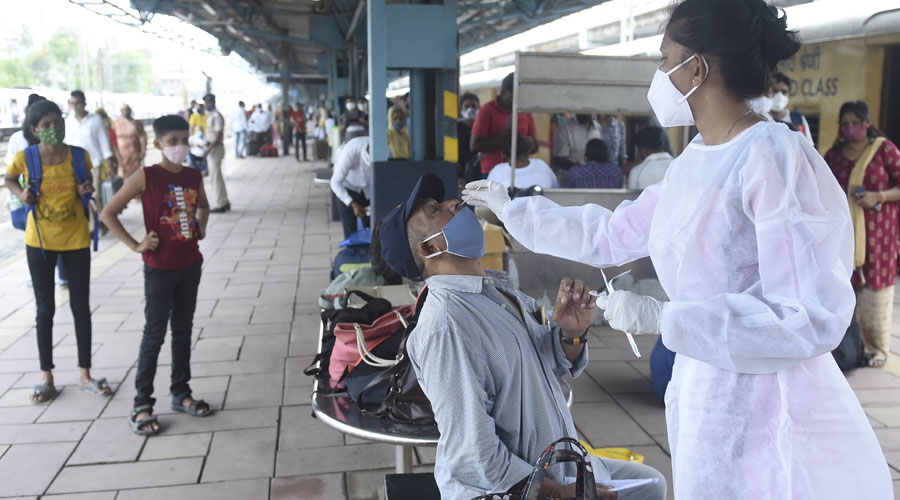 ---
Ranchi
|
Published 21.07.21, 09:59 AM
|
---
Jharkhand managed to vaccinate barely 15,000 residents against Covid-19 on Tuesday owing to the crisis of vaccines in the state.
 As per provisional data released by the National Health Mission (NHM), 11,254 residents were administered the first jab, while 3,975 beneficiaries received the second dose on the day.
As per NHM records, the state has managed to vaccinated only about 50,000 residents in the past three days. A majority of vaccine beneficiaries had to rely on private facilities to get the jabs on Tuesday, officials involved in the immunisation campaign said.
Meanwhile, the active caseload of Covid-19 dropped in the state on Tuesday. As per a bulletin released by the NHM, at least 33 fresh cases of coronavirus infection surfaced in the state in the past 24 hours, while 49 Covid patients recovered during the same period. The active caseload in the state dropped to 320.
As per data compiled by the health department, at least nine districts – Pakur, Koderma, Khunti, Gumla, Godda, Giridih, Garhwa, Dumka and Chatra – did not report fresh Covid cases on Tuesday, while almost all the 24 districts witnessed a dip in the active caseload.
Fresh cases, however, outnumbered recoveries in Bokaro and the active caseload there rose to 33 as the district reported eight cases against three recoveries. Ranchi, on the other hand, reported one fresh case and one recovery. Two persons were found infected in East Singhbhum, while eight Covid patients recovered there.
The state did not report fresh Covid casualties on Tuesday and the mortality rate in Jharkhand remained 1.47 per cent against the national average of 1.30 per cent. Covid-19 has claimed 5,122 lives in Jharkhand so far.
Jharkhand on Tuesday tested swab samples of 53,185 residents and 0.06 per cent of them were found infected by the deadly virus. So far, over 3.46 lakh people have tested positive for Covid-19 in the state and 98.43 per cent of them have recovered.
The growth rate of Covid in the state was 0.01 per cent against the national average of 0.09 per cent on Tuesday, while the doubling rate in Jharkhand rose to 5624.92 days against the national doubling rate of 814.53 days, highlighted government data.  
While active Covid cases dropped in the state, Jharkhand did not report fresh cases of Covid-induced mucormycosis on Tuesday. As per government data, Jharkhand has so far reported 100 confirmed and 59 suspected cases of the fungal infection. Black fungus has claimed at least 30 lives in the state, while 95 patients have recovered from the disease, notified as an epidemic by the government.