At Rajmahal, JMM latches on to a bridge too far
Work yet to start on bridge linking Sahebganj to Manihari (in Katihar) district of Bihar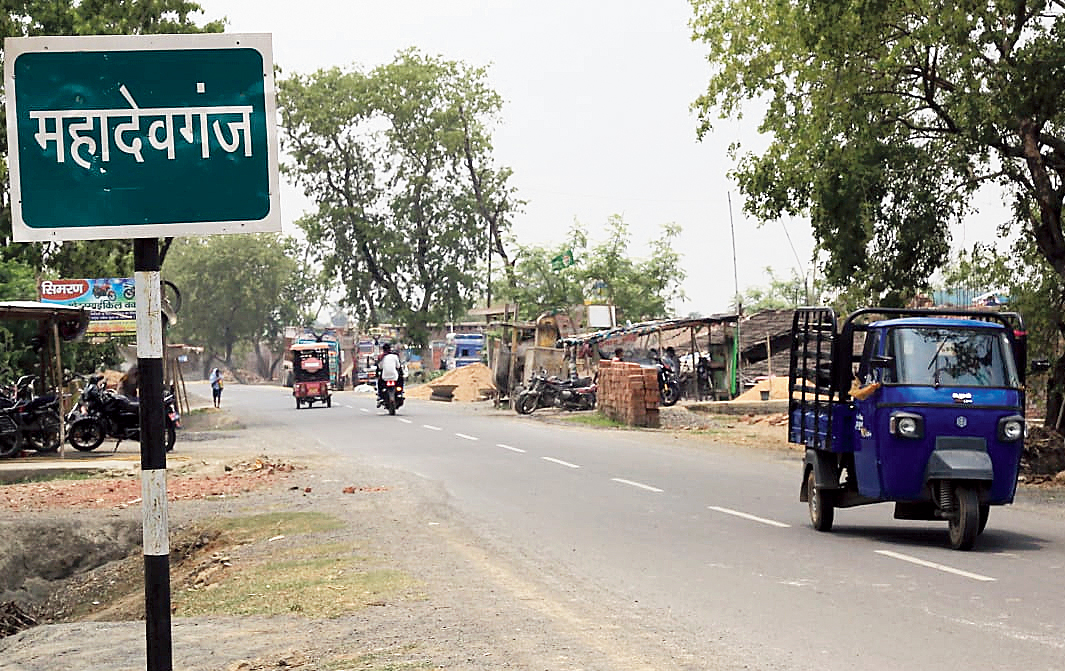 A road signage at Mahadeoganj where the bridge construction will take place.
The Telegraph picture
---
Sahebganj
|
Published 18.05.19, 12:02 AM
|
---
Over a hundred bikers are campaigning for the BJP on the Sahebganj-Dumka highway, but in Mahadeoganj, barely 3km from here, flags bearing the party's lotus symbol are remarkably few in number. The mood doesn't seem upbeat.
"Election aata jata rahega… karna kya hai, bas jake vote kar dena hai. 2014 main to vikas ke liye vote diye the. Is bar dekhte hain (Election will come and go. What else will we do, we will simply cast our vote. We had voted for development in 2014. This time we will see)," said Sonu Pandey (40), a petrol pump owner of the town of 1,000 homes.
The mood of disenchantment does not mirror the energy and enthusiasm of the BJP motorbike rallyists of Mahadeoganj, the state's northern most town sandwiched between the river Ganga in the north, Rajmahal hills in the south, Malda district of Bengal in the east and Bhagalpur district of Bihar in the west.
It was here in April 2017 when Prime Minister Narendra Modi laid the foundation stone of a multi-modal port and a bridge linking Sahebganj to Manihari (in Katihar) district of Bihar.
"Bahut ummeed se zameen diye the bridge ke liye, muavza bhi mil gaya, par bridge ka kaam shuru hi nahi hua (I had given my land with the hope that the bridge will be constructed. I have got compensation for the land too. But the bridge work is yet to begin)," said Mohammed Akhtar (35), a contract worker who parted with 6 katha land for which he has received compensation at the rate of Rs 56,000 per katha last year.
Another resident, who has also given land for the bridge, echoed Akhtar's disappointment that work on the bridge was yet to start.
"The bridge would have opened economic corridors for us. It would have reduced transit time to Bihar and opened up a trading route to northeastern states. As traffic flow would have increased it would have boosted trade prospects for locals who could have opened small shops too. We were also expecting some industries and private firms to set up base here," said Mohammed Kalam (26), a tailor.
The Rs 2,265-crore four-lane, 21.9km bridge over the Ganga is being constructed under the supervision of
National Highways Authority of India (NHAI). The tenders are still being floated, more than two years after the foundation stone was laid by the Prime Minister, who declared that the bridge, to be ready by April 2022, would open doors to prosperity.
It is, therefore, central to the campaign of Rajmahal, a seat reserved for Scheduled Tribes, considered to be a JMM bastion along with Dumka in Santhal Pargana.
With 14 lakh voters, Rajmahal is witnessing a close fight with Hemlal Murmu of the BJP pitted against the JMM sitting MP Vijay Hansda who had managed to hold on to the seat despite the Modi wave of 2014.
The Lok Sabha seat covers districts of Pakur and Sahebganj and has six Assembly segments—Rajmahal, Pakur, Barhait, Borio, Littipara and Maheshpur. While the BJP holds two (Rajmahal, Borio), JMM holds three (Barhait, Littipara and Maheshpur) and the Congress one (Pakur).
JMM insiders are banking on the demographics of the constituency, confident of having the support of minorities and tribals. Muslims, most of them migrants from Bangladesh, comprise 26.4 per cent of the voters while tribals comprise 43 per cent.
JMM's Vijay Hansda is talking about the bridge delay at every meeting, trying to dent the BJP's claims of having ushered in development in the Santhal Pargana region.
"This bridge is a falsehood. This party (BJP) only cheats people to seek votes, be it
tribals or non-tribals," said the sitting MP, who is the son of veteran Congress leader and two-time local MP Thomas Hansda.
Thomas was backing up his son's efforts on the last day of campaigning on Friday at Barhawah, around 55km from Sahebganj town, interacting with local tribals.
BJP leaders were, however, quick to refute the JMM's claims.
"Ever since Independence who had ever thought of this bridge? It was the combined decision of our Prime Minister and Union transport minister Nitin Gadkari that the project was conceptualised. Some technical problems in the tendering process has cropped up. These will be sorted soon. Bridge construction work will begin soon after the elections," countered state BP state general secretary Deepak Prakash who has been camping in Dumka.
"In Rajmahal, we will win comprehensively," he claimed.
The BJP's Santhal Pargana in-charge and Rajmahal MLA Anant Ojha claimed that tribals, especially the young, were supporting them. "Tribals have become conscious that the BJP is serious about their upliftment. Young tribals are rooting for the Modi government," he claimed.
Rajmahal votes on May 19.