Artistes demand lifting of Covid restrictions
All of us have been rendered jobless: Secretary of Bhartiya Sanskriti Kala Vikas Manch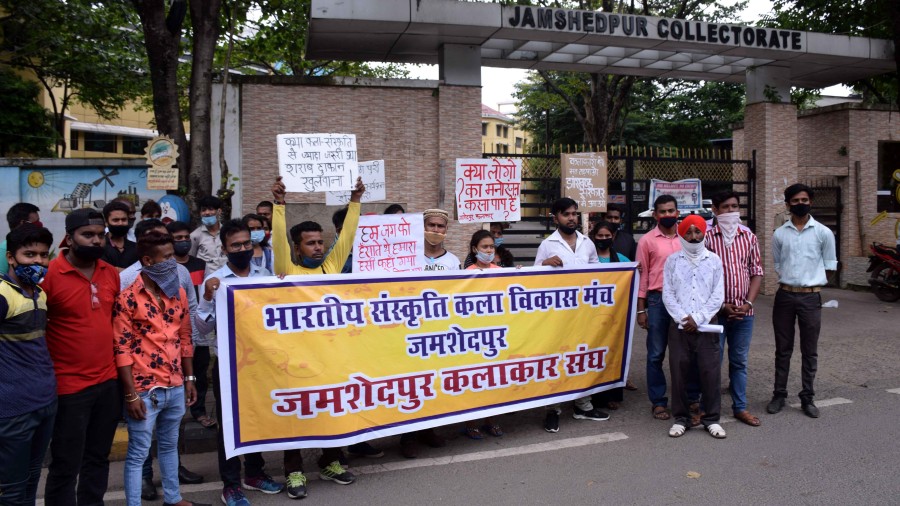 ---
---
Artistes under the banner of Bhartiya Sanskriti Kala Vikas Manch on Thursday walked in a rally in Sakchi and later staged a sit-in at the district collectorate demanding that the administration allow them to function and operate their businesses.
Led by Daljit Singh Parwana, the president, and Ashutosh Tiwari, the general secretary of the cultural outfit, around 100 artistes, including singers, musicians and actors who perform in plays, held placards and banners highlighting their demands and marched to the district collectorate from the Ambagan grounds in Sakchi, covering a distance of over 1km.
A delegation of the outfit wanted to meet deputy commissioner Suraj Kumar to hand over the memorandum highlighting its demands. But since they were refused, the protesting artistes squatted at the entrance of the deputy commissioner's office.
After about two hours, they were allowed to enter the deputy commissioner's office to submit the memorandum.
"The coronavirus-induced lockdown has wreaked havoc with our livelihood. All of us have been rendered jobless. We sit idle in our homes as we are unable to operate due to the restrictions. While the government has allowed the re-opening of malls and hotels, we want the restrictions imposed on us to be lifted too as it is a question of our survival," said Tiwari.
He demanded the re-opening of art galleries and that singers and musicians be permitted to perform at weddings and other events.
A senior member of the outfit, a folk artiste, said: "The folk fraternity from Jharkhand has given me a lot of love and respect. They are continuously sharing their problems with me in these trying times. They do not have any money or essentials at home. Whom do I approach to highlight their plight?"
He pointed out that he has a dozen folk artistes, including four instrumentalists, in his troupe and most of them are landless and depend on their art for livelihood.
"They depend on monthly programmes which have not been taking place ever since the lockdown was imposed," he said and rued that electronically generated rhythms are already overtaking folk traditions and the pandemic has only added to their problems.
Another member of the organisation said: "It's high time that the government thinks about us and provides some incentives."
There are about 4,500 artistes in Jamshedpur who have been affected by the coronavirus-induced lockdown.