Alliance bunch of thieves: Raghubar Das
The chief minister said JMM chief Shibu Soren, JVM president Marandi and others have looted the state for years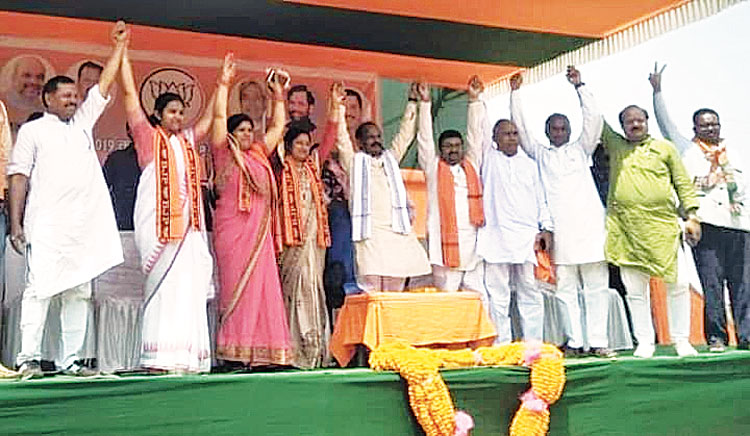 ---
|
Koderma
|
Published 01.05.19, 06:41 PM
---
Chief minister Raghubar Das on Wednesday dubbed the grand alliance as a mahagatbandhan of thieves and robbers.
Addressing an election rally in favour of Koderma BJP candidate Annapurna Devi, the chief minister said the leaders of the mahagatbandhan did not want Modi to return to power because they knew that if he did, some of them would languish in Ranchi's Hotwar jail while some others would be in Delhi's Tihar.
He said the day Annapurna left the RJD joined the BJP, the lantern (RJD's symbol) extinguished in Jharkhand.
He said when Prime Minister Narendra Modi addressed a rally in Jamua under Koderma Lok Sabha seat on April 29, lakhs of people heard him even in the scorching heat. "That day , I understood that no power in the world can defeat the BJP in Koderma," Das said.
He added that the PM had launched several projects from Jharkhand including the world's biggest health project, Ayushman Bharat.
Das said Koderma, Giridih, Dhanbad and Hazaribagh districts would get 24-hour power supply within a year and the entire state would have street lights.
He also claimed that stone crusher and mica industries of Koderma would be revived.
The chief minister said JMM chief Shibu Soren, JVM president Marandi and others have looted the state for years.
He claimed that Marandi did not have the courage to contest from the reserved seat for SC. Das said the Maoists had almost been wiped away from the state during Modi's tenure.
The rally was also addre-ssed by Annapurna and education minister Neera Yadav.