Activists, BJP leaders call for action against lathicharge on protesting students
ABVP stages dharnas across Dhanbad, lawyer raises issue before UN Human Rights Commission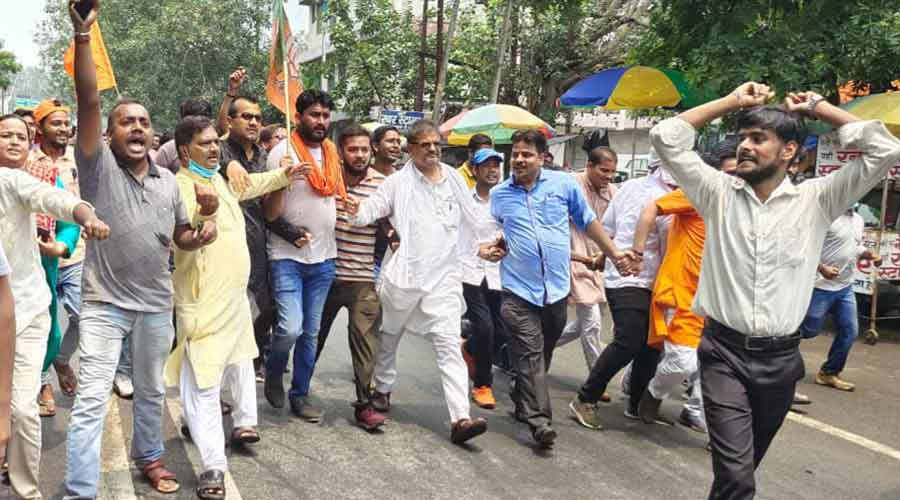 Members of BJP youth wing and ABVP protest against police lathicharge at court road Dhanbad on Saturday.
Shabbir Hussain
---
Dhanbad
|
Published 07.08.21, 07:38 PM
|
---
Student activists of Akhil Bhartiya Vidyarthi Parshiad on Saturday carried out a massive protest against the Dhanbad police lathicharge on plus two examinees of Jharkhand Academic Council by staging dharna at several places across the district.   
The protesting student leaders who were joined by senior leaders of BJP including Dhanbad MLA Raj Sinha and Sanjay Jha district vice president carried out slogan shouting against the district administration, state government and Sub Divisional officer of Dhanbad, Surendra Kumar demanding immediate action against him.
A group of protesters congregated at Randhir Verma Chowk marched to the district collectorate at around 1 pm and tried to enter the building when police carried out a lathicharge against them.
Dhanbad SSP Sanjeev Kumar reached the site after Saturday's police action and tried to pacify the agitated student leaders but they continued shouting slogans against the police.
The students were adamant on their demand for action against the Sub Divisional Officer, Surendra Kumar who led the lathicharge carried out against the students.
Talking to the media at Randhir Verma Chowk of Dhanbad, Dhanbad MLA, Raj Sinha said, "The barbaric lathicharge carried out by Sub Divisional officer, Surendra Kumar against the students, including the girl students was a black day in the history of Dhanbad."
"Though, we will demand the government to solve the problems being faced by the plus two examinees of JAC but we are here today to demand immediate dismissal of the Sub Divisional Officer of Dhanbad who showed his might against the female students and carried out lathicharge himself against them," said Sinha.
District vice president of BJP, Sanjay Kumar Jha said, "We have congregated here to extend support of peaceful dharna organised by students and though the issue being raised by plus two examinees is between them and government but we demand action on the sub divisional officer of Dhanbad who has proved to be mentally unstable and not worthy of the post through his action against the students yesterday."
Shadab Ansari , a Dhanbad based young lawyer, has raised the issue of lathicharge against the girl students by the Sub Divisional Officer of Dhanbad before the National Human Rights Commission.
"The barbaric action against the students is not at all justified and also illegal  and thus we have raised the issue before the National Human Rights Commission," said Ansari.