A rivulet that tells the tale of capital neglect
Rs 78 Crore spent on the revival of dying Harmu goes down the drain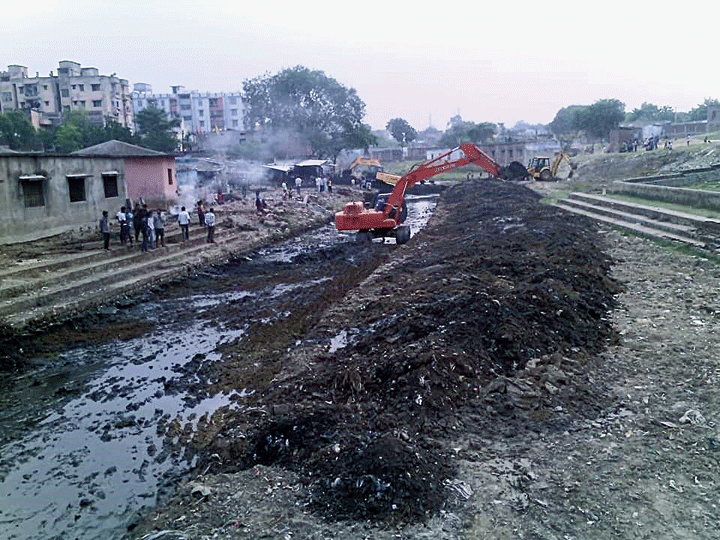 ---
|
Ranchi
|
Published 23.11.19, 06:45 PM
---
The state government's much touted Harmu rejuvenation project has done little to prevent the river, which once used to be the lifeline of the city, from turning into a drain.
Dirty water flows through the river, which originates in Nagri and terminates at Subernarekha after covering a distance of 17.5km in Ranchi district.
The concrete banks on both sides of the river are the only visible difference that the first phase of the project worth Rs 78 crore has made.
People walking past the water body have to cover their nose to block out the stench.
"It stinks so much that we feel like throwing up," said Ramesh Kumar, a resident of Harmu, who has to cross the bridge over the rivulet often. Rachana Kacchap, a resident of Purani Ranchi, agreed.
"We still remember the day when we used to drink the river water after filtering it. The river bank was one of our favourite picnic spots. Now, we can't even think of washing our hands in the river," Kacchap said.
An official of the urban development department admitted the problem.
"On February 25, 2015, a contract was signed between the state urban development department and a Mumbai-based private company, Eagle Infra India Limited, for the rejuvenation of Harmu river. Since then, the project is being jointly implemented by Jharkhand Urban Infrastructure Development Company (Juidco) and the private firm. The government has so far spent nearly Rs 78 crore for reviving and beautifying the river, the desired result has not been achieved," the official said.
A Juidco official, who is directly involved with the rejuvenation work, supported the urban development department official.
"When the detailed project report (DPR) of the first phase was prepared, there were only a dozen major drains connected to the river. However, around 50 more big and small drains have come up since then and it has become difficult for us to treat such a huge amount of filthy water. Despite the construction of seven sewage treatment plants, low-cost sanitation toilets and pathways and planting of over 10,000 saplings, the river has failed to attract people. The government is often blamed for the poor planning," the official said.
Urban development secretary Ajay Kumar Singh said the river water would become clean after the second phase of the project that would begin after the Assembly elections.
"We would have already started work if the dates for the Assembly elections had not been announced. In the second phase, construction of a few more sewage treatment plants has been planned. Very soon, fresh water will flow in the river," Singh added.