A golden wedding present for star archer bride's mom
A wedding present to remember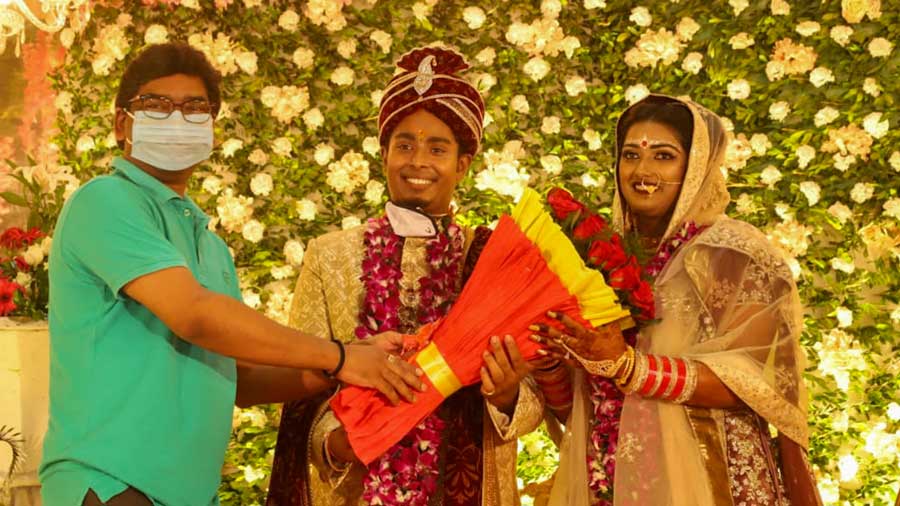 ---
|
Ranchi
|
Published 01.07.20, 01:29 AM
---
It could be called a case of fortune favours the brave.
Olympian Deepika Kumari's mother Geeta found another reason to rejoice, when Ranchi police recovered her stolen gold chain on the day her daughter tied the knot with international archer Atanu Das from Calcutta at a low-key ceremony here on Tuesday.
Braving the lockdown and a host of restrictions in force due to the Covid-19 pandemic, the couple decided to tie the knot during this period, as neither of them wanted to give up on valuable practice time, or sacrifice any tournaments later in the year.
On June 13, unidentified criminals snatched her mother's gold chain when she was on her way home from the market under Ratu police station.
An FIR was lodged and Ranchi police formed a special investigation team (SIT) to probe the matter.
Addressing a press conference on Tuesday, rural superintendent of police, Naushad Alam, said they had arrested three persons, including a jeweller, identified as Mukesh Kumar Soni, in this case.
Earlier, two others, Sheikh Jabir and Sheikh Saif, were arrested for the crime.
"We recovered the gold chain based on the arrested persons' tipoff and they confessed to the crime. However, the chain was in two pieces after being melted," he said.
A police official said the chain will be handed over to Deepika's mother after some legal formalities.
Talking to reporters a couple of days ago, Deepika's father Shiv Narayan Mahto had said the family was excited at the marriage but rued that they couldn't celebrate on a grand scale they had dreamt of earlier.
He had said they would distribute masks, gloves and other kits to a restricted number of attendees during the marriage, along with other precautions.
The guest list had been severely curtailed, with people being invited in two batches of 50 people each.
On Tuesday morning, former chief minister Raghubar Das also met Deepika at her residence to congratulate her.
Union tribal minister Arjun Munda, who is considered to have played a great role in shaping her career, regretted that he was not able to attend the marriage.
"I wish the newly married couple all success but couldn't make it due to meetings and other engagements in Delhi in the wake of Covid-19," Munda said in a statement.
Deepika and Atanu have qualified for the Tokyo Olympics, which was postponed to next year because of the pandemic, and are expected to get busy with the Indian camp by the year end.
Hence, they decided to tie the knot at this time, ending a two-year courtship since their engagement in 2018.
"After the wedding, we will start our training at home to give our best shot in Tokyo," Atanu had said earlier.
Both have qualified for next year's Tokyo Olympics.
While this will be the second Olympics for Atanu, former world No. 1 Deepika is eyeing her third Olympics. If all goes well, they could be the second couple to jointly take part in the mega games.
In the 1972 summer Olympics in Munich, Vece Paes and his wife Jennifer Paes became the first Indian married couple to take part in the Olympics.
Paes is a former hockey player, while his wife represented the country in basketball.