Adityanath reaches Delhi, gets into 90-minute meeting with Amit Shah
He was apparently laying the groundwork for his meeting with Narendra Modi on Friday and is also expected to meet J.P. Nadda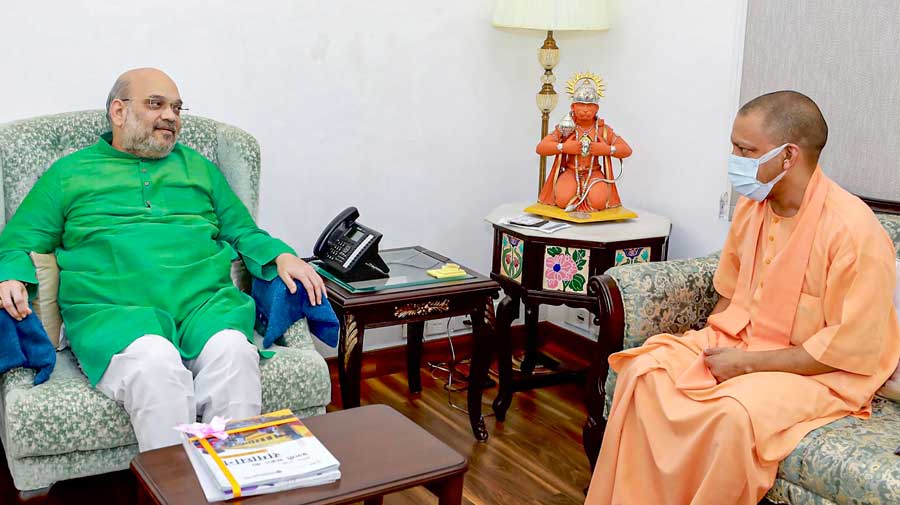 ---
---
Uttar Pradesh chief minister Yogi Adityanath on Thursday dashed to Delhi to meet the BJP leadership amid simmering discontent in the state unit over his style of leadership in the run-up to Assembly elections.
After arriving here in the afternoon, Adityanath was huddled with Amit Shah for 90 minutes, apparently laying the groundwork for his meeting with Prime Minister Narendra Modi on Friday. The chief minister is also expected to meet BJP president J.P. Nadda.
Party insiders confirmed that the unscheduled meetings were tied to the Uttar Pradesh polls, due next March, which have become crucial for the BJP after the Covid mismanagement battered the government's image and the crushing defeat in Bengal dimmed Modi's "aura".
Friday's meeting will be Adityanath's first face-to-face interaction with Modi since many party functionaries and lawmakers in Uttar Pradesh complained to the central leadership about his "autocratic" functioning, pro-Kshatriya bias and Covid mishandling.
Several of them have spoken to the media about the state government's alleged insensitivity towards people's sufferings at a time corpses floating in rivers were making international headlines.
Party insiders, however, ruled out any change of leadership in Uttar Pradesh, saying Modi and Shah had summoned the chief minister to discuss "course correction" and election strategy.
After his "courtesy meeting" with Shah, the normally bellicose Adityanath appeared extremely polite. "Met the honourable home minister, Amit Shah, and received his guidance. I am obliged that the honourable home minister gave me his valuable time," he tweeted.
As Adityanath was closeted with Shah, Nadda was at the Prime Minister's residence, strengthening the idea that the party leadership's focus was on Uttar Pradesh, the most politically significant state with 80 Lok Sabha seats that the BJP is desperate to retain.
Several other meetings took place on the sidelines. Jitin Prasada, a Congress politician and a Brahmin from Uttar Pradesh who had joined the BJP on Wednesday, paid Adityanath a "courtesy call".
The party hopes to foreground Jitin to assuage the influential Brahmin community's frustration with the Kshatriya Adityanath.
After Adityanath, BJP ally and Apna Dal chief Anupriya Patel, an MP from Uttar Pradesh who is believed to be annoyed with the chief minister, met Shah.
Last week, the BJP national general secretary in charge of the organisation, B.L. Santosh, and the party's Uttar Pradesh minder Radha Mohan Singh were in Lucknow for a round of stocktaking.
Santosh held a series of meetings with ministers and state BJP leaders from June 1 to 3, asking them whether they had access to Adityanath and whether party workers had his ear, buttressing the impression that the chief minister's performance was under review.
Singh met governor Anandiben Patel and Assembly Speaker Hriday Narayan Dikshit.
Earlier, RSS general secretary Dattatreya Hosabale had visited the state to seek feedback about the BJP's poll prospects. Many other confidential meetings between the BJP and the RSS have taken place, all focused on the Uttar Pradesh polls.
"We don't have an alternative face to match Adityanath's," a party source said. "The focus now is on taking corrective measures, addressing concerns and ensuring the party organisation works like one cohesive unit."
Sources said that during his two-day stay in Delhi, Adityanath would discuss with the leadership a possible expansion of his cabinet, with a few new faces brought in.
A BJP leader in Uttar Pradesh, asking not to be named, said Modi, Shah and Nadda were expected to try and persuade Adityanath to appoint former bureaucrat Arvind Kumar Sharma as his home minister.
Sharma, who had worked for two decades under Modi in Gujarat and Delhi, joined the BJP early this year following his retirement.
Additional reporting by Piyush Srivastava from Lucknow