Yogesh Singh, frontrunner to become Delhi University VC
Govt officials said the present vice-chancellor of the Delhi Technological University was considered close to RSS teachers wing Bharatiya Shikshan Mandal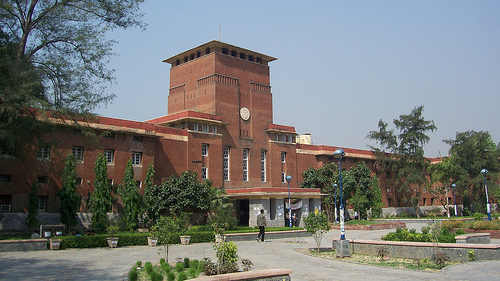 Delhi University
File picture
---
Published 14.09.21, 02:29 AM
|
---
Yogesh Singh, vice-chancellor of the Delhi Technological University, is the frontrunner to become vice-chancellor of Delhi University, two government officials have told The Telegraph.
They said Yogesh, considered close to RSS teachers wing Bharatiya Shikshan Mandal, was on a panel of candidates that the education ministry had recommended to the President, the Visitor of the university.
Yogesh had been appointed vice-chancellor of M.S. University in Baroda in 2009 by the then Gujarat government headed by Narendra Modi.
Yogesh has had "a sound career" as academic and researcher, said K.K. Aggarwal, chairman of the National Board of Accreditation and Yogesh's former PhD supervisor at NIT Kurukshetra.
Asked about Yogesh's performance as a student, Aggarwal said he had come across the younger man first when he enrolled in an MTech course at the NIT after earning his BTech from Pune University in five years, taking a year longer than the normal four years.
"He completed his BTech in five years. But I found him a fine researcher. As an administrator, he has been a team player. I'm satisfied with him as an academic," Aggarwal said.
WhatsApp and text messages and a call to Yogesh's number, to find out whether and why he had needed an extra year to compete his graduation, remained unanswered.
Delhi University has not had a regular vice-chancellor since last October when the incumbent, Yogesh Tyagi, was suspended on the charge of non-performance. P.C. Joshi has been functioning as the acting VC.
Many central universities and IITs have in recent years spent lengthy periods without official heads, hurting their academic functioning, with government officials attributing the delays in appointments to the Prime Minister's Office, which they said took the final decision despite lacking any official role in the process.
Senior officials have suggested that the delays often resulted from the PMO's struggles to find ideologically compliant candidates.
Yogesh Singh earned his master's in electronics and communication engineering, and his PhD in computer engineering.
He was director of the Netaji Subhas Institute of Technolgy, Delhi, from December 2014 till July 2017, when he was appointed vice-chancellor of Delhi Technological University.