Yechury to EC: Give us Modi airtime
Yechury had written to the commission on Wednesday itself complaining about the code violation by the Prime Minister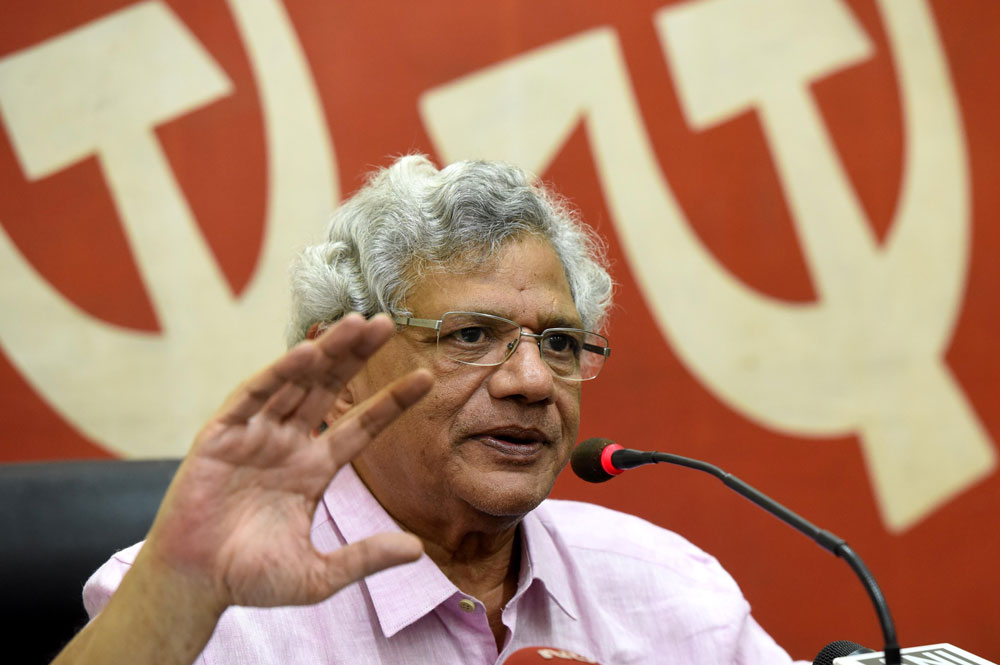 The matter came to light only after she wrote to party national general secretary Sitaram Yechury and the politburo earlier this month.
Telegraph file picture
---
New Delhi
|
Published 30.03.19, 07:37 PM
|
---
CPM general secretary Sitaram Yechury on Saturday asked the Election Commission to direct public broadcasters All India Radio and Doordarshan to give Opposition leaders the same kind of airtime Prime Minister Narendra Modi got on Wednesday when he addressed the nation on the successful testing of an anti-satellite missile.
Yechury wrote to the poll panel, dissatisfied with its conclusion that Modi did not violate the model code of conduct with his televised address.
"Since the ECI has confined itself exclusively to the issue of 'misuse of official media', I would request the ECI to direct the official media to treat speeches/statements made by leaders of recognised national parties in a similar manner as they have treated this speech of the Prime Minister," he said.
Yechury had written to the commission on Wednesday itself complaining about the code violation by the Prime Minister. On Friday, the commission had written back to inform him that an internal committee set up to look into his complaint had found that the Prime Minister's address to the nation did not amount to violating the code as the source of the feed of the speech was a private news agency and it was not broadcast live.
In his response, the CPM general secretary said the ECI had made a "narrow interpretation" of his complaint and examined it only on the count of misuse of official media.
The larger issue, according to him, is that Modi — as a candidate in the upcoming April-May elections — was using the office of the Prime Minister during the election campaign to convey a development achieved by scientists.
"This constitutes a gross misuse of the office for furthering electoral objectives,'' he said, pointing out that soon after the announcement, Modi had claimed he was "a chowkidar not only on land and air but also in outer space".
Yechury urged the poll panel to take this into account and also flagged the fact that Article 324 of the Constitution mandated the commission to ensure a level playing field for all candidates.