World asks India, Pak to show restraint
In India's and Pakistan's immediate neighbourhood, too, there were similar calls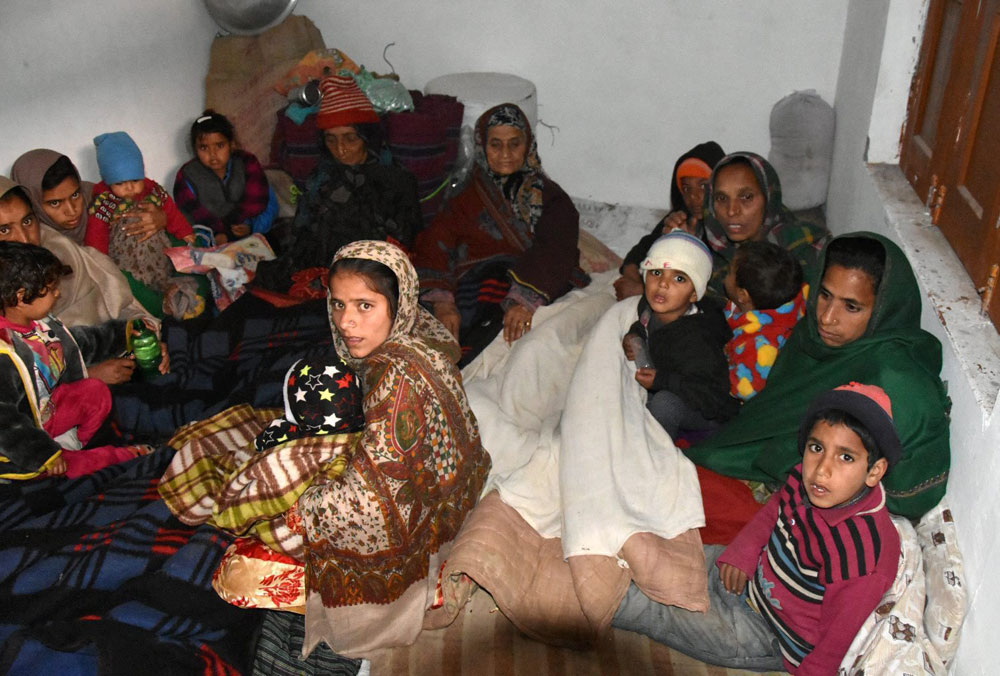 Villagers take shelter at a shrine after shelling by the Pakistani Army near the LoC, at Mendhar in Poonch district, on Wednesday.
PTI
---
New Delhi
|
Published 27.02.19, 09:50 PM
|
---
After the diplomatic offensive and outreach by both India and Pakistan since the Pulwama terror attack, it was the turn of countries across the world on Wednesday to reach out to the two nuclear-powered neighbours with just one message: Exercise restraint.
Chinese foreign minister Wang Yi, who was in session with his Indian and Russian counterparts at the RIC trilateral in Wuzhen when word came of Pakistan's retaliation to India's "pre-emptive" strike on Tuesday, said Beijing was worried about the growing tensions and urged both India and Pakistan to exercise restraint and avoid further escalation.
"As a common friend of India and Pakistan, we hope that the two sides can find out the truth through dialogue, control the situation, solve problems and jointly safeguard regional peace and stability," he said, offering to play a constructive role.
Russia, according to the media secretary of President Vladimir Putin, is closely monitoring the situation and is concerned about the "aggravation of relations" between India and Pakistan and calls on both sides to show restraint.
In a related statement, the Russian foreign ministry also called on both sides to step up efforts to resolve problems through political and diplomatic means, offering Moscow's help in strengthening the counter-terrorism potential of both New Delhi and Islamabad.
British Prime Minister Theresa May addressed the issue in Parliament; expressing deep concern and calling for restraint by both sides to avoid further escalation.
"We are in regular contact with both countries, urging dialogue and diplomatic solutions to ensure regional stability. We are working closely with international partners, including through the UNSC, to de-escalate tensions and are monitoring developments closely," she said.
Expressing anxiety at the "deteriorating situation", France urged India and Pakistan to de-escalate and said its embassies in both countries were being mobilised to help French citizens.
The US, which was busy with President Donald Trump's meeting with North Korean leader Kim Jong-un in Hanoi, was the only P-5 country to not react officially to Wednesday's developments.
But secretary of state Mike Pompeo had spoken to the foreign ministers of both countries after India's pre-emptive strikes and advised restraint while asking Pakistan to take urgent action against terrorists operating from its soil.
From India's and Pakistan's immediate neighbourhood too, there were similar calls, with Nepal, Sri Lanka, the Maldives and Iran worried about how further escalation could affect the region.
"As the current Chair of Saarc, Nepal, while underlining the importance of peace and stability in South Asia, calls on both sides to exercise utmost restraint and not engage in actions that would threaten peace and security in the region. It also urges them to seek solution through dialogue and peaceful means in order to ease tension and normalise the situation," Nepal's foreign ministry said in a statement.
Iranian news agency IRNA quoted foreign ministry spokesperson Bahram Qasemi as expressing deep regret over spike in tensions and the military showdown between India and Pakistan.
He said the two countries should keep in mind the complicated conditions in the region, marked by increasing insecurity and instability and foreign intervention.
Condemning terrorism in all its manifestations, the Maldives urged both countries to exercise utmost restraint and preserve peace and stability in the region. "It is important to seek a speedy resolution to the current crisis through diplomacy and dialogue," the Maldivian foreign ministry said in a statement.