Differing views offer hope: World media
International media emphasise need for stepping down of hostilities between India and Pakistan after air strike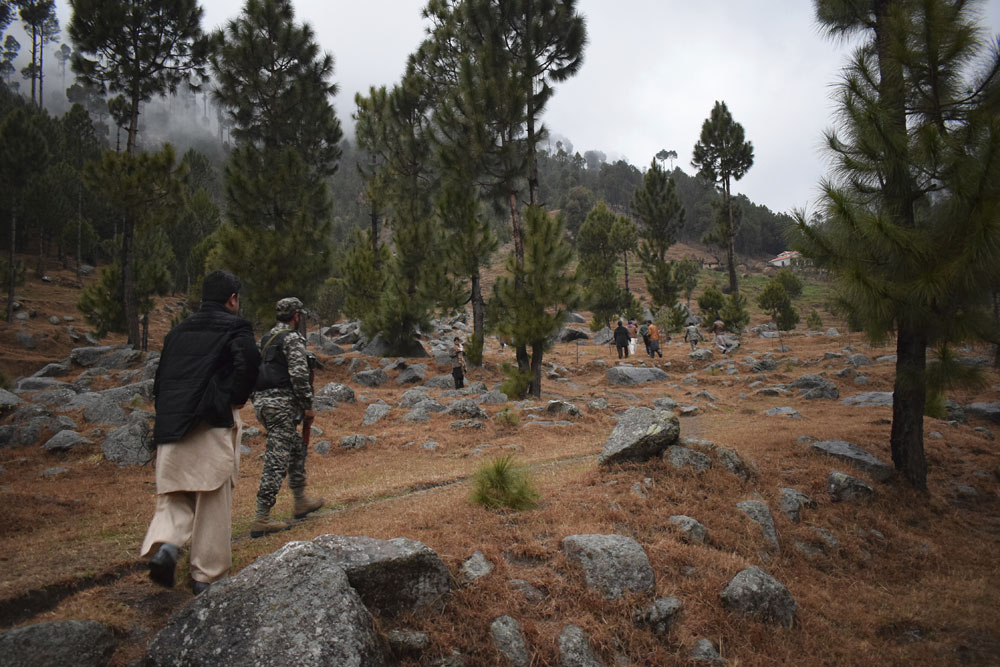 Pakistani reporters and troops visit the site of an Indian air strike in Jaba, near Balakot, Pakistan on Tuesday, February 26, 2019.
(AP)
---
New Delhi
|
Published 26.02.19, 10:29 PM
|
---
International media highlighted the contradictory claims of India and Pakistan over Tuesday's air strikes, some publications pointing out that the divergence offers a chance at de-escalation unless exploited by vested interests on both sides.
The Guardian newspaper of the UK reported: "Balakot is in the province of Khyber Pakhtunkhwa,… well into accepted Pakistan territory. An attack there would represent an escalation from previous Indian reprisals, analysts said…. The varying positions allowed India to trumpet its reprisal against Pakistan without forcing Islamabad to respond in a way that might spiral into a larger conflict."
The report added: "Though Pakistan downplayed the attacks, (Prime Minister Imran) Khan, whose successful election campaign last year featured strident promises to stand up to India, could still face popular pressure to respond.
"'Strategically, it is a disaster for Pakistan that India can keep doing this', said Mosharraf Zaidi, a political analyst and columnist, referring to both Tuesday's attack and the September 2016 strikes. 'What does it say about Pakistan's red lines that countries like India can keep violating our airspace or claim they have carried out surgical strikes?'"
The New York Times published a story online titled "After India's Strike on Pakistan, Both Sides Leave Room for De-escalation".
The New York Times said: "In India, where election-year nationalism is fuelling waves of anger over the militant attack in Kashmir that killed dozens of soldiers this month, the story line was of righteous vengeance accomplished…. But in Pakistan, where the domestic tone has been one of fatigue over enduring economic crisis and political ennui, the country's military command insisted that India's air incursion had achieved nothing….
"With India claiming to have avenged the Kashmir attack, and with Pakistan claiming that India had done no real damage, it seemed possible that the situation could yet be defused. Still, analysts cautioned that the crisis could erupt into something more serious if restraint failed on either side."
The Washington Post quoted analysts as saying it marked an escalation of retaliatory action" but "the current clash appears unlikely to intensify, at least for now".
The BBC reported: "Pakistani officials have been underplaying the severity of the incident by describing it as a strike 'across the LoC', not one across the international border. Pakistan has vowed to respond but this may not go beyond diplomatic measures. However, as some observers point out, there may be punitive attacks by militants against Indian forces…."
Agence France-Presse exposed two viral videos purportedly showing the air strikes as fake. AFP found both to be from a "2014 air show to mark Pakistan's independence day".