Won't ally with casteist, communal BJP: Mayawati
The statement comes as a somersault four days after announcing she would back the JP Nadda-led party in the state legislative council elections due next year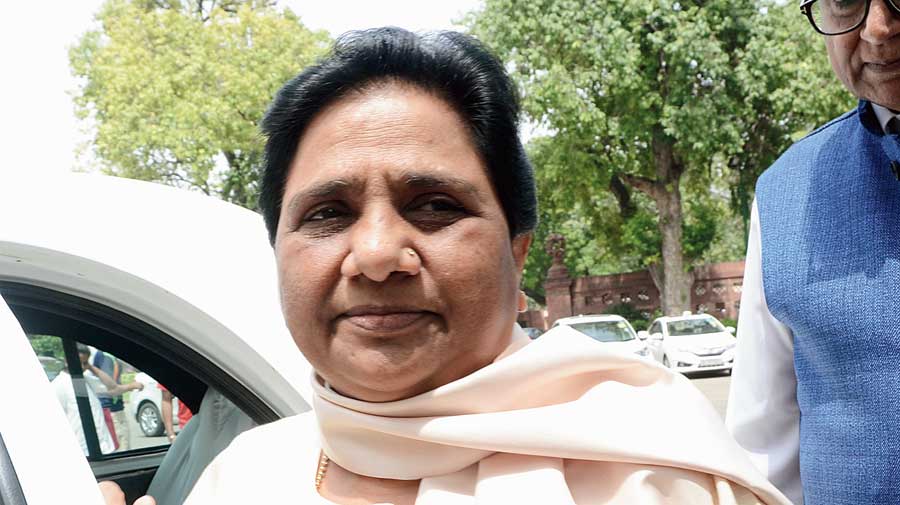 ---
|
Lucknow
|
Published 03.11.20, 01:08 AM
---
Mayawati on Monday said she would rather retire from politics than have a poll pact with the "casteist, communal" BJP, doing a somersault four days after announcing she would back the BJP in the state legislative council elections due early next year.
"I want to tell the people, particularly the Muslim community, that I will rather take sanyas from politics instead of contesting an election in alliance with the BJP," the Bahujan Samaj Party president told reporters at her home in Lucknow.
"I cannot ever form an alliance with a casteist, communal force," she added, making what appeared an attempt at damage control a day before by-elections are held to seven Assembly segments in Uttar Pradesh.
She said she had been misquoted four days ago. Mayawati is known for reacting immediately if she disagrees with media coverage of her remarks or actions, but this time she has waited four days before issuing her clarification.
"I had said last time that the BSP would support the BJP or any other party that is in a position to defeat the second candidate of the Samajwadi Party in the legislative council elections," she said.
Mayawati played down her past acceptance of the BJP support to secure the chief minister's chair, saying she had formed these alliances "on my own terms".
She reminded Muslims that no communal riots had taken place during her four tenures as chief minister, and that she had fielded two Muslims in Tuesday's by-elections.
Mayawati portrayed herself as a BJP victim, saying Atal Bihari Vajpayee's government had set the CBI and the Enforcement Directorate after her and her family in 2003 when she decided not to continue as chief minister with the BJP support.
"At that time Sonia Gandhi had called me and promised that the Congress would do justice to me after coming to power," she said.
"But the Congress turned out to be worse than the BJP. It kept suppressing me. But bowing is not in my blood."
Mayawati had become chief minister three times with the BJP support — in 1995, 1997 and 2003. Each stint had been brief: the BJP withdrew support once, she had to step down in keeping with a rotation plan in another instance, and the Samajwadis toppled her the third time. She won her fourth stint by gaining absolute majority in 2007 and served a full five years.
Reacting to her latest statement, Samajwadi president Akhilesh Yadav said: "I fail to understand this kind of politics. The BJP wants to defeat us and the BSP too wants to defeat us. They are on the same side."
Thursday's comment by Mayawati had come after the Samajwadis allegedly tried to engineer a split in the BSP.
Seven of Mayawatis' MLAs had purportedly met Akhilesh and five of them tried to sabotage BSP candidate Ramji Gautam ahead of the November 9 polls for 10 Rajya Sabha seats.
These MLAs had accused Maya of looking to seek support from the "communal BJP" for Gautam's victory. The BSP has only 18 MLAs and needed 18 more votes.
Eventually, with the nomination of a Samajwadi-backed Independent being scrapped, all the 10 remaining candidates are expected to be elected uncontested.
In next year's legislative council polls, the Samajwadis are assured the victory of one candidate but their second nominee would need support from other parties. Mayawati can hurt them by helping the BJP defeat the second Samajwadi candidate.