Women's film exclusion mars Kerala international fest
Movie is about the unorganised workers in textile units in Kozhikode and their struggle to get toilets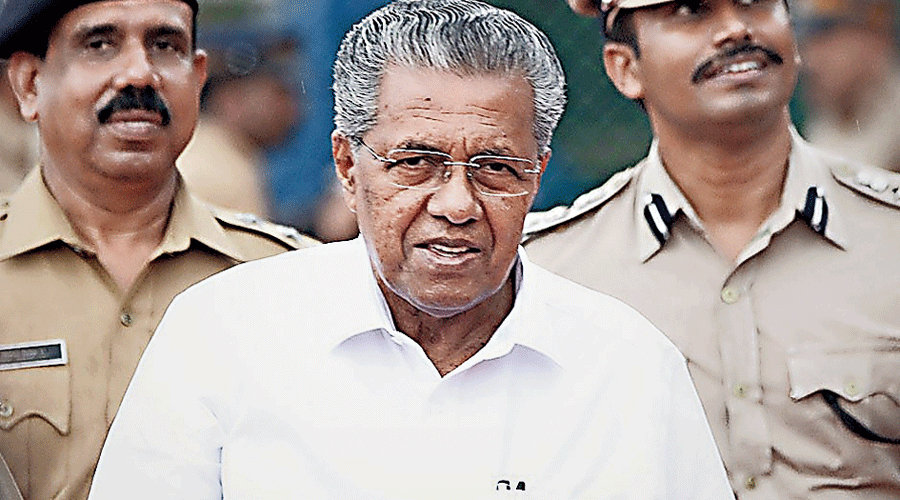 Pinarayi Vijayan.
File photo
---
Bangalore
|
Published 18.07.22, 02:53 AM
|
---
The Third Women's International Film Festival organised by the Kerala State Chalachithra Academy has run into controversy over the exclusion of a film on unorganised women workers and a subsequent protest by its director, who shouted slogans before being forcibly removed by police.
A day after the incident at the inaugural ceremony in Kozhikode on Saturday, filmmaker Vidhu Vincent pulled her film out in solidarity with Kunjila Mascillamani, who had been detained by the police before being released.
The Chalachithra Academy, a state government body, had excluded Kunjila's Asanghadithar (The Unorganised), which is part of an anthology titled Freedom Fight. The film is about unorganised women workers in textile units in Kozhikode and their struggle to get toilets.
Angry at the film's exclusion, Kunjila had begun a sit-in protest as the guests started arriving around 6pm.
As the police forcibly removed her from the venue, she shouted: "K.K. Rema zindabad, T.P. Chandrashekaran zindabad, (chief minister) Pinarayi Vijayan has arrested me. I am more capable of occupying the chief minister's chair."
Rema is the widow of Chandrashekaran, a former CPM leader who was hacked to death in 2012 allegedly for breaking away and forming the Revolutionary Marxist Party. The CPM is widely blamed for the murder although the party had denied any hand. Among the 12 convicted for the killing were three CPM leaders.
With the unconditional support of the Congress-led United Democratic Front, Rema won from Vadakara in Kozhikode district in the 2021 Assembly polls and has since become a thorn in the side of Vijayan.
Last week, a CPM legislator had targeted Rema. MLA M.M. Mani attributed her widowhood to her "fate" on the floor of the Assembly.
"A great woman has been speaking against the government. That great woman became a widow, which is her fate. None of us are responsible for it," Mani, known for making controversial remarks, said.
To this, CPI leader Annie Raja said that "a communist should not have made such remarks".
Mani retorted, using derogatory slang, that Annie "is a person who sits in Delhi" and would therefore not know the local realities.
Vidhu Vincent on Sunday withdrew her film Viral Sebi in solidarity with Kunjila, while filmmaker Pratap Joseph returned his delegate pass and walked out of the festival.
"I was keen on having my film screened at this festival. But I realised it is not important to screen it now and I should rather express solidarity with Kunjila. That is why I withdrew Viral Sebi," Vidhu told reporters on Sunday.
She added: "What are the criteria being used to select films for the festival? The Chalachithra Academy has a responsibility to help women filmmakers. But they did not show that kind of responsibility."
Chalachithra Academy secretary C. Ajoy told reporters: "Kunjila's film was excluded since only new films were considered for screening at the festival. We are ready to sit and talk with her (to end the controversy)."
Among those who came out in support of Kunjila was Leena Manimekalai, whose film Kaali has sparked controversy by showing the lead actor dressed as the goddess smoking.
"If the International Women's Film Festival organised by Kerala Chalachithra Academy is not showing Asanghadithar, they can better shut it down," the Canada-based Leena said in a Facebook post. She revealed that she had declined an invitation to have one of her films screened at the festival.
"I am glad I did not accept the screening invitation for Maadathy: An Unfairy Tale from the same festival. In fact I have decided not to ever show my films at the festivals organised by Kerala Chalachithra Academy (IFFK, IDSFFK and IWFK) because of its systemic nepotism and disrespect for local filmmakers," Leena said.