Woman Maoist surrenders in Odisha
Rame Madkami, inducted at the age of 16, will get Rs 4 lakh as she had surrendered voluntarily and would be rehabilitated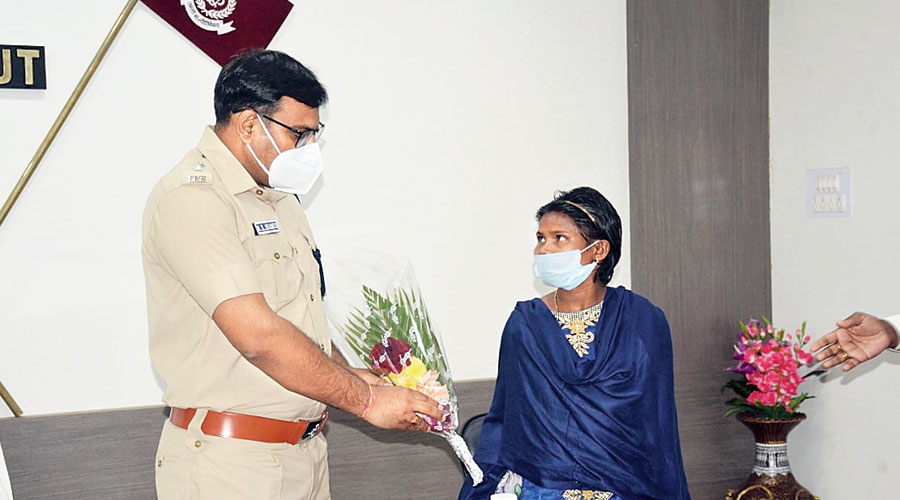 Madkami surrenders before Koraput SP Mukesh Kumar Bhamoo
Sourced by correspondent
---
Bhubaneswar
|
Published 03.12.20, 03:57 AM
|
---
A woman member of CPI (Maoist), who carried a cash reward of Rs 4 lakh on her head, surrendered before Koraput police in Odisha on Wednesday.
The police said in a release that Rame Madkami was inducted into the CPI (Maoist) in 2013 by luring her into the "Sanskrutika Gana Natya Mandai", the cultural troupe of the ultras, at the age of 16 in gross violation of child rights.
The police said she was given military training and was armed with a .303 rifle by the party when she was minor. After being promoted to the rank of area committee member (ACM), she was armed with an Insas rifle.
Police said she was involved in a number of cases of violence.
"Rame was fed up with the anti-social attitude of the party and with their indiscriminate and unjustified violence against her own people. She was also disgusted with the unnecessary civilian killings by the party, even after protests by local people and also because of upper hand of Telugu and Chhattisgarhi cadres in the party and their attitude towards Odiya cadres," the release said.
The police said though she had received a bullet injury during an exchange of fire in the forest area of Landulu village under Pedabailu police station in Andhra Pradesh, her party did not provide her proper medical attention as she belonged to the Odisha cadre.
According to the Odisha government's rehabilitation policy for Maoists who give up arms, Madkami will get Rs 4 lakh as she had surrendered voluntarily and would be rehabilitated.