Wife, kids and friends seek release of Kappan
Journalist's family hit the streets to seek justice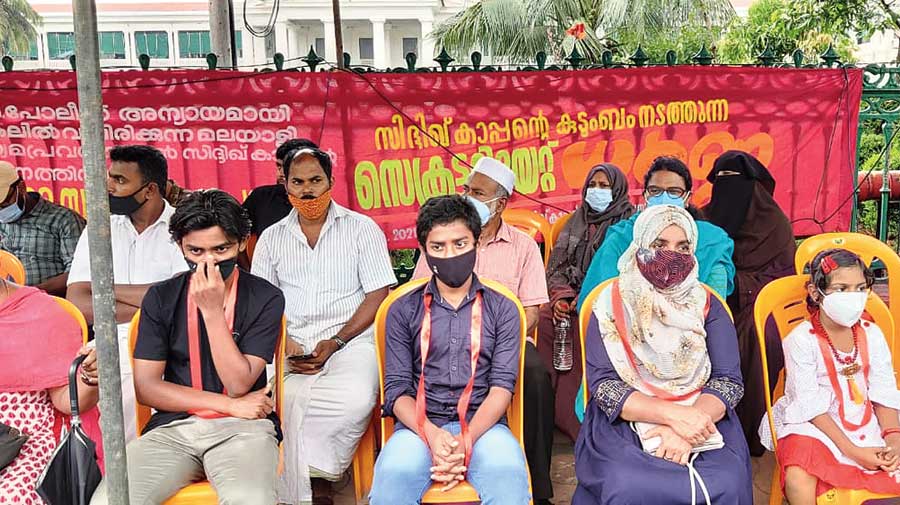 ---
---
The family of a Malayalam journalist lodged in a Mathura jail for the past three months on what his wife says are false charges staged a sit-in protest in Thiruvananthapuram last week and plans another in a fortnight.
Siddique Kappan, 41, was arrested on October 5 while on his way to Hathras in Uttar Pradesh where a Dalit girl had been fatally brutalised. He was accused of being an extremist and charged under the anti-terror law UAPA for allegedly trying to foment trouble.
On Tuesday, about 20 people including his wife Raihanath, their three children and a few relatives and neighbours protested in the Kerala capital while honouring the Covid-related prohibition against large gatherings.
"The response to our first sit-in protest in Thiruvananthapuram was very good, with relatives and even neighbours joining us. We'll be organising a similar sit-in demonstration in Malappuram on February 1," Raihanath told The Telegraph on Saturday.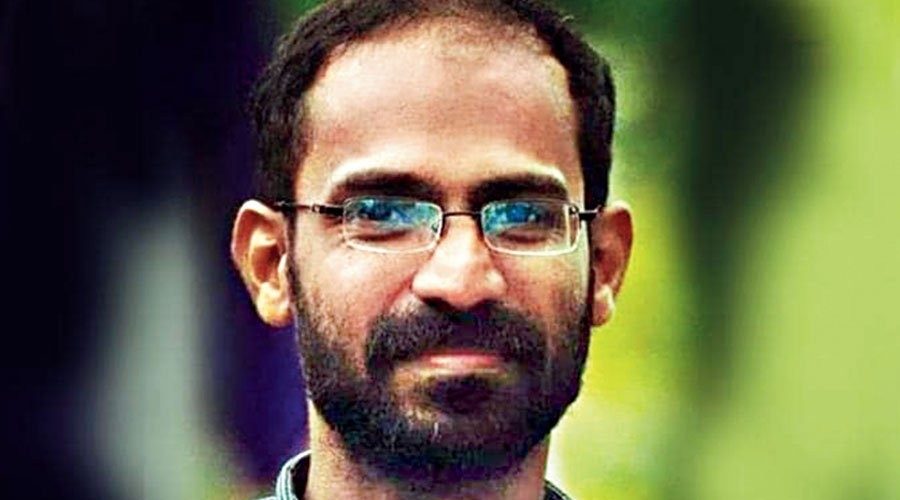 Kappan, a native of Vengara in Malappuram, lived in Delhi and worked for the Malayalam news portal azhimukam.com. He is secretary of the Delhi unit of the Kerala Union of Working Journalists (KUWJ).
Uttar Pradesh police have accused Kappan and three others who were travelling with him of being members of the Muslim Right-wing outfit Popular Front of India.
"I'm a housewife who has been forced to hit the streets to seek justice for my husband, who has been wrongly accused of links with the PFI. Now it's up to me and my family to ensure he gets justice," Raihanath said.
She has been trying to secure permission to make a video call to her husband so he can see his 90-year-old, bedridden mother.
"She used to ask for him but now she doesn't remember much," Raihanath said.
"I had applied thrice online to the jail authorities to let my husband make a video call but there was no response. So, our lawyer filed an application with a Mathura court last week."
Kappan had to wait 43 days for permission to meet his lawyer, arranged by the KUWJ, which has moved a habeas corpus plea with the Supreme Court saying the Uttar Pradesh authorities have not been providing any information about him. Kappan's family has been made a party to the case.
"He is allowed Rs 100 worth of call time a month. He spoke to me last week," Raihanath said.
She acknowledged that there had been considerable improvement in the way Kappan was being treated after the KUWJ approached the apex court.
"He has been lodged in a cell with about 75 people, among them men accused of rape and other criminal offences. But at least he is getting his medicines for diabetes," she said.
The matter came up in the Kerala Assembly recently, with several Opposition lawmakers seeking the state government's intervention.
Chief minister Pinarayi Vijayan, however, clarified that the government had its limitations when it came to intervening in court cases.
N.K. Premachandran, an RSP lawmaker who had inaugurated the sit-in at Thiruvananthapuram, told this newspaper the chief minister "could at least have written to the Prime Minister seeking a free and fair investigation".
Premachandran, who is part of the Congress-led United Democratic Front, added: "We know the state cannot intervene in a matter before a court. But political intervention is needed since he is a journalist who was arrested while on duty."