Wave of outrage in IPS after Pragya's comment on Karkare
Karkare had arrested Pragya and several other Hindu suspects in connection with the 2008 bombing in Malegaon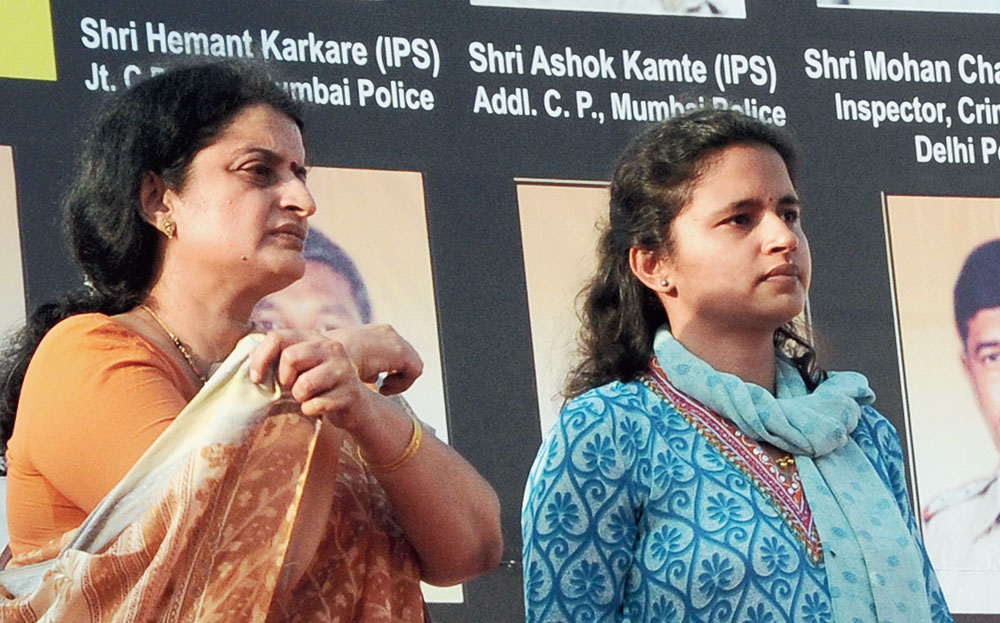 Hemant Karkare's wife Kavita and daughter during a prayer meeting in New Delhi on December 15, 2008
A Telegraph file picture
---
New Delhi
|
Published 20.04.19, 02:34 AM
|
---
Serving and retired IPS officers on Friday condemned terror-accused turned BJP candidate Pragya Singh Thakur's remark that then Maharashtra anti-terrorist squad chief Hemant Karkare was killed during the 26/11 attacks because of his "karma" (sins) and her "curse".
Karkare had arrested Pragya and several other Hindu suspects in connection with the 2008 bombing in Malegaon, Maharashtra. Pragya, out on bail in the terror case on health grounds, was on Wednesday named BJP candidate from Bhopal.
"Pragya has desecrated the martyrdom of the decorated officer. It's a deplorable statement. She has caused irreparable damage… also to his bereaved family and colleagues," former Uttar Pradesh police chief Vikram Singh told The Telegraph.
He said the ruling party should have thought twice before fielding her in the election.
"A lawmaker should be a law-abiding citizen, not someone who is on the wrong side of the law. If Pragya thinks she has supernatural powers, the government should have hired her services to curse Masood Azhar and Hafiz Saeed,. Is she playing God?" Singh said. "She should lose her candidature after her disgraceful statement."
The IPS association issued a statement condemning the remark but did not name Pragya. "Ashok Chakra awardee late Sri Hemant Karkare, IPS, made the supreme sacrifice fighting terrorists. Those of us in uniform condemn the insulting statement made by a candidate and demand that sacrifices of all our martyrs be respected," it said.
Association chairman and former Mumbai police commissioner Julio Ribeiro told PTI: "Karkare was one of the finest IPS officers who worked almost everywhere in Maharashtra during his stint and there was not a single complaint against him. He would never do anything wrong.
"When other officers who have worked with Karkare would come across Pragya's remark, they will think, 'What kind of people are being put up (as candidates)?'"A.N. Roy, former Maharashtra police chief, said Pragya's statement was unethical and uncalled for. "After so many years he (Karkare) is now being maligned for doing his duty, when he is not there to defend himself."
Karkare, he said, was doing his professional job probing the Malegaon case. "The trial is in progress and the matter is sub judice. We should all wait for the court judgment. I stand up for my colleague, who received the highest gallantry award but is now being maligned."
Former IPS officer Sudhakar Suradkar said Pragya's statement was not just condemnable but also actionable.
"It is not only an insult to Karkare but to everyone who is fighting for the country. We can see what legal action can be taken against such a statement," he said.
An IPS officer posted in the Union home ministry said: "Karkare was a hero who sacrificed his life fighting terrorists. Pragya, a terror accused, believes he died of her curse. This 'new India' has become a shameless India."
An officer attached to the CRPF said: "This is such a disgraceful comment from a person facing trial in a terror case. The ruling party talks about giving a befitting reply to terrorism; is this the befitting reply?"
He added: "It is unfortunate that she has now become a Hindu icon in a country where Mahatma Gandhi is celebrated as an icon. The ruling party, which won the 2014 election on the plank of development, is now propagating only Hindutva."
In the first chargesheet in the Malegaon case in 2009, the anti-terrorist squad had alleged that the town had been selected for the bombing because of its sizeable Muslim population. It said Pragya was one of the key conspirators.
The initial probe had suggested that Lt Col Shrikant Purohit, a suspect, had arranged for the explosives while Pragya owned the motorcycle used in the blast. She was arrested in 2008.
But the National Investigation Agency's May 2016 chargesheet exonerated her, saying there was no evidence that the motorcycle belonged to her, drawing charges of diluting the case against the so-called "saffron terrorists".
A month later, the trial court in Mumbai said there were reasonable grounds to believe that the charges against Pragya were "prima facie true". However, Pragya received bail on health grounds last year from Bombay High Court.
After the Narendra Modi government came to power in May 2014, there had been allegations that the federal agency had been asked to dilute the case. The public prosecutor, Rohini Salian, quit in 2015 alleging pressure from a senior agency official to "go soft" on the accused. 
Court plea 
Nisar Sayeed, who lost his son in the Malegaon blast, had moved a petition in the Mumbai trial court on Thursday requesting it to bar Pragya from contesting the election.
He argued that if she was healthy enough to fight elections, she must have misled the courts while securing bail. He pleaded that she be asked to attend the trial.
The court has sought replies from both the agency and Pragya and fixed the hearing on Monday.