VHP losing clout: Ayodhya residents
Muslim leaders' fear of a December 1992 repeat proved unfounded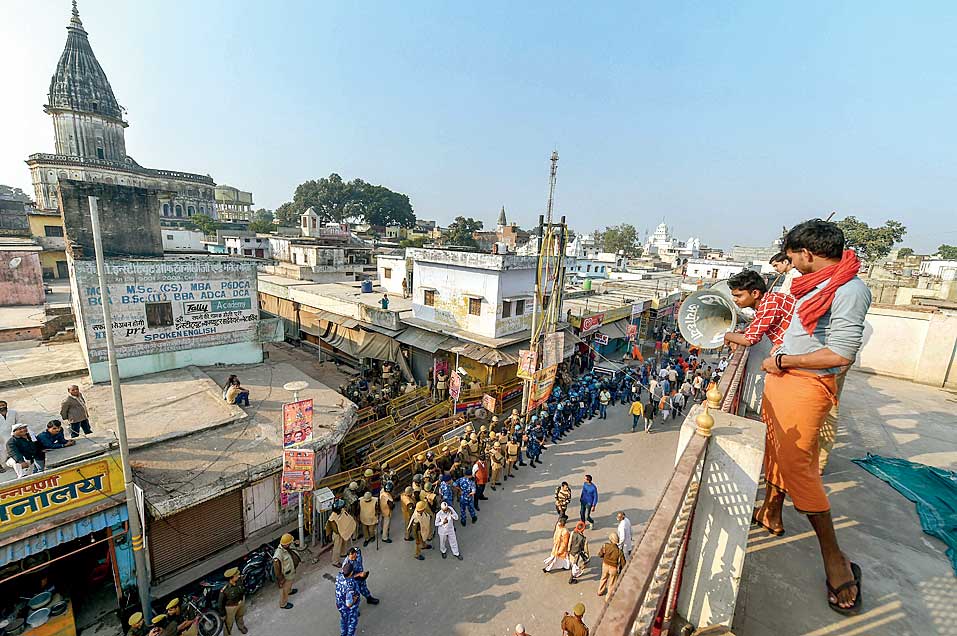 ---
|
Ayodhya
|
Published 25.11.18, 09:59 PM
---
Ayodhya residents remained aloof from the Vishwa Hindu Parishad-Rashtriya Swayamsevak Sangh's Dharma Sabha of sadhus here on Sunday, just as they had through the weeklong noise the parivar had created around the event.
However, the Muslim leaders' fear that the Sangh-VHP cadre might attack them the way they had in December 1992, when the Babri Masjid was demolished, proved unfounded.
"It shows that the Sangh-VHP have lost their clout in the past 26 years," said Iqbal Ansari, a plaintiff in the Ayodhya title suit, which lies before the Supreme Court.
"The memories of 1992 still give us sleepless nights. Our homes were ransacked and burnt and we were beaten up after the Sangh parivar took over the city," Ansari recalled.
"But the peace that prevailed in Ayodhya today (Sunday) has proved that even the Ram bhakts have become angry with the Sangh parivar, which had used them to help the BJP win elections."
Shopkeeper Ram Awatar, who sells sweets, echoed Ansari. "We don't take notice of what the Sangh-VHP-BJP do here. We don't want anything other than complete peace so that the devotees keep coming safely," he said.
"Some BJP leaders claim that our businesses will grow if a Ram temple is built. We tell them we are happy with whatever little we earn."
Triyug Narayan, a journalist and Ayodhya watcher since the 1980s, said the town's people had "stopped bothering about the gimmickry of the VHP, Sangh and the BJP".
"The Hindus certainly wanted a Ram temple here but they realised over the years that it was merely a political issue with them (Sangh parivar). So they don't participate in the parivar's programmes," he said.
"All the alleged commotion on this issue exists only on the television screen and on the lips of Sangh parivar members. You can see that life in Ayodhya is moving at its usual pace, with people following their daily routine unaffected by the Dharma Sabha or the weeklong preparations for it."
The local administration said that while 41,000 devotees had visited the makeshift Ram Lalla temple on the disputed site on Friday, Kartik Purnima, 17,000 people did so on Saturday and 22,000 on Sunday.