VHP runs into controversy for trishul oath for Bajrang Dal colts
Investigation initiated into the distribution, probing if what had been handed out could be classified as a weapon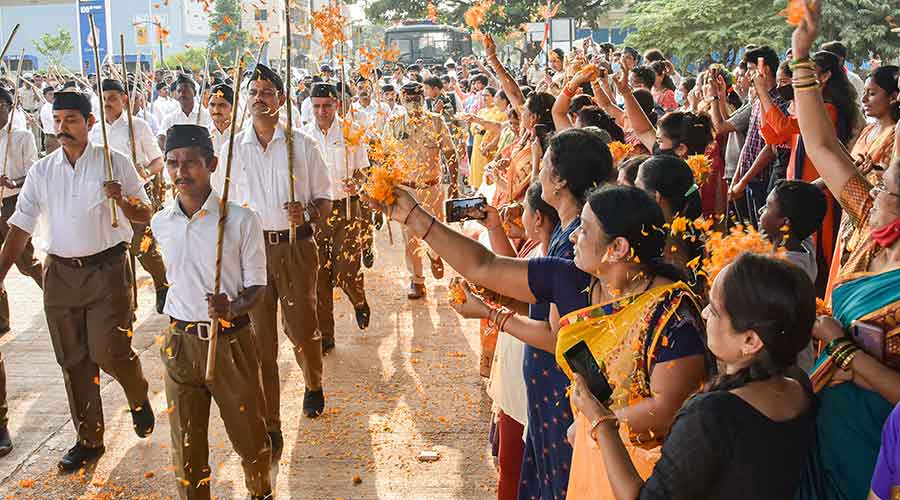 Volunteers participate in a RSS procession on Vijayadashami, in Hubballi on Friday, Oct. 15, 2021.
PTI
---
Bangalore
|
Published 16.10.21, 01:32 AM
|
---
The Vishwa Hindu Parishad has run into a controversy by distributing trishuls (tridents) among new Bajrang Dal recruits at two events in BJP-ruled Karnataka as part of their ordination.
Held as a private event only open to VHP and Bajrang Dal leaders and activists in coastal Mangalore and Udupi on Wednesday, the trishul deekshe (ordination) came to light only on Friday when a short video clip of the new entrants taking oath holding trishuls started circulating on social media.
In the clip, several youths wearing saffron shawls are seen holding up tridents while taking a pledge at the Mangalore event: "I take oath to protect Hindu society against cow slaughter, love jihad, land jihad and such issues, and convert Hindu yuva shakti (strength of the youth) into the nation's strength."
Being a communally sensitive part of the state, coastal Karnataka has for long been a stronghold of Sangh parivar outfits, which often indulge in moral policing and cow vigilantism.
Senior Congress leader and former home minister Ramalinga Reddy slammed the VHP and the Bajrang Dal for flaunting trishuls. "There is nothing wrong in keeping a trishul. But they have to be kept at the abode of Gods and not distributed among people like this," he told reporters in Bangalore on Friday.
"The trishul is an important symbol of the Hindu religion. But it is wrong to flaunt it," said Reddy, who claimed that BJP leaders would not take remedial action since they toed the line of the Sangh parivar even in such activities.
VHP divisional secretary Sharan Pumpwell told reporters in Mangalore on Friday that the trishul deekshe was merely a symbolic ritual held every year. "The sole objective is to build dedication and self-belief among the activists and commit them to the cause of the nation."
"Lots of people have been opposing our trishul deekshe to our new Bajrang Dal workers. We did not give bomb deekshe or grenade deekshe. What we did was trishul deekshe since we worship (Goddess) Shakti," Pumpwell added.
"This is only a symbolic trishul made of (stainless) steel. They have not been distributed with the intent to hurt or kill anyone," he said.
Mangalore police commissioner N. Shashi Kumar has initiated an investigation into the distribution of trishuls, probing if what had been handed out could be classified as a weapon. The probe will be led by an assistant commissioner of police.
"We have received information about this trishul deekshe and that they do this every year. But I have directed an officer to look into this. We will take action if there is anything illegal," Kumar said.