'Veiled campaign' finger at Yogi Adityanath
UP CM visits Dalit family during 72-hour ban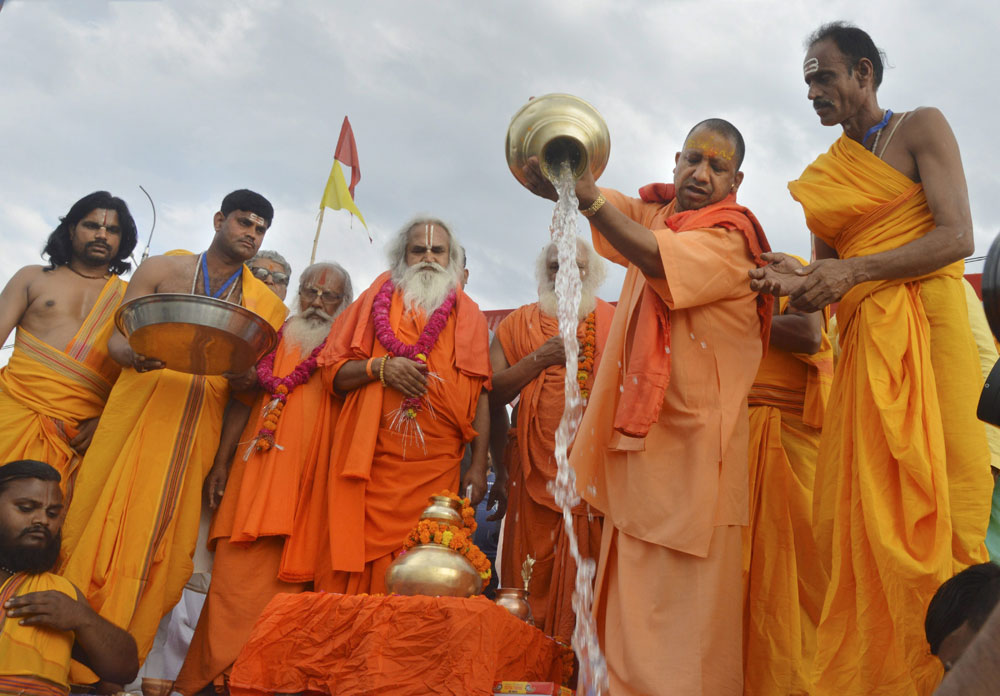 ---
|
Lucknow
|
Published 18.04.19, 02:31 AM
---
Chief minister Yogi Adityanath, barred from campaigning for three days, visited and ate at a Dalit home and prayed at the Ram temple in Ayodhya on Wednesday, prompting suggestions that he had found "a more powerful way of campaigning than giving speeches".
The Election Commission had on Monday banned Adityanath from campaigning for 72 hours for his communally "highly provocative" remarks about a "green virus" and "Bajrangbali".
But on a "personal tour" of Ayodhya on Wednesday, a day before voting in eight seats in western Uttar Pradesh, Adityanath met a Dalit family and prayed at the Hanuman Garhi temple and the makeshift Ram Lala temple on the disputed site.
He later travelled to Balrampur district and prayed at the Patan Devi Shaktipeeth temple in Tulsipur town. On Tuesday, the first day of the campaign ban, he had visited Lucknow's Hanuman Setu temple.
"By visiting temples, he is clearly sending a message across in favour of the BJP and proving he can easily sidestep the Election Commission order not to campaign," Mahant Satyendra Das, the head priest of the Ram Lala temple in Ayodhya, said.
"Visiting the Ram temple is by itself a hugely political move. He then went to a Dalit's home to signal that the BJP doesn't believe in untouchability."
Visiting temples or Dalit homes during poll campaigns, which many politicians from Prime Minister Narendra Modi to Congress president Rahul Gandhi have often done, does not flout the Election Commission's model code. But such visits are always understood to be part of the campaign, being steeped in political symbolism.
Das stressed that since the Babri demolition, almost all major politicians have avoided visiting the makeshift Ram temple because of the sensitivities involved, including the unresolved land dispute that is now before the Supreme Court.
The two exceptions are former BJP chief minister Kalyan Singh, under whose watch the mosque was pulled down, and Adityanath, who has now visited the shrine three times in two years since becoming chief minister.
"Those who didn't visit the temple had their eyes on the Muslim vote. Those visiting the shrine during the elections are trying to woo the Hindu voters," the priest said.
B.N. Das, a political analyst in Ayodhya, said: "Adityanath has visited Ayodhya and Balrampur to continue his veiled campaigning because the Election Commission is not allowing him to do active campaigning. What he is doing at the moment is a more powerful way of campaigning than giving speeches."
State industry minister Satish Mahana said: "Nobody can stop him (Adityanath) from religious and social activities. The chief minister is following the poll commission's order."
Adityanath was at the home of Maha Veer, a Dalit, for about half an hour. "He spoke to us about our daily lives," Maha Veer told reporters, adding that he had served the chief minister jaggery and wet gram.