Valley papers protest ad 'ban'
Principal dailies leave front page blank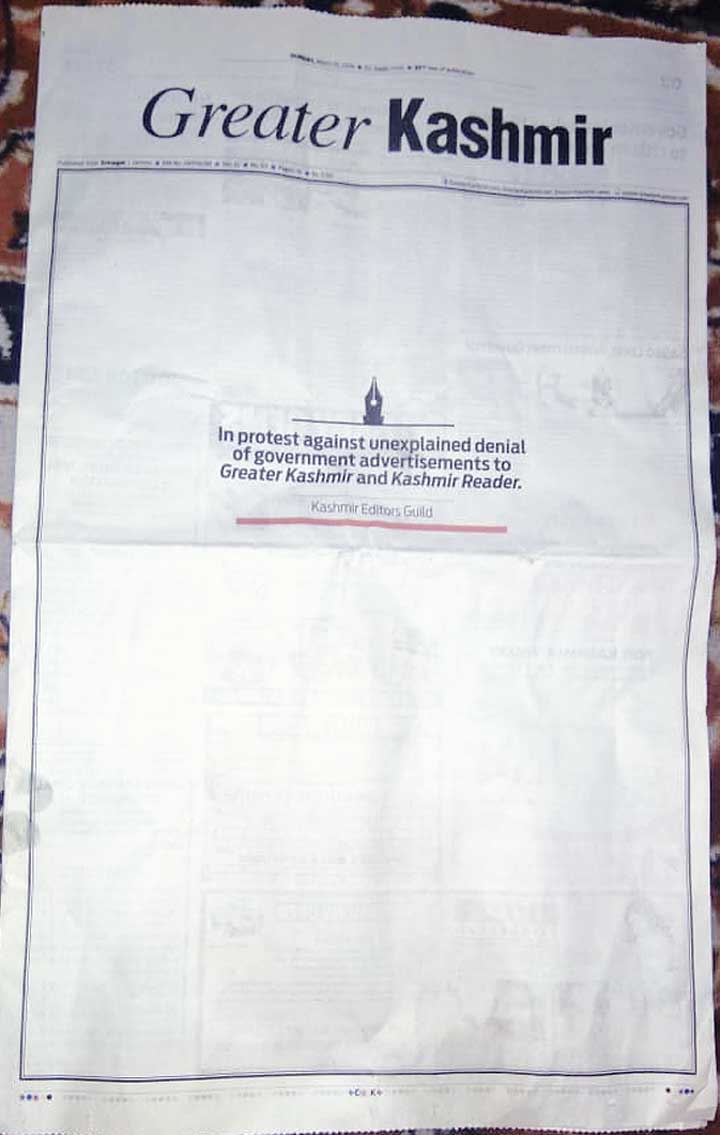 Greater Kashmir
Picture of the daily
---
Srinagar
|
Published 10.03.19, 09:52 PM
|
---
The Valley's principal dailies sported blank front pages on Sunday to protest an unofficial ban on government advertisements for two major publications, one of several coercive measures taken since the February 14 Pulwama attack.
Governor Satya Pal Malik's administration stopped sending government advertisements for publication in Greater Kashmir and Kashmir Reader about a fortnight ago.
The ban has neither been formally announced nor explained. Newspapers in the Valley provide wide coverage to pro-independence groups as well as to allegations of rights abuses by the security forces, which the government disapproves of. The only words on the blank front pages on Sunday were a statement that this was being done in protest against the ban.
"(This was done) in protest against the decision that has not been explained, and not even communicated," Bashir Manzar, Kashmir Editors' Guild general secretary, said. "This is undemocratic and unconstitutional." Members of the guild, a body of editors, protested at Kashmir Press Club in Srinagar, where the day's newspapers were on display. The editors said that government advertisements are a key source of revenue for newspapers in a region where repeated shutdowns have stifled business.
Manzar said: "The decision (ban) can affect the state and the status of journalism in Kashmir."
The guild has taken the matter up with the Press Council of India and also got in touch with the Editors Guild of India. Senior politicians have condemned the unofficial advertisement ban.
"A development that has got almost no coverage outside of the valley. The government is attempting to choke the media by denying them advertising revenues. I hope the Centre & State immediately reverse this decision of trying to silence the fourth estate," former chief minister Omar Abdullah tweeted.
Another former chief minister, Mehbooba Mufti, said the Centre's decision to withhold ads from these newspapers should be viewed "in the context of their attitude towards press & electronic media in general".
"Kowtow to their warped agenda & sing praises. Or else suffer," Mehbooba tweeted.