UP senior cop, DM shower petals on pilgrims from chopper, face flak
Cost of fuel and flowers stand at around Rs 1 lakh, says state home department official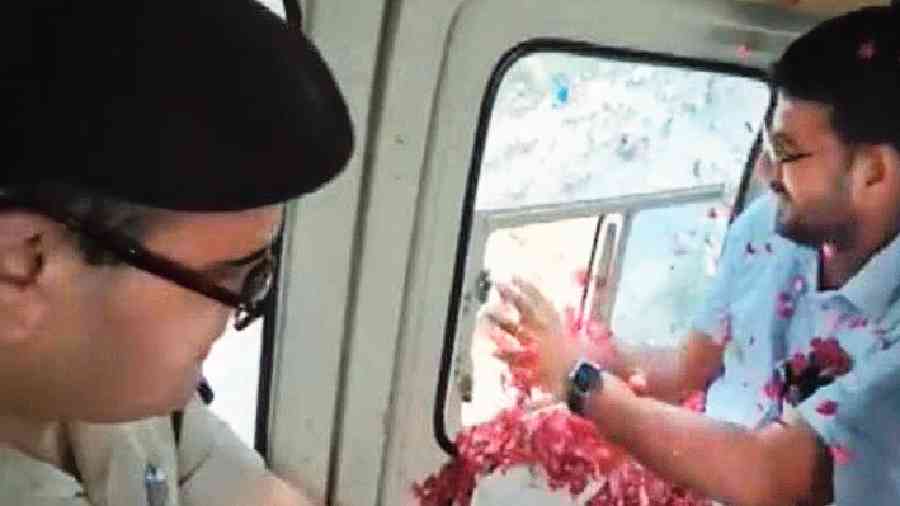 Footage shows the senior police officer and the district magistrate showering petals from a helicopter on the pilgrims
Sourced by The Telegraph
---
Lucknow
|
Published 27.07.22, 03:12 AM
|
---
A senior police officer in uniform and a district magistrate showered petals from an air-borne helicopter on Shaivite pilgrims called Kanwariyas on Monday, prompting many to ask if taxpayers' money funded the exercise and whether the Uttar Pradesh government did not care even about a token nod to secularism.
A Hindi release from the state information and public relations  department confirmed that "Meerut district administration showered flowers from helicopter on the Kanwariyas", making it clear the effort had the state government's sanction.
"Hope cost of such stunts are paid by them from their own pocket?" Maj Gen. (Dr) YashMor tweeted on Monday, posting a video of Meerut Range IG Praveen Kumar and Meerut district magistrate Deepak Meena scattering petals through the window of a helicopter.
"This is ridiculous act and needs to be objected by all right thinking people," he added.
Reacting to the retired general's tweet, a Twitter user, Munaaf Patel, wrote: "If Muslims pray in public places for a mere few minutes, it becomes a crime for government but they spend thousands of tax payers money on Hindu Devotees. What a country India has become."
Videos of namaz being performed at a Lucknow mall – in defiance of the Yogi Adityanath government's ban on religious activities in public places without permission – recently prompted the arrest of four Muslims. A Hindutva activist too was arrested for a retaliatory chanting of the Hanuman Chalisa at the same mall a few days later.
Adityanath himself on Monday did an aerial survey of "Kanwar Yatras in Ghaziabad, Meerut, Baghpat and Muzaffarnagar" districts, the government release added.
A state home department official said, seeking anonymity, that the about one-hour flight by the IG and DM came on a government helicopter and that the cost of fuel and flowers would have been about Rs 1 lakh.
Kanwariyas are pilgrims who set out on foot or vehicles from their homes in saffron clothes in the month of Shravan, collect water from the Ganga and pour it on the Shivalinga at a temple of their choice. Many of them travel hundreds of kilometres as part of the Kanwar Yatra, an old tradition in the Hindi belt.
Adityanath's chief ministerial stint, which began in 2017, has witnessed unprecedented government patronage of the Kanwariyas, with police showering petals on them from the roadside and allowing them to virtually hold the highways hostage.
 "The government's entire focus is on stopping Muslims from offering prayers and encouraging those who hate Muslims," Kausar Hayat Khan, joint secretary of the Indian Union Muslim League, told The Telegraph from Moradabad.
One of the incidents he cited involved a group of Kanwariyas who had left Sarsava village in Saharanpur on a bulldozer for Haridwar — an act that may be construed as a symbolic expression of support for Adityanath's policies.
The bulldozer has virtually become an emblem for Adityanath after serial demolitions of allegedly illegal structures owned by Muslims whom his government had branded rioters.
Some "kanwariyas blocked the road and kept snapping pictures of themselves with the policemen deployed to maintain law and order. The policemen gladly joined the pilgrims, who chanted more slogans for Adityanath than for Lord Shiva", an eyewitness told local reporters.
Piyush Dixit, an inspector with Kutubsher police station in Saharanpur who features in a picture with Kanwariyas, said: "We showered flowers on the Kanwariyas to welcome them."
At Kharkhauda on Hapur Road in Meerut district, a group of Kanwariyas clashed with people waiting to welcome them.
Eyewitnesses said villagers from nearby Basatpur in Bulandshahr had organised a camp at a farmhouse in Kharkhauda to welcome passing Kanwariyas. They had hired a DJ. A group of Kanwariyas returning from Haridwar too had a DJ with them.
A police source said the DJs began competing over who could play catchier beats and tunes, and it led to a brawl between the two groups.
Amit Rai, police circle officer for the region, said: "The Kanwariyas sat on a dharna after a fight with the camp organisers. They resumed their journey two hours later at our request."
Another fracas involved two groups of Dak Kanwariyas — pilgrims committed to completing the pilgrimage in 24 hours during which they neither eat nor sleep and carry the Ganga water in a container on their back throughout the journey from the river to the temple.
But after two motorbikes, each carrying two Dak Kanwariyas, collided near the V.V. Inter College in Shamli town on Monday, the pilgrims allegedly put their water containers down on the ground and engaged in fisticuffs.
The BJP has always been soft on the Kanwariyas. A man who had hijacked a train in 1998, when Kalyan Singh was chief minister, had the charges against him dropped because he had been part of a Kanwar Yatra procession.
A group of Kanwariyas had entered Rambagh railway station in Allahabad when one of them sneaked into the unoccupied driver's cabin of a train and drove it for about 40km, apparently for a lark.