UP victory and margin hold the key
UP polls may see rise of Narendra Modi-Yogi Adityanath duopoly
Home minister Amit Shah, who is seen as the second most powerful person in the current regime, has been heaping praise on the Uttar Pradesh chief minister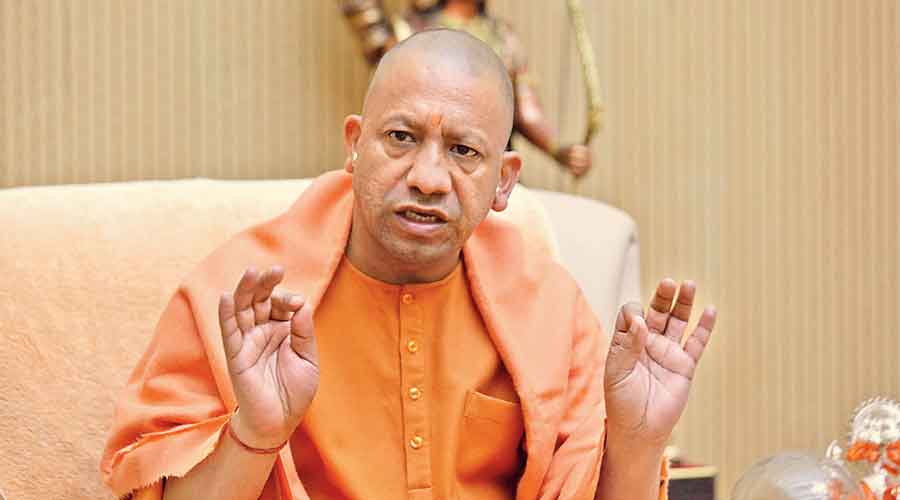 Yogi Adityanath.
File photo
---
New Delhi
|
Published 16.02.22, 03:15 AM
|
---
The election in Uttar Pradesh could be laying the foundation for the rise of the Modi-Yogi duo that has the potential to replace the Modi-Shah combine that took shape in the years following Narendra Modi's sweep to power in Delhi in 2014.
The Modi-Shah combine was thrust from the top, but the Modi-Yogi phenomenon seems to be taking shape from below, fanned by the people of Uttar Pradesh that has the largest share of 80 Lok Sabha seats.
While travelling across the state in the middle of the polls, it is difficult to miss the unceasing reference to the incumbent BJP as "Modi-Yogi". Unwittingly or otherwise, some accord primacy to the saffron-clad monk by referring to the duo as "Yogi-Modi".
"Yogi-Modi ki hawa hai idhar (A wind is blowing  here in favour of Yogi-Modi)," said Lalaram Rathore, whose community belongs to the Other Backward Classes, at Mirjapur market in Bareilly district.
Posters of other leaders of the state are dwarfed by large billboards of Modi and Yogi Adityanath on highways and state roads. "Modi hai toh mumkin hai, Yogi hai toh yakin hai (If there is Modi, it's possible. If there is Yogi, there is assurance)," says one billboard.
In Sikandrabad, over 250km away and closer to Delhi, Sohanlal Prajapati said the Adityanath government's free ration scheme to battle the Covid-19 crisis had come as a big boon for the poor.
On being pointed out that the scheme — PM Garib Kalyan Ann Yojana — was rolled out by the Centre or the Modi government, Sohanlal laughed and said: "Modi kahiye ya Yogi kahiye, ek hi baat hai (Say Yogi or Modi, both are same.)"
Sohanlal is right in a way. Usually only rice and wheat are distributed under the PM-GKAY. But in poll-bound Uttar Pradesh, the Adityanath government added pulses, salt and edible oil to the package to win over the poor.
Adityanath's rise after his elevation as chief minister in 2017 has been stirring the BJP for some time now. Internally, the prospect of the monk-cum-politician emerging as an aggressive Hindutva face nationally, in a repeat of the story Modi had scripted as Gujarat chief minister to eventually eclipse the then powerful Vajpayee-Advani generation, has been a subject of discussion in the wider Sangh parivar. The BJP, as part of a conscious strategy, foregrounds Modi's face in almost all elections, acknowledging that the Prime Minister remains the biggest vote catcher for the party. The Modi card gets a bigger push in Uttar Pradesh because he represents the Varanasi Lok Sabha seat.
The Modi-Yogi message was taken to a different level when Adityanath in November last year shared a picture on Twitter that showed the Prime Minister immersed in a serious conversation with his hand around the chief minister's shoulder. "We have set out with a pledge, dedicating our body and mind," the caption said.
Ahead of the first phase of polling on February 10, Adityanath released another picture of Modi holding his hand and raising it high, proclaiming victory for "those who stand for nationalism".
Such pictures, exhibiting Prime Minister Modi's backing for a chief minister, had not been seen so far in any election. Though many felt the pictures were meant to muzzle dissent against Adityanath's leadership in the Uttar Pradesh BJP, the message has gone deep inside the saffron parivar, positioning Adityanath as second only to Modi.
Even home minister Amit Shah, who is seen as the second most powerful person in the current regime, has been heaping praise on Adityanath. In interviews, he has been giving full marks to the chief minister for implementing Modi's vision on the ground and reining in the goondas in the state.
In a small market ahead of Mathura, Praveen Gupta, manning a sweet shop, said Adityanath would not only return as chief minister but also go on to succeed Modi in Delhi.
"Yogi ji phirse CM honge isme koi doubt hi nahi hai. Aur uske baad woh ek din pradhan mantri bhi banege (Yogi will undoubtedly be CM again. And after that, he will become Prime Minister one day)," Gupta said, adding without hesitation that Modi himself wanted Adityanath to succeed him. "Hum toh chahte hi hain aur Modiji bhi chahte hain Yogiji pradhan mantri bane (I desire so and even Modi wants Yogi to become Prime Minister)."
Asked how he knows what Modi wants, Gupta quickly searched his mobile phone and showed pictures of Modi with his hand around Adityanath's shoulder.
Such voices of voters, mainly those driven by the Hindutva pitch, wishing to see Adityanath as Prime Minister can be intermittently heard across the state.
Adityanath's ascendancy, however, not only hinges on the BJP's repeat victory in Uttar Pradesh but also on the margin. The whispers in BJP corridors have it that the margin should be a thumping one and not a bare majority.
"If Adityanath fails to fetch a big victory, his fall would be as sharp as his rise," a BJP leader said, quoting a figure of 270 to 280 in the 403-member Assembly. The BJP, along with its allies, had bagged 325 seats in 2017.