List reflects an attempt to bring them into governance
UP elections: Congress banks on female power
Among the candidates is the mother of Unnao rape survivor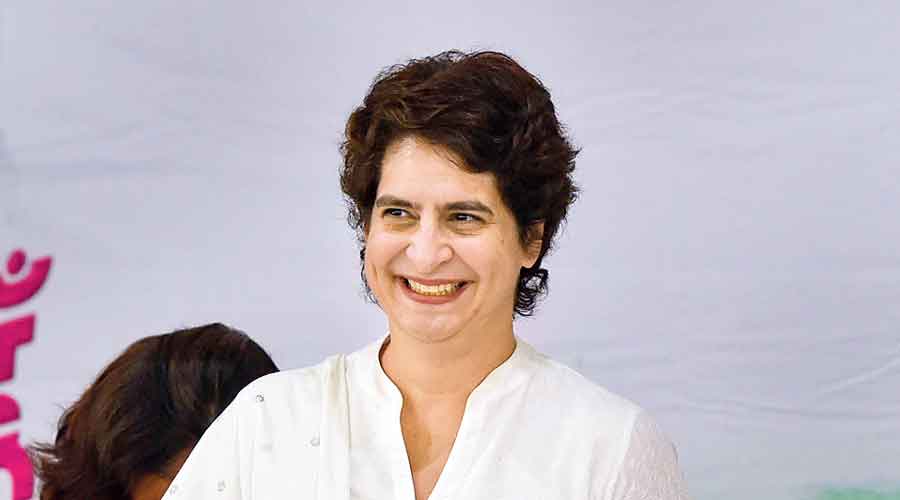 Priyanka Gandhi Vadra
File Picture
---
Lucknow
|
Published 14.01.22, 02:56 AM
|
---
The mother of the Unnao rape survivor — the target of one atrocity after another by a then BJP legislator and his henchmen — and several other women who allege victimisation under the Yogi Adityanath regime are on the Congress's first list of candidates for the upcoming Uttar Pradesh Assembly elections.
Priyanka Gandhi Vadra on Thursday released the first list of 125 Congress candidates with the promised 40 per cent representation of women.
The list reflected an attempt to bring women into governance so they could help correct a system that had failed them, Priyanka said.
The biggest surprise on the list is Asha Singh, whose candidature throws up a delicate legal question. In India, disclosure of the name of any person that may lead to the identification of survivors of sexual crimes is not allowed.
A similar issue had cropped up in Kerala in the summer Assembly elections when the mother of two assaulted children who died contested the polls. The Kerala mother eventually furnished an affidavit declaring she had no objection to being identified by her name.
The confidentiality clause surrounding the Unnao rape case has become redundant for all practical purposes with the candidature of Asha, who will contest from Unnao, and its attendant requirements.
The trauma Asha and her family were subjected to has few parallels. Asha's minor daughter was raped by Kuldeep Singh Sengar — the then MLA from Bangarmau in Unnao district — in 2017. The government stirred into action only after Asha and her daughter tried to immolate themselves at the gate of chief minister Adityanath's house in 2018.
The next day, Asha's husband (the rape survivor's father) died in judicial custody. He had been beaten up and then jailed. In 2019, a truck tried to mow down the rape survivor and her lawyer, killing two of her relatives. 
Sengar and his brother Atul are among seven people sentenced to 10 years in jail for killing Asha's husband. Sengar is also serving a life term for raping the minor girl.
Rahul Gandhi tweeted in Hindi on Thursday morning: "One with whose daughter injustice was done by the BJP will become the face of justice now — she will fight, win."
उन्नाव में जिनकी बेटी के साथ भाजपा ने अन्याय किया, अब वे न्याय का चेहरा बनेंगी- लड़ेंगी, जीतेंगी!#Election2022

— Rahul Gandhi (@RahulGandhi) January 13, 2022
Priyanka, Congress general secretary in charge of Uttar Pradesh, said Asha wanted to contest the election. "She has been victimised by the government. We are giving her an opportunity to take the responsibility of governance herself."
Social activist Sadaf Jafar, arrested in December 2019 for participating in a protest against the Citizenship Amendment Act and allegedly assaulted brutally in lock-up, will contest from the Lucknow Central seat.
Some personnel at Hazratganj police station in Lucknow had thrashed her almost the whole night before her arrest and told her she was "a Muslim who eats in India, gives birth in India but praises Pakistan", Sadaf had told The Telegraph in January 2020.
Ritu Singh will contest from Lakhimpur Kheri. Ritu was elected a block development council member during the July 2021 panchayat polls and was a Samajwadi Party-supported candidate for the post of Pasgawan block pramukh in Lakhimpur Kheri district.
But she and her proposer were attacked by alleged BJP members when she tried to file her nomination for pramukh.
A widely circulated video showed some men pulling at the proposer's sari and bag. Ritu alleged being physically assaulted by BJP members in the returning officer's room.
The police registered a case against Brij Singh — a supporter of Rekha Verma, BJP politician and MP from Dhaurahra in Lakhimpur Kheri — and district BJP president Yash Verma, accusing them of attacking the two women. No further action has, however, followed.

Poonam Pandey, an Asha worker (community health worker), will contest from Shahjahanpur. She had led an agitation against the Adityanath government last year demanding a higher honorarium for the rural health workers.
She was beaten up by the police in Lucknow during one such protest. The honorarium was eventually raised.
The Congress has nominated Raja Ram Gond from Umbha in Sonbhadra, where alleged goons from the Gurjar community gunned down 10 tribal people including Raja Ram's relatives in July 2019 over a land dispute.
The Congress plans to contest all the 403 seats in the state. Its first list of 125 candidates has 50 women.
"We have tried to field those who have been vocal against atrocities in society. I'm trying to start a new political movement that will empower women enough to be able to lead society," Priyanka said.
"There are about 40 per cent women and 40 per cent youths in our first list of 125 candidates."