Unnao witness claims murder bid as truck hits car
'The truck was carrying a fake number plate but was confident that the police would soon identify its owner and catch the driver'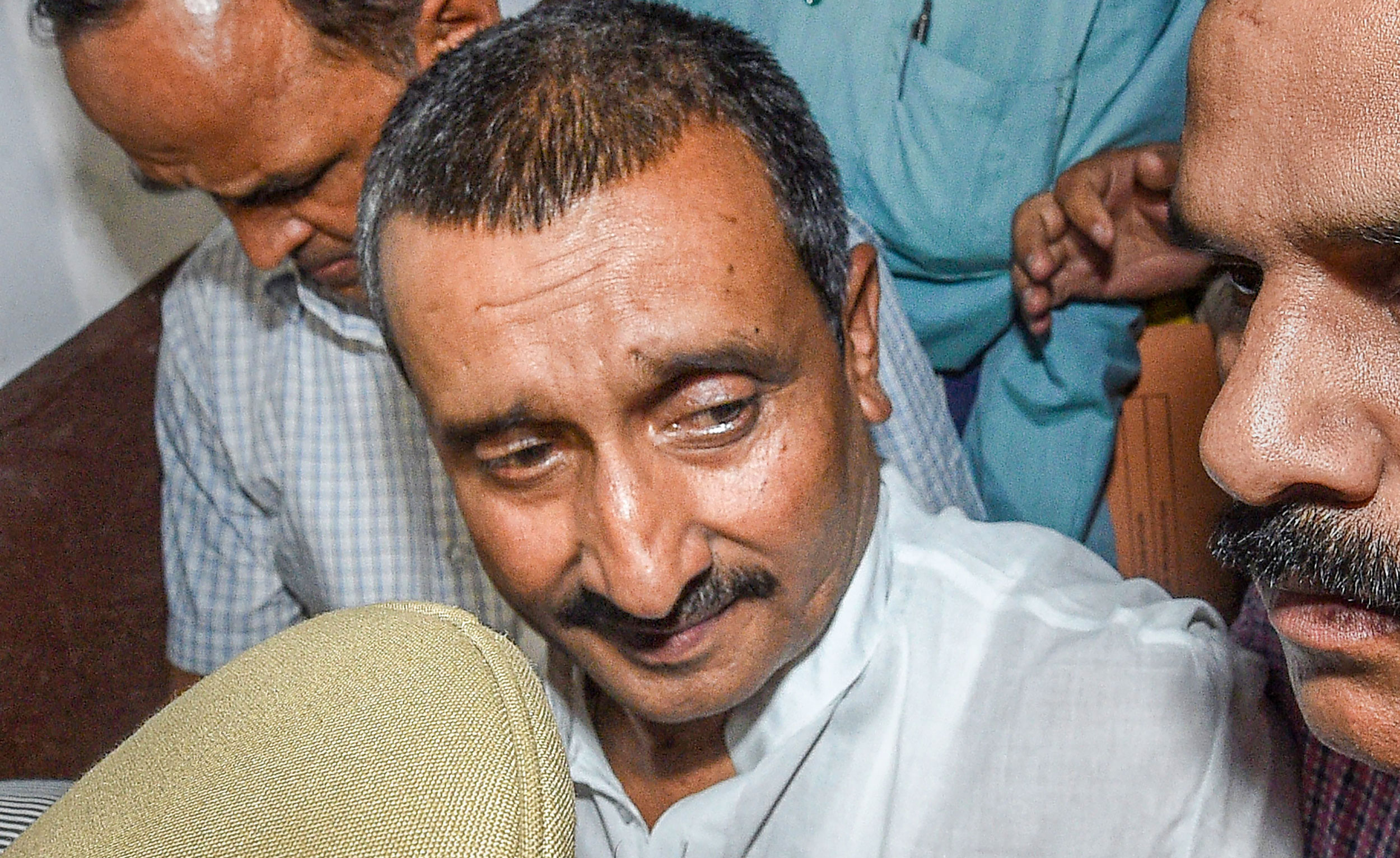 ---
|
Lucknow
|
Published 23.11.19, 07:17 PM
---
An eyewitness to the alleged murder attempt on the Unnao teen who has accused BJP lawmaker Kuldeep Singh Sengar of raping her has claimed a bid on his own life on Friday afternoon.
Awadhesh Pratap Singh, resident of village Gaura-Katherwa in Unnao, says the attack followed the same pattern of truck hitting car on a highway, reversing and speeding in for a second hit.
He says he and his companion had jumped out of their car and run away before the second hit.
Awadhesh, former pramukh of Nawabganj block, has told police he had seen the June 28 attempt on the 19-year-old rape complainant that critically injured her and her lawyer and killed two of her aunts.
He says he was standing by the roadside in the Rae Bareli village of Ataura Bujurg, where he was visiting relatives, when he saw a truck swerve to the right, ram the victims' car, reverse and ram it again.
As for Friday's incident, Awadhesh says was returning home from Lucknow, where he had gone on business. With him was Rajesh Kumar, a family friend of the rape complainant whom he had got to know in connection with the court cases.
They had met in Lucknow and Awadhesh had offered to make a small detour and give a lift home to Rajesh, resident of Arjunamau village in Rae Bareli.
Awadhesh says a truck hit his car from behind in Ajgain, Unnao district. It's not clear why he had not already dropped Rajesh home before entering Unnao.
"My companion (Rajesh), who was driving, lost control and the car struck the iron rails of the road divider. The truck reversed a few metres and speeded in at us again but we opened the doors and ran away unhurt," police quoted from Awadhesh's complaint.
Ajay Rai Verma, Ajgain station house officer, said: "The driver ran away, leaving the truck behind. We have registered a case."
He said the truck was carrying a fake number plate but was confident that the police would soon identify its owner and catch the driver.
Awadhesh has said he was threatened multiple times in the past for his police statement about the June 28 collision, and that he had twice complained to the police about this.
Kuldeep, the Bangermau MLA, his brother Jaideep alias Atul and two of their henchmen have been in Tihar jail since last year on the charge of gang-raping the girl in 2017 when she was a minor.
They are also accused of getting her father arrested on false charges and beaten to death in judicial custody in April 2018. Two Unnao policemen too are in jail custody in the second case.
After the June 28 truck-car collision, Manoj, another brother of Kuldeep, was accused of murder and conspiracy along with the truck's owner, driver and cleaner. Manoj, however, died under mysterious circumstances in Delhi last month.