UGC proposes new regulations to strip all universities of PhD leeway
Till now, all varsities conducted their own entrance tests but had the option of admitting an unspecified proportion of students if they had scored well in NET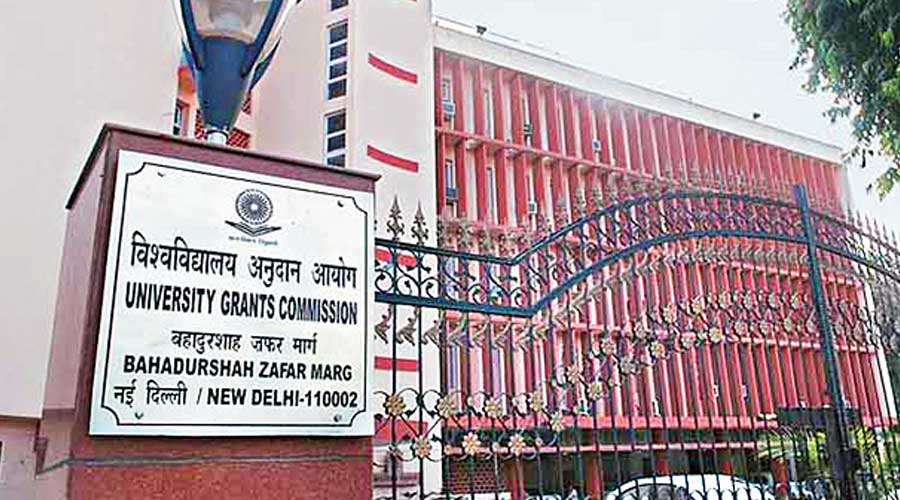 The UGC may hold a single PhD entrance test through which all universities (and colleges) must fill 40 per cent of their PhD seats in every subject.
File photo
---
New Delhi
|
Published 21.03.22, 02:31 AM
|
---
The University Grants Commission has proposed new regulations that may force all universities to admit PhD students on the basis of two central entrance tests, in contrast to current regulations that leave them free to hold their own admission tests.
Such a move will rob individual universities of the independence to decide the specific requirements students should meet to gain admission to their PhD courses, some academics regretted.
The draft regulations also make room for bachelor's degree holders to enrol directly in PhD programmes, subject to certain qualifications, and allow every degree college to offer PhD courses.
They also mandate a relaxed eligibility criterion for the Economically Weaker Sections (EWS) — who now enjoy no such concessions either in education or jobs — bringing them on a par with the Scheduled Castes (SC), Scheduled Tribes (ST) and the Other Backward Classes (OBC).
According to the draft, the UGC may hold a single PhD entrance test through which all universities (and colleges) must fill 40 per cent of their PhD seats in every subject.
The remaining 60 per cent seats must be filled on the basis of students' scores in the UGC-conducted National Eligibility Test (NET), held mainly to select eligible candidates for assistant professorship.
Till now, all universities conducted their own entrance tests for their PhD programmes but had the option of admitting an unspecified proportion of students directly if they had scored well in the NET.
"Sixty per cent of the total vacant seat(s) of the academic year shall be filled from NET/JRF qualified students and the remaining forty per cent through the university/ common entrance test qualified students on the basis of interviews conducted by the concerned institute," says the draft UGC (Minimum Standards and Procedure for Award of PhD Degree) Regulations, 2022, which will replace the earlier regulations of 2016.
"JRF" refers to Junior Research Fellowship, earned through good scores in the NET.
N. Sukumar, a Delhi University professor, said that till now, the universities adopted only some basic parameters stipulated by the UGC, such as holding an entrance test and an interview, and implementing reservation.
"Apart from that, they had their own rules in further defining their selection procedure. (If the draft regulations are adopted) the scope for universities to have these extra criteria for selecting students becomes dim," Sukumar said.
The draft proposes that, in addition to universities, every college — autonomous or affiliated — should be allowed to admit PhD students. Currently, the universities alone admit PhD students but may ask their affiliated colleges to provide research facilities to some of the scholars.
Eligibility
A student with a bachelor's degree who has completed a four-year undergraduate course with a minimum Cumulative Grade Point Average (CGPA) of 7.5 out of 10 will be eligible for PhD admission, the draft says. Earlier, only MPhil and master's degree holders were eligible.
In the IITs, IISERs and certain foreign universities, students with good scores in their bachelor's degree exams are allowed to directly enrol in PhD courses.
Sukumar was sceptical about bachelor's degree holders enrolling in PhD courses, saying they might lack the rigour necessary for research.
Cut-offs
Under the 2016 regulations, a general category candidate needed to have scored 50 per cent in their master's to be eligible for PhD admission, while SC, ST and OBC students required 45 per cent.
The draft regulations have raised the cut-offs to 55 per cent (general) and 50 per cent (reserved) — but, crucially, extended the five per cent relaxation to the EWS too.
If the proposal is adopted, it will mean the government is willing to treat the EWS — who belong to the dominant castes — on a par with the socially and educationally disadvantaged SCs, STs and OBCs.
In the case of bachelor's degree holders, the draft regulations relax the CGPA requirement from 7.5 to 7 for the reserved categories, again including the EWS in their ambit.
Duration
The draft regulations say that PhD programmes will have a minimum duration of two years excluding course work, and a maximum of six years (except when special circumstances merit the grant of an extension).
The students can complete the course work in one or two semesters. Those with an MPhil degree who have already done the course work will be exempt from repeating it during the PhD course.
This means a student can now complete a PhD programme within two-and-a-half years (if they have completed the course work in a single semester) or even two years (if they have an MPhil).
Under the 2016 regulations, PhD programmes have a minimum duration of three years, including course work, and a maximum duration of six years.
The draft regulations provide for an extension in exceptional circumstances, but only up to two years. The 2016 regulations do not stipulate a ceiling on extensions.