Under fire, Hindu seer stands by his comments on Mahatma Gandhi
Kalicharan Maharaj held him responsible for Sardar Vallabhbhai Patel not becoming Prime Minister and for 'encouraging the Nehru-Gandhi dynasty'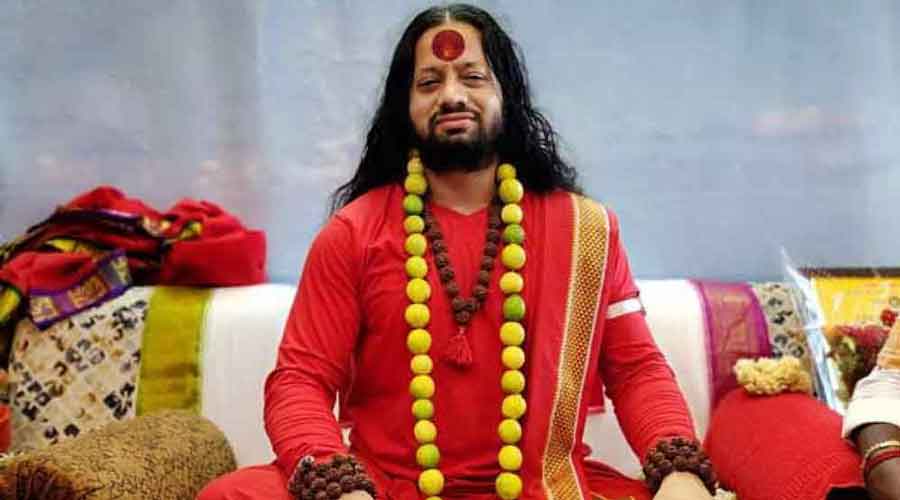 Kalicharan Maharaj.
File photo
---
Raipur
|
Published 29.12.21, 02:21 AM
|
---
Hindu religious leader Kalicharan Maharaj, facing FIRs in Chhattisgarh and Maharashtra for allegedly using derogatory words against Mahatma Gandhi, said on Tuesday that he harboured no remorse for his utterances.
In a video message, Kalicharan claimed that his statements were correct and said he hated Mahatma Gandhi.
Raipur senior superintendent of police Prashant Agrawal said they had received information that Kalicharan had released a video. The police are conducting a probe and efforts were on to arrest him, the officer said.
In the video, Kalicharan says: "An FIR has been registered against me for making derogatory remarks on Gandhi, but I do not have any remorse for it."
He also made several claims and allegations against Mahatma Gandhi and held him responsible for Sardar Vallabhbhai Patel not becoming Prime Minister and for "encouraging the Nehru-Gandhi dynasty".
He hailed Mahatma Gandhi's assassin Nathuram Godse. Officer suspended
A food department officer was suspended on Monday for allegedly making "insulting and derogatory" comments against Mahatma Gandhi on social media in Raipur district.
Sanjay Dubey, posted as assistant food officer in the Chhattisgarh capital, had purportedly written on Facebook, according to a screenshot: "Neither Gandhi was a nation, nor a majority of people of this country consider him as father of the nation. Even the father of nation is not a constitutional post. The person who used to say that India could be partitioned only over his dead body, had himself divided the country in two parts. The person was responsible for killings of lakhs of countrymen."
Dubey said on Tuesday: "My phone was hacked by someone who made such derogatory remarks against Mahatma Gandhiji. I have immense faith in Gandhiji. He was the foremost person in nation-building. He is an honourable person for me."