Unapproved drug leeway in 9 states
Under Indian drug laws, SLAs cannot grant manufacturing licences to drugs or FDCs — combinations of two or more medicines packed into single formulations — that have not been approved by the Central Drugs Standard Control Organisation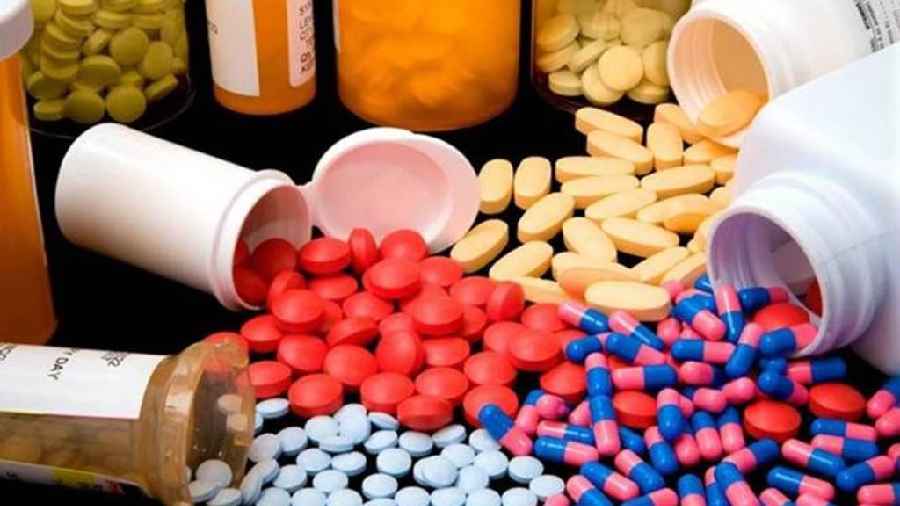 Doctors and other experts who have analysed unapproved FDCs in the market said the licences granted over the past three years underscore concerns that SLAs continue to defy drug laws and the Centre has done little to check the problem
Representational picture
---
New Delhi
|
Published 15.12.22, 04:19 AM
|
---
Nine states granted manufacturing licences to 36 unapproved combinations of medicines over the past three years, the Union health ministry said on Tuesday, corroborating concerns among experts about violations and poor enforcement of central drug laws.
The health ministry, responding to a Parliament question on the manufacture of unapproved drugs, said state licensing authorities (SLAs) had licensed 36 fixeddose combinations (FDCs) since 2020 that had not been approved by the central apex drug regulatory authority.
Under Indian drug laws, SLAs cannot grant manufacturing licences to drugs or FDCs — combinations of two or more medicines packed into single formulations — that have not been approved by the Central Drugs Standard Control Organisation (CDSCO). Doctors and other experts who have analysed unapproved FDCs in the market said the licences granted over the past three years underscore concerns that SLAs continue to defy drug laws and the Centre has done little to check the problem.
Irrational FDCs, medical experts say, could expose patients to medicines that they do not require, raise treatment costs, and lead to health risks from certain combinations of medicines.
Among the 36 unapproved FDCs, Uttarakhand's SLA accounted for 10, followed by Himachal Pradesh (9), Sikkim (5), Gujarat (4), Karnataka (2), Maharashtra (2), Uttar Pradesh (2), Daman and Diu (1) and Telangana (1), the health ministry told Parliament.
In all cases, the CDSCO "took up the matter with respective SLAs for necessary action", the ministry said. State drug controllers have also been requested to ensure that drugs and FDCs are not permitted without the CDSCO's approval, it said. Sections of doctors had raised concerns about the unapproved FDCs with the CDSCO nearly a decade ago and filed a petition in Delhi High Court in 2017 accusing the CDSCO of negligence in allowing the sale of unapproved FDCs.
"The ministry's answer in Parliament should trigger outrage," said Abir Saraswat, a dermatologist in Lucknow and a former member of an Indian Association of Dermatologists panel that met CDSCO officials in 2015 seeking a ban on the sale of unapproved FDCs — skin creams laced with steroids.
A technical panel under the CDSCO had in July 2018 recommended a ban on over 300 FDCs, describing many as potentially risky for humans and unfit for sale. Dozens of them were pulled from the market. But Saraswat and other experts say not only are other unapproved FDCs still in the market, but the CDSCO itself has also approved FDCs that are not recommended by the World Health Organisation.
In some cases, Saraswat said, manufacturers merely tweaked their formulations, changing one or two components in the FDCs, to circumvent the ban. "The (ministry's) response (in Parliament) says nothing about what is being done to ensure that the bans are enforced," said Aashna Mehta, an assistant professor of health economics at the Public Health Foundation of India.